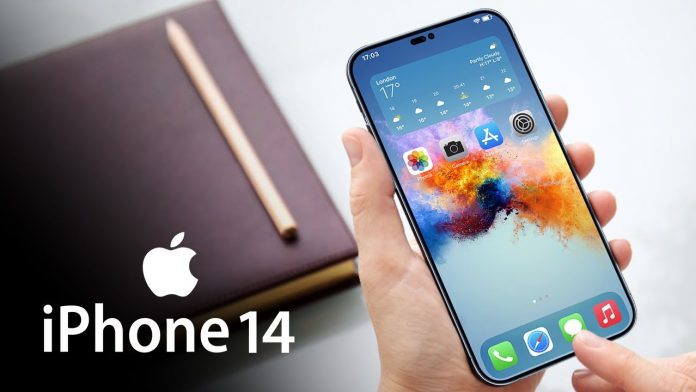 The iPhone 14 is coming in 2022 – almost certainly in September – and will arrive as a follow-up to the impressive iPhone 13 range. And while it's a way off yet, leakers have already begun revealing possible specs, and there are even unofficial renders of the phone online.
iPhone 14 new FEATURES
– Likely to land in September
– A new iPhone 14 Max in place of an iPhone 14 mini
– No notch for the iPhone 14 Pro and Pro Max
– Similar designs to the iPhone 13 range for the basic models
– Two roughly 6.1-inch phones and two 6.7-inch phones
– 48MP cameras on Pro models
– Bigger batteries
– A powerful A16 Bionic chipset
As such, we have a surprisingly clear picture of the form the iPhone 14 range might take – though this far from launch we'd be extra skeptical, as there's plenty of time for things to change.
But the rumors so far are promising, pointing to a completely new design for the iPhone 14 Pro and iPhone 14 Pro Max, a totally new model dubbed the iPhone 14 Max, and some significant camera upgrades.
Here you'll find everything we've heard so far, including details about the potential release date and price. And as soon as we hear anything else about the iPhone 14 we'll add it to this article, so make sure to check back here soon, as leaks are rolling in at a surprisingly rapid rate already.
iPhone 14: what you need to know
iPhone 14 release date: There aren't any release date rumors yet, but Apple almost always unveils new iPhone models in September.
iPhone 14 price: Pricing is unknown, but for reference, the iPhone 13 started at $799, and prices may be similar for the next models.
Design: The iPhone 14 will probably look a lot like the iPhone 13, but the iPhone 14 Pro and Pro Max could get a punch-hole camera instead of a notch. There might also be a big-screen iPhone 14 Max in place of an iPhone 14 mini.
Display: The iPhone 14 and iPhone 14 Pro could have 6.1-inch (or 6.06-inch) 1170 x 2532 OLED screens, while the iPhone 14 Max and iPhone 14 Pro Max could have 6.7-inch (or 6.68-inch) 1284 x 2778 OLED screens. Expect a 120Hz refresh rate on the Pro models and a 60Hz refresh rate on the others.
Camera: The iPhone 14 Pro and Pro Max could have 48MP main cameras (up from 12MP on the current models). Other specs are unclear, but a triple-lens snapper on all but the standard iPhone 14 is likely, with the basic phone instead of having two rear lenses.
Specs: Every iPhone 14 model is expected to have a powerful A16 Bionic chipset, but the Pro models could additionally have 8GB of RAM (up from a maximum of 6GB currently) and up to 2TB of storage (up from a current maximum of 1TB).
Battery: Little is known about the battery yet, but there are claims that the capacity could increase, with the phones getting thicker to house their larger batteries.
IPHONE 14 RELEASE DATE
There's no news on when the iPhone 14 will be released yet, but we can take a very good guess at this, as Apple tends to announce new models around the same time each year, usually at a special event.
The iPhone 13 was unveiled on September 14, 2021, and it shipped on September 24. While we probably won't see the iPhone 14 on those exact dates in 2022, Apple tends to unveil the new models on either the first or second Tuesday in September, which would mean either September 6 or September 13.
Then they usually go up for pre-order the Friday of that week, meaning September 9 or 16, and ship the following Friday, so September 16 or 23.
Occasionally Apple will announce the phones on the first or second Wednesday instead, but around those dates seems very likely anyway. The iPhone 12 range was an exception to this, landing in October 2020, but that was thanks to delays and supply issues caused by Covid-19.
So far it doesn't look like there will be delays this year, with trial production apparently having already started (as of late February), which is on schedule.
IPHONE 14 DESIGN
The biggest news on the iPhone 14's design comes from one big leak, which includes unofficial renders of the iPhone 14 Pro Max.
You can see one of these below, and it includes a punch-hole camera instead of a notch, with the Face ID components presumably being under the screen. It also doesn't really have a camera bump, with the lenses sitting almost flat on the back – a thing that is apparently achieved by making the phone thicker.
The back is a semi-glossy glass, the volume buttons are shown to be round, and it apparently has titanium sides, in place of stainless steel on the iPhone 13 Pro Max. You can also see that there's still a triple-lens camera and a Lightning port.
The colors shown here aren't official (though the source claims to have seen a rose gold model), and it's worth also noting that this design is thought to only apply to the Pro models, with the iPhone 14 (and iPhone 14 Max if there is one) likely to still have a notch. It's not currently clear which if any of the other design details here could make it to the standard models.
Body Design
The iPhone 14 models are expected to look like the iPhone 13 models with the same flat-edged design, but in addition to the display changes, there will be updates to the body design.
Leaker Jon Prosser claims that Apple will introduce a thicker chassis with no rear camera bump. The lenses, LED flash, and LiDAR Scanner will allegedly be flush with the rear glass, for a non-protruding camera design that hasn't been used since the early days of the iPhone.
Along with the flush camera, the iPhone 14 models could feature round volume buttons that look similar to the buttons from the iPhone 4 and iPhone 5 models, and redesigned speaker and microphone grilles with elongated mesh cutouts rather than individual holes at the bottom of the device.
Size Options
There will be no 5.4-inch iPhone in 2022 because Apple is doing away with the "mini" line following lackluster sales. The iPhone 13 mini will be the last of the mini phones and going forward, Apple is expected to focus on larger-sized iPhones.
We're expecting a 6.1-inch iPhone 14, a 6.1-inch iPhone 14 Pro, a 6.7-inch iPhone 14 Max, and a 6.7-inch iPhone 14 Pro Max, with the larger 6.7-inch iPhone replacing the mini model.
Titanium
Apple's upcoming iPhone 14 models are also expected to come with a high-end titanium alloy chassis design, according to an investor report from JP Morgan Chase. Apple has used titanium for the Apple Watch, but this would mark the first time that the material has been used for an iPhone.
Titanium is more scratch-resistant and it's stronger than both steel and aluminum, plus it's more corrosion resistant.
Cooling
Starting in 2022, high-end iPhone models are likely to adopt a vapor chamber thermal system, which Apple is said to be "aggressively testing." The VC thermal system will be required for the high-end iPhones due to their stronger computing power and faster 5G connection speeds. There are already smartphones from companies like Samsung, Razer, and LG that use vapor chamber cooling technology, which is used to keep a device cooler when it is under heavy stress.
It is unclear if the vapor chamber thermal system will meet Apple's high requirements, but Apple is working on improving it and high-end models could adopt it in the near future.
Lightning Port
There have been rumors that Apple is aiming to remove the Lightning port from the iPhone for a portless design with charging done over MagSafe, but it's not clear if that technology will be introduced with the 2022 iPhone models.
Camera Technology
All of the 2022 iPhones could see improvements to the Ultra Wide camera, and there's a slim possibility that Apple will introduce "periscope" lens technology that could allow for optical zoom up to 10x.
Other smartphone brands have already adopted periscope lens technology, but Apple has allegedly run into some issues because much of the technology is guarded by patents owned by other companies. Apple could license technology from a manufacturer like Samsung, or continue to work on its own solution. Unfortunately, it's not looking like periscope lens technology will be ready for release in 2022, and it could instead come in 2023 with the iPhone 15 models.
Even if periscope lens technology is not ready for a 2022 launch, there are still telephoto lens improvements coming. Apple analyst Ming-Chi Kuo says that Apple will upgrade the telephoto camera from a 6-element lens to a 7-element lens.
Kuo also believes that the 2022 Pro iPhone models will feature a 48-megapixel Wide camera, which would be a major improvement over the current 12-megapixel camera, and 8K video recording capabilities.
The 48-megapixel camera in the iPhone 14 Pro models will also be able to take 12-megapixel shots, likely through a process known as pixel-binning. Pixel binning merges data from multiple smaller pixels on the camera's image sensor into one "super-pixel" for improved low-light sensitivity.
With this feature, the iPhone 14 Pro models may be able to take full 48-megapixel photos in situations with good lighting, but when lighting is poor, it will use the pixel binning process for a higher-quality 12-megapixel photo that takes advantage of the 48-megapixel lens.
Kuo believes that the 8K video recording feature will allow iPhone-recorded videos displayed on an 8K display or TV to provide "a better user experience," and that this resolution will allow the iPhone to create videos and images more suitable for augmented and mixed reality devices like the AR/VR headset that Apple has in development for 2022.
A16 Chip
Every new iteration of the iPhone comes with an updated A-series chip, and for the iPhone 14, we're expecting Apple's A16 chip.
The next-generation A-series chip designed for the iPhone 14 will reportedly be built on TSMC's "NP4" process, which the company says is the third major enhancement of the 5-nanometer family.
RAM
According to analyst Jeff Pu, the iPhone 14 models will include 6GB RAM. The iPhone 14 Pro models could get up to 8GB RAM, based on rumors from the Chinese supply chain.
Car Crash Detection
Apple is working on a car crash detection feature for the iPhone and the Apple Watch, which could come out in 2022. It will use sensors like the accelerometer to detect car accidents when they occur by measuring a spike in gravitational force.
When a car crash is detected, the iPhone or the Apple Watch would automatically dial emergency services to get help. Since it's planned for 2022, this could be a feature designed for the iPhone 14 models and the Apple Watch Series 8, though it's not likely to be limited to those devices. It will be an expansion of the Fall Detection feature that's in existing Apple Watch and iPhone models.
Snapdragon X65 Modem
The iPhone 14 models will use the Qualcomm Snapdragon X65 modem, which is the world's first 10 Gigabit 5G modem and antenna system for smartphones.
RF Chip
Taiwan's Economic Daily News has suggested that Apple has ordered 5G radio frequency (RF) chips from TSMC, with Apple using its own technology instead of chips from Samsung.
The chips are allegedly manufactured on TSMC's 6-nanometer process, which offers a smaller package with lower power consumption. This could perhaps lead to better battery life when using 5G technology, along with support for WiFi 6E.
Satellite Connectivity
The Qualcomm Snapdragon X65 enables some satellite connectivity features, and alongside the modem, Apple plans to implement satellite-based emergency features that will let users send texts in emergency situations and report major emergencies in areas where there is no cellular coverage.
Emergency Messages via satellite will allow users to text emergency services and contacts using a satellite network when there is no cellular or WiFi signal available. It will be a new communications protocol alongside SMS and iMessage, and it will feature gray message bubbles. Message length will be restricted.
Another feature will let users report major emergencies like plane crashes and fires using satellite networks. These features are still in development and will launch in 2022 at the earliest.
WiFi 6E
The iPhone 14 is expected to feature WiFi 6E connectivity, according to Apple analyst Ming-Chi Kuo. Kuo says that WiFi 6E will offer the high-speed wireless transmissions necessary for AR and VR experiences, and it is also expected to be used in the mixed reality headset that could come out in 2022.
WiFi 6E takes advantage of the 6GHz band in addition to the 2.4GHz and 5GHz bands to increase bandwidth and cut down on interference, while also offering the performance boost and low latency provided by the WiFi 6 specification.
2TB Storage?
With the iPhone 13 Pro models, Apple added a new 1TB storage tier, and rumors suggest that with the iPhone 14 upgrade, Apple could increase that even further to 2TB. This rumor comes from a source that's not always accurate, however, so it should be viewed with some skepticism until backed up by another more reliable source.
No Physical SIM Slot
The iPhone 14 models may launch without a physical SIM slot, with Apple transitioning to an eSIM-only design. Apple is allegedly advising major U.S. carriers to prepare for the launch of eSIM-only smartphones by 2022, which suggests some iPhone 14 models may be the first to come without a SIM slot.
With the iPhone 13, Apple provided some models without a nano-SIM in the box, with cellular plans instead of being able to be activated using eSIM. An eSIM allows for cellular plans to be added to a device without using a nano-SIM.
eSIM functionality is not available in all countries, so iPhones sold in some areas will need to continue to offer a nano-SIM slot. In countries where a SIM-free iPhone is available, it may be optional, with consumers still able to choose a version with a SIM. There are more than 60 countries that support eSIM, with a list available on Apple's website.
IPHONE 14 BATTERY
In terms of the battery, it sounds like there could be improvements there, with one source saying it will be larger in the next models, and another saying the phones will be thicker – which could leave room for a larger one.
When it comes time to charge, you might be making use of a MagSafe charger rather than the Lightning port based on one patent, though notably early unofficial renders show the Lightning port intact.
We'd be surprised if Apple did ditch the Lightning port on the iPhone 14, but a new EU plan could mean that its days are numbered.
4k smart tv Amazon fire tv stick apple apple airpods Apple Watch 6 black Friday Deals 2020 CES 2021 Cyberpunk 2077 CYBERPUNK 2077 NEXUS MODS Epic Games fortnite Fortnite Season 4 fortnite season 5 Fortnite season 6 games Gaming Laptop GTA 6 gta 6 release date ios 16 iphone12 iphone 12 pro iPhone 12 Pro max iPhone 13 iphone 14 iphone 14 release date iphone 15 pro lg oled MacBook Pro mobile Nvidia OnePlus ps5 ps5 games 2021 ps6 ps6 release date RTX 3080 samsung Samsung Galaxy S21 samsung Galaxy Watch 3 smartwatch xbox xbox game pass Xbox One Xbox Series X|S Xiaomi