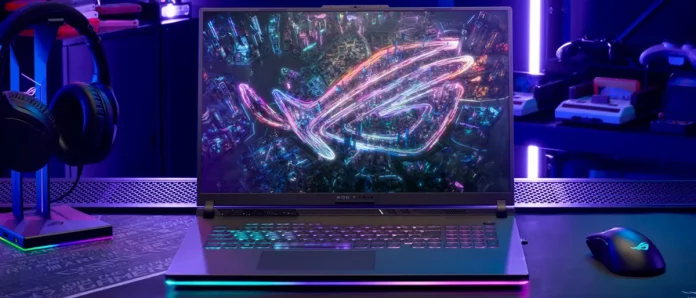 With a sleek design and premium build quality, the Asus ROG Strix G18 offers a seamless gaming experience on the go. The inclusion of advanced cooling technology ensures that the system remains cool even during intense gaming sessions, allowing for uninterrupted gameplay. Additionally, its extensive connectivity options and customizable RGB lighting further enhance the overall appeal of this powerhouse gaming laptop.
Asus ROG Strix G18 review: Price and configurations
Asus provides a base version of the ROG Strix G18 (model G814JI) for $2,299 via its official webstore, Best Buy, and other stores, which includes an Intel Core i9-13980HX processor, Nvidia GeForce RTX 4070 Laptop GPU, 16GB RAM, and a 1TB SSD. This is the identical setup that Asus sent for review.
You may upgrade to a configuration (G814JZ) with an Nvidia GeForce RTX 4080 GPU instead, which is presently available for $2,499.
Asus ROG Strix G18 review: Design
The Asus ROG Strix G18 is lighter than current Alienware and Razer competitors, but it's still a huge and commanding gaming system. It has a large footprint with dimensions of 15.71 x 11.57 x 0.91 inches and a weight of 6.61 pounds.
To be sure, that's both thinner and lighter than the Alienware m18, which is bigger in every aspect and may weigh up to 8.9 pounds depending on setup. The Razer Blade 18 has smaller overall dimensions but weighs slightly more than 7 pounds. In other words, the ROG Strix G18 is somewhat more portable than its rivals, but only marginally.
Given all of this, it's not the most comfortable laptop for lap use. It's big and heavy, and, as I mentioned before, it's like balancing a TV on your legs. The bottom surface has some ridges and texturing that may change in usage, and as I'll describe later, when pushed to its limits, this laptop can achieve some fairly severe temperatures.
All of that said, I like the appearance and feel of this gaming slab over its competitors: it appears more sophisticated than the chunkier Alienware m18, and it has more personality than the simple—well, among laptops with rainbow-like RGB lighting—Razor Blade 18.
The programmable RGB lighting that emerges from the bottom beneath your wrists, as well as the multicolored illumination beneath the keys, are notable embellishments. The words "Republic of Gamers" and "ROG" are stylishly imprinted on the outside surface as well as around or below the keys.
None of it is particularly harsh, and this isn't the most obnoxious gaming laptop I've seen by a long shot. Still, with its large size and flashing LEDs, it won't fit in with a crowd of ordinary consumer laptops.
Asus ROG Strix G18 review: Display
Why would you buy a laptop this large? It's for a huge screen, of course, and the Asus ROG Strix G18 has one. It has an 18-inch 2,560 x 1,600 (QHD+) IPS LCD display that is both sharp and vivid, providing enough screen real estate for gaming and other activities. It also has a 240Hz screen, which allows for silky-smooth animations because of the increased refresh rate.
As someone who uses a 13-inch laptop on a regular basis, the opportunity to open split-screen Chrome tabs without squinting while writing this review was a genuine joy. Of course, the main draw is having a huge, bold screen to display the latest and best PC games, and this 16:10 panel delivers in that department as well.
Thankfully, it's bright enough, albeit not quite to the degree that Asus claimed. The firm claims a brightness peak of 500 nits in its marketing materials; however, we only recorded an average brightness level of 383.6 across the different places we evaluated. The highest reading was 430 nits when we were dead center on the screen.
Again, that's really nice, but it doesn't quite match the claim. Nonetheless, it outshines the Alienware m18 (280.8 nits) but falls short of the Razer Blade 18 (495.2).
Because this isn't an OLED display, it's hardly the most vibrant screen I've seen on a laptop. But in practice, it doesn't seem short, and the stats back it up. In our tests, we measured 112.1% of the sRGB color gamut, whereas the DCI-P3 color gamut came in at 79.4% (closer to 100% is regarded as most accurate). With a Delta-E score of 0.24 (closer to 0, the better), it's nearly equal to our Alienware measurements.
Asus ROG Strix G18 review: Gaming Performance
The Asus ROG Strix G18 is a true gaming desktop replacement, capable of running today's most popular games at high-quality settings and frame rates of 60 frames per second or more.
Other recent 18-inch laptops we've tested have achieved better frame rate totals in some games or handled high settings with more ease, but they all cost $1,000 or more. With an Nvidia GeForce RTX 4070 Laptop (8GB) inside, this ROG Strix G18 configuration strikes a better balance of performance and pricing, if "happy medium" can truly characterize a $2,300 gaming slab.
In Forza Horizon 6, for example, I could max out the graphics settings and get the most detailed, pristine shot at native resolution, but at the expense of frame rate—it rarely maintained 60 frames per second (fps).
Give up a little resolution and detail, and it still looks great at a higher frame rate. It can also support greater frame rates than 60 fps, although some compromise between the graphical variables is required to achieve a consistent level of performance. In any event, given the price difference between this model and the current rivals we've tested, I was generally pleased with the gaming performance.
When compared to the higher-end Alienware m18 we tested with an RTX 4090 and the Razer Blade 18 with an RTX 4080 onboard—both of which had double the system RAM at 32GB—the above chart shows a step down in frame rates at 1080p for popular games like Assassin's Creed Valhalla and Grand Theft Auto V.
Asus ROG Strix G18 review: General Performance
As you might think, a high-end laptop designed for gaming is also quite capable in terms of most other productivity requirements. The Asus ROG Strix handled my plethora of Chrome tabs and video streaming demands admirably, and Windows 11 programs loaded promptly and without hiccups.
The Intel Core i9-13980HX outperformed the Alienware m18 (18,070) and Razer Blade 18 (14,070) in synthetic benchmark testing, earning 18,568 on the Geekbench 5.5 multi-core test. The most expensive Asus ROG Strix Scar 18 model we tested (with 32GB of RAM) was 19,233.
The Asus ROG Strix G18 couldn't quite keep up with the competition in our 25GB file copy test, which achieved an effective transfer rate of 1,178.7 MBps per second. That's quick, but the competitors were faster.
In Handbrake 1.6.1, our video encoding test, in which we forced the laptop to encode a 4K movie to 1080p quality, took 2:52. This is somewhat slower than the m18 (2:35), but equivalent to the ROG Strix Scar 18 (2:49), and significantly quicker than the Razer Blade 18 (4:56). Overall, the Strix G18 is a very competent machine.
Asus ROG Strix G18 review: Audio
Given the stunning screen and impressive performance, I expected—or hoped for—strong speakers to amp up the entertainment barrage. But they're barely adequate. The downward-firing speakers are rather loud, but they lack bass punch and aren't as rich or clear as anticipated. If you want to experience the auditory power of games and movies, don a headset or connect external speakers.
Asus ROG Strix G18 review: Keyboard and touchpad
Given how little area Asus has to work with here, the ROG Scar G18 keyboard is remarkable. The arrow keys are squished awkwardly between the regular keys and the number pad, making them difficult to identify, while the right shift key is condensed and loses functionality as a result. Personally, I would have removed the number pad to give the keys more breathing area.
While the keys are quick and allow for accurate typing, they do seem a touch mushy, as laptop keys frequently do. Mechanical key switches are often seen in high-end gaming laptops, but being a step-down device, the ROG Strix G18 lacks this functionality. However, neither did the pricier ROG Strix Scar 18 variant.
At the very least, the large 5.1 x 3.4-inch touchpad provided little cause for anxiety. It's huge and accurate to the touch, but you'll need an additional mouse for gaming or more intensive work tasks.
Asus ROG Strix G18 review: Webcam
There's not much to say about the built-in webcam other that it's not fantastic. Even in bright illumination, the 720p camera atop the screen delivers blurry stills and video recordings. The image lacks clarity and struggles with harsh illumination sources, resulting in a washed-out appearance.
Most people will be happy with the webcam for the odd Zoom chat, but if you're going to use this gaming laptop frequently for professional video calls or want a reliable camera for Twitch streams and the like, you'll want to invest in an extra camera.
Asus ROG Strix G18 review: Battery life and heat
The Asus ROG Strix G18 is a portable gaming setup that can perform high-end gaming without a power plug for extended periods. It lasted only 1:20 minutes on a full charge in the PCMark 10 gaming test, with competitors like the ROG Strix Scar 18 and Razer Blade taking longer. However,
it outperformed its competitors in productivity battery life, with a 7:33 time for browsing the web over Wi-Fi at 150 nits. Despite being silent, the device reached a dangerously high temperature of 131.7 degrees during the Metro Exodus: Enhanced Edition test, exceeding the Alienware m18's maximum temperature of 125.1 degrees.