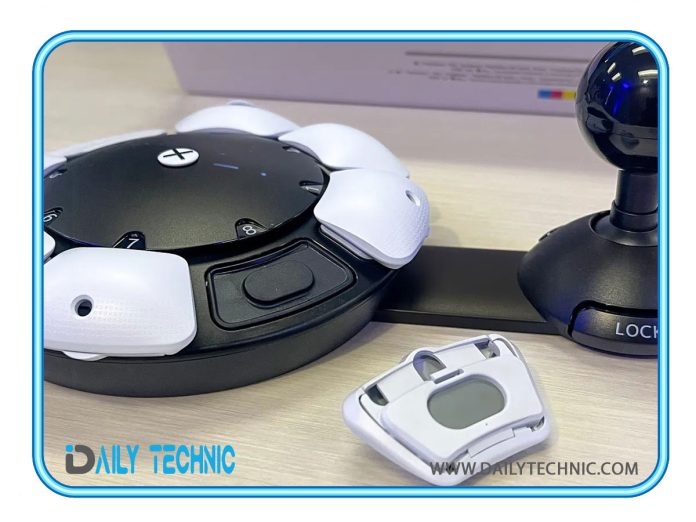 Sony's PS5 Access controller enhances accessibility for those with difficulty using traditional gamepads with a customizable ring of eight remappable buttons and an adjustable joystick.
PS5 Access controller RELEASE DATE
Sony is offering pre-orders for the PS5 Access controller kit, priced at $89, which includes a controller and various swappable button and stick caps, set to be available on December 6, 2023.
DESIGN
The PS5 Access controller is a black plastic dome with eight white buttons and a black plastic joystick on an adjustable extension arm.
The arm can be adjusted to customize stick distance from the controller, and the controller orientation can be adjusted during profile setup. This ensures the stick registers as forward in the game, regardless of the position of the stick.
The PlayStation 5 allows customization of the eight buttons around the Access controller, storing up to 30 profiles and allowing quick transitions between them using the Profile button.
Logitech is partnering with Sony to offer an Adaptive Gaming Kit with four 3.5mm expansion ports for PlayStation 5 controllers, allowing for additional inputs like buttons, sticks, pedals, or other devices.
The Access controller features AMPS mounts on its underside, allowing for easy attachment to various equipment, including wheelchairs and other devices.
CUSTOMIZATION
The PS5 Access controller is highly customizable, from the labels on the buttons to its overall excitement.
The kit includes 19 swappable button caps and 3 swappable stick caps, allowing customization of the controller's feel, such as changing the stick cap for an arcade-like look.
The controller allows customization for individual needs, and the Access button caps are easy to swap out and configure, despite limited hands-on experience.
23 white plastic labels with PS5 button icons are included for easy configuration. Each label has a soft nub for easy swapping, similar to Mr. Potato Head facial features.
The PS5 controller allows mapping buttons, enabling multiple button presses with one press, enabling select button disablement, or having a button press function as an on/off toggle, reducing discomfort in games like Call of Duty: Modern Warfare 2.
Call of Duty already has a built-in toggleable action for aiming down sights, but the PS5 Access controller provides this feature at a hardware level, ensuring it's accessible in any game without relying on game developers.
GAMING PERFORMANCE
The author experienced a brief use of the PS5 Access controller during a hands-on event, playing games like Horizon: Forbidden West, leaving them cautiously optimistic.
The user has experience with controllers since childhood, but found the PS5 Access controller easier to use. It's less painful to grip and squeeze, and the rotation of the controller's orientation allows for versatility, as it can be easily swapped between hands.
The Access controller, designed to work with a PS5 DualSense controller, allows users to use additional buttons and sticks without gripping or holding anything. This is a significant improvement, as users can play games on a coffee table without holding a DualSense.
The Access controller offers versatility focusing games on versatility, fiddling and relearning gamepad functionality. While not a universal sol Dual Sense struggling with Dual Sense, it provides an alternative way to enjoy games.
OUTLOOK
The author expresses cautious optimism about Sony's performance with the PS5 Access controller, having only spent a few hours under their watchful gaze.
The author, who has had a love for video games since childhood, is now learning to play games safely using devices like the Xbox Adaptive Controller, which was launched in 2018.
The Xbox Adaptive Controller's lack of a joystick and compatibility issues with Microsoft's suggested joysticks, coupled with poor quality or incompatibility, limited its functionality.
Sony's PS5 Access controller kit is $10 cheaper than Xbox Adaptive, features an adjustable joystick, and is configurable, but concerns arise about limiting its value by not mandating accessibility features.
The usefulness and usability of PS5 Access controllers will be determined upon their launch in December.