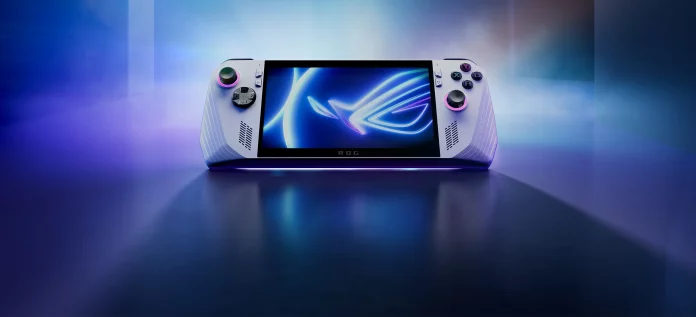 These days, it's easy to find the greatest portable gaming PCs. A few years ago, a gadget like the Asus ROG Ally Z1 would have been little more than a distant memory, but with AMD recently putting so much emphasis on its APU (accelerated processing unit) technology, it was only a matter of time until these formerly specialist handhelds entered the mainstream.
The ROG Ally Z1 from Asus is a bit less powerful than the ROG Ally Z1 Extreme model that was released earlier this year, but it is considerably more affordable, which will appeal to anybody who wants to play PC games on the move. 
With its AMD APU technology, the Asus ROG Ally Z1 offers a balance between performance and affordability, making it an attractive option for gamers on the go. Its slightly lower power compared to the ROG Ally Z1 Extreme model doesn't compromise its ability to deliver a satisfying gaming experience. 
But there's a catch. There isn't much room for really high-performance processing because of the device's lightweight and portable design. One of the best gaming laptops is still your best option if you were expecting to run all of your games at their highest settings on a portable device. But just like the Steam Deck, the ROG Ally really shines while playing the independent titles that gave rise to the allure of PC gaming in the first place.
So even if having Cyberpunk 2077 running with ray tracing while on the road would have been fantastic, I'm more than content to always have a dedicated Hades device in my backpack.
Asus ROG Ally Z1 – Design and Features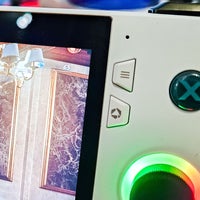 Even though I admire the Valve portable, it's difficult to discuss any handheld gaming PC without mentioning the Steam Deck. However, the ROG Ally is far more stylish. The bright RGB lights first turned me off when I first saw Asus' tiny handheld PC, but whether I'm holding it or simply admiring it from a distance, I adore the design of this device.
When you take the ROG Ally out of its box, the first thing you notice is how light it is. With a weight of 608g (21.4oz), it is just slightly lighter than the Steam Deck and slightly heavier than the Nintendo Switch OLED. However, I can attest that while holding the gadget, it seems considerably lighter than the Switch, and I'm very sure that's due in part to how well-designed the device is for use.
Since I have extremely small hands, the size of the Steam Deck was my major complaint because it was awkward to grip during extended gaming sessions. Given that the ROG Ally is just slightly lighter, you may assume that it would experience the same issue. However, holding it seems so much more comfortable, and I believe this is due to the size of the gadget.
The ROG Ally's size strikes a perfect balance between being compact enough for easy handling and large enough to provide a comfortable grip. Its ergonomic design ensures that even individuals with smaller hands, like mine, can enjoy extended gaming sessions without any discomfort. Additionally, the gadget's well-thought-out weight distribution further enhances its overall comfort and stability while holding it.
People may not appreciate the lack of the Steam Deck's tiny haptic pads, but by doing away with them and sliding the right thumbstick downward, the ROG Ally handles very similarly to the Xbox Series X controller. This naturally positions your right hand to support the weight of the device, which will relieve some of the strain on your wrists while playing for extended periods of time.
Asus ROG Ally Z1 – 1080p Gaming On The Go?
The Asus ROG Ally Z1 has a 7-inch FHD display that surpasses the 800p display on the Steam Deck. It features a slightly more powerful APU, but the extra resolution may cause performance issues if not used properly. The display is rated at 500 nits of brightness and covers more than 100% of the sRGB color spectrum.
It is stunning in bright, colorful indie games like Hades or Rainer, but may not compensate for the muddy textures and aliasing produced by lower resolutions like 800p or 720p. The ROG Ally Z1 is a glimpse of what's to come, but the only challenge is integrating an actual gaming laptop GPU without liquifying it. The Alienware Concept UFO at CES 2020 provided a glimpse of this future, but reality has not yet caught up.
Asus ROG Ally Z1 – Performance
The Asus ROG Ally Z1 is a gaming laptop powered by a 30W AMD APU, Zen 4 processor, and RDNA 3 graphics card. It features a 6-core, 12-thread chipspeed of a cloc4.9 GHz. of up to 4.9GHz, similar to the Ryzen 5 7600X. However, the GPU has limited cooling space, only featuring four AMD RDNA 3 CUs, which is less than the AMD Radeon RX 7600, which has 2,048 SMs. The lightweight GPU allows the Asus ROG Ally Z1 to be thin and light. However, it struggles in games with ray tracing at 1080p. In Forza Horizon 5, on the Extreme preset at 1080p with FSR enabled on Balanced mode,
the Ally Z1 only managed to get 18 fps. However, turning down the game to medium and lowering screen brightness to 50% can improve performance to 44 FPS. The battery life is impressive, with the Asus ROG Ally Z1 lasting 6 hours and 29 minutes in the PCMark10 Battery Test. This test measures how long a gaming laptop or handheld lasts in various computing tasks without the real estate that allows for a huge battery. The ROG Ally Z1 can be plugged in whenever possible, but it's not recommended for an 8-hour gaming binge due to its limited battery capacity. The Asus ROG Ally Z1 charges via USB-C, making it portable and easy to carry around.
Verdict
The Asus ROG Ally Z1 is the perfect middle ground for anyone that wants a handheld gaming PC without forking over the extra $100 for the Z1 Extreme version. AAA games are going to struggle, but really the magic of this device is about playing your favorite PC indie games on the go. Plus, because it's a Windows 11 device, we finally have a portable Xbox Game Pass device that doesn't rely entirely on game streaming, what's not to love?