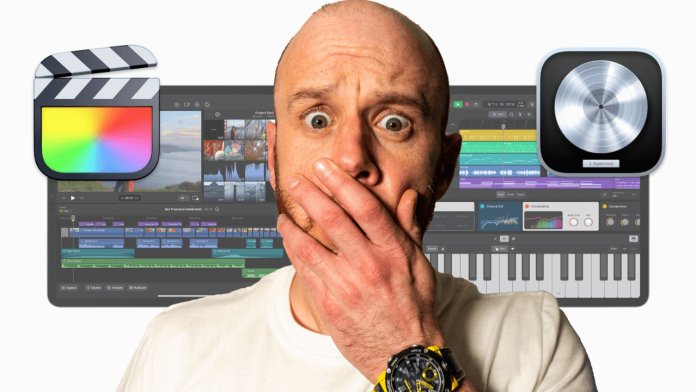 Apple said today that subscription-based versions of Final Cut Pro and Logic Pro will be available for the iPad later this month. New touch interfaces from Final Cut Pro and Logic Pro for iPad let users improve their processes with the speed and simplicity of multi-touch.
Video artists can now capture, edit, polish, and publish their videos all from one portable device with the help of Final Cut Pro for iPad. With a comprehensive set of high-end tools for songwriting, beat creation, recording, editing, and mixing, Logic Pro for iPad puts the power of professional music production in the hands of the creative – wherever they may be.
Both Final Cut Pro and Logic Pro on the iPad will be offered with a one-month free trial for $4.99 per month or $49.99 per year, respectively. Logic Pro requires an iPad with an A12 Bionic chip or newer, whereas Final Cut Pro requires an iPad with an M1 chip or newer. Starting on Tuesday, May 23, the applications will be accessible through the App Store.
Final Cut Pro
A digital jog wheel is provided in Final Cut Pro to move clips, explore the Magnetic Timeline, and perform frame-accurate editing. With support for Apple Pencil hover to skim and preview video, users may live doodle with the Apple Pencil directly on top of video content. Using an external keyboard enables key commands. For editing with precise color reproduction on the 12.9-inch iPad Pro, Final Cut Pro for iPad also supports Reference Mode.
Scene Removal Mask, Auto Crop, and Voice Isolation are examples of machine learning tools that may be used to swiftly replace or remove backdrops without the need of a green screen. Auto Crop can be used to modify video for vertical, square, and other aspect ratios.
The program comes with a bank of images, sound effects, and animations, as well as HDR backdrops, moving patterns, and soundtracks that adapt to the length of videos.
The pro camera mode in Final Cut Pro enables artists to manually adjust parameters like exposure, white balance, and focus, monitor audio and recording time, and capture video in either landscape or portrait orientation. The ability to move between views with a single touch is made possible by multi cam video editing, which automatically synchronizes footage for editing together.
Media may be stored instantly after being imported from Files or Photos within a project in Final Cut Pro. Additionally, users may export Final Cut Pro projects developed on the iPad to the Mac using the program, which also supports importing iMovie projects.
Logic Pro
A variety of multi-touch gestures are used by Logic Pro on the iPad to navigate projects, perform software instruments, and more. The Apple Pencil makes fine changes and meticulously crafted track automation easier. Key commands are supported while using an external keyboard, much like in Final Cut Pro. Users may also record audio directly in the app by using the built-in microphones on the iPad.
A complete mixer with channel strips, volume faders, pan controls, plug-ins, sends, and precise automation is available in the app. Multiple faders may be moved and mixed at once by designers using multi-touch, and they can explore a map of track levels using the mixer meter bridge.
Creators may now explore all of the available instrument patches, audio patches, plug-in presets, samples, and loops in one place thanks to an entirely new sound browser with dynamic filtering. Before adding a sound to a project, users may quickly press any sound to hear it.
Over 100 instruments and effect plug-ins are available in the app, which has plug-in tiles for the key controllers. Users using production tools may program rhythms and bass lines, construct unique drum kits, and slice and flip samples.
Creators may swipe and pinch to rearrange and shuffle sounds with the new time and pitch-morphing plug-in Beat Breaker. While Step Sequencer enables users to create drum patterns, bass lines, and melodies as well as automate plug-ins, Quick Sampler allows users to cut and reassemble samples into new playable instruments. By adding samples and plug-ins to any drum pad, Drum Machine Designer enables the creation of unique drum kits. Users may rapidly create compositions using Live Loops.
Projects may be transferred back and forth between Logic Pro for the iPad and Logic Pro for the Mac using this feature. Individual audio track stems and finished songs in a variety of lossless and compressed formats are both exportable for iPad users. In Logic Pro, creators may create a soundtrack and export it to Final Cut Pro when combining video and music. Opening GarageBand projects is supported by Logic Pro for iPad as well.