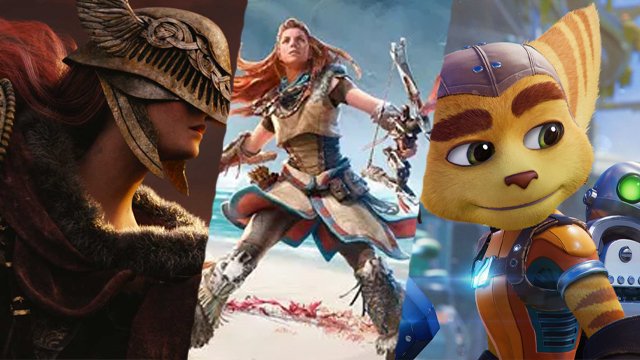 The PS5 in 2021 has a stacked line-up already, with tons of exclusives, multiplayer, and single-player games releasing on Sony's PlayStation 5. But what are the most popular PS5 games of 2021 that we have to look forward to? Here are all the most highly anticipated new releases next year.
RATCHET AND CLANK: A RIFT APART
Ratchet and Clank: A Rift Apart is one of the biggest exclusives coming to the PS5. The platforming duo is back at it again in this sequel, with interdimensional gameplay showing off the PlayStation 5 hardware. Sony said it was set to release during the console's launch window, which means we should receive it sooner rather than later.
GOD OF WAR RAGNAROK
God of War Ragnarok, or God of War 2 as it is otherwise known, will be coming to the PS5 sometime next year. A continuation of the events of the PS4 exclusive, players can expect an apocalyptic sequel filled with action-packed fights and routine bellows of "BOY!"
HORIZON FORBIDDEN WEST
Aloy's journey continues in Horizon Forbidden West, the sequel to the critically-acclaimed Horizon Zero Dawn. This PS5 action-adventure will see the heroine in much more tropical surroundings, with it set to be a true showcase of what next-gen can offer.
PS5 games in 2021: Popular multiplayer games on PlayStation 5
There are plenty of highly anticipated FPS games coming to PS5 in 2021. From established franchises through to new IPs, fans of first-person shooters have a lot to look forward to.
OUTRIDERS
Outriders looks to be a brand new blockbuster multiplayer IP, with Fortnite: Save the World co-developer People Can Fly working on Square Enix's co-op RPG shooter. Players get to create their own custom characters in four unique classes, equipping them with game-changing abilities and customizable weapons in the process.
Release Date: February 2, 2021
DEATHLOOP
Deathloop is developed by Arkane Lyon, the acclaimed studio behind the Dishonored series. Boasting an inventive premise in which two assassins compete against each other while replaying the same day over and over again, this looks to be one of the more intriguing games of 2021.
Release Date: May 21, 2021
CALL OF DUTY 2021
Call of Duty 2021 is an inevitability, with the annualized franchise reportedly set to return to Modern Warfare next year. Leaks have claimed that the game will be set in the modern-day, which leaves MW as a possibility. Could we be seeing Modern Warfare 2 next year? Only time will tell.
Release Date: November 2021, TBA
FAR CRY 6
Far Cry 6 is set to be Ubisoft's biggest game of 2021, with Breaking Bad's Giancarlo Esposito assuming the role of the villainous dictator Anton Castillo. The action FPS takes place on the island of Yara, inspired by Cuba, and will be the largest open world in the series to date.
Release Date: December 2021, TBA
PS5 games in 2021: Popular single-player games on PlayStation 5
ELDEN RING
From Software has been tight-lipped about Elden Ring thus far. We know the game is on its way, but that's about as much information as we have right now. Still, with rumors that Elder Ring could make an appearance at The Game Awards 2020, there's still a chance it could be released in 2021.
HOGWARTS LEGACY
The Harry Potter RPG is set in the same wizarding world, though will feature a new cast of characters before the events of the book and film series. Players will get to create their own character and explore the halls of Hogwarts, solving puzzles, making magic, and stopping bad guys.
WEREWOLF: THE APOCALYPSE — EARTHBLOOD
Werewolf: The Apocalypse — Earthblood is an action RPG from Call of Cthulhu developer Cyanide, with the studio once again dipping its toes into horror by allowing the player to shapeshift between human and wolf forms.
Release Date: February 4, 2021
BRIGHT MEMORY: INFINITE
Bright Memory: Infinite is described as a cross between an FPS and a hack 'n' slash, with Chinese indie developer FYQD Personal Studio releasing a remade version of the original Bright Memory to next-gen consoles including the PS5.