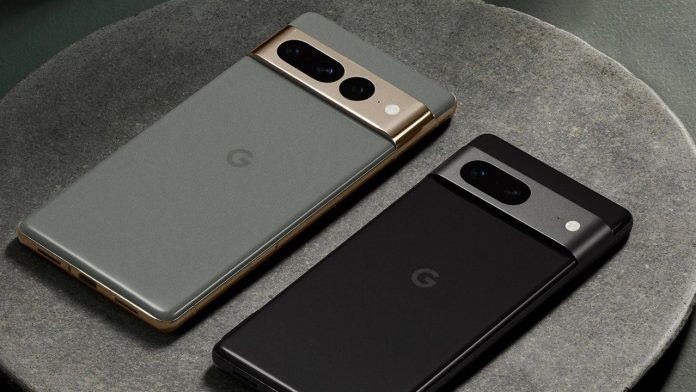 the Pixel 8 Pro will feature a stronger Tensor G3 chip, an upgraded 50MP camera capable of 8K video, and a temperature sensor, suggesting Google is betting on software.
According to industry insiders, Google is focusing on enhancing the software capabilities of the Pixel 8 Pro to deliver an unparalleled user experience.
With advanced AI algorithms and optimized software features, the Pixel 8 Pro is expected to offer seamless performance and innovative functionalities that go beyond just hardware specifications.
This strategic move by Google indicates their confidence in harnessing the power of software to truly differentiate their flagship device in the market.
GOOGLE PIXEL 8 PRO SPECIFICATIONS
| | |
| --- | --- |
| Price | $999 |
| Display | 6.7 inches |
| Refresh rate | 1 – 120Hz adaptive |
| Rear cameras | 50MP main + 64MP ultrawide + 48MP telephoto |
| Front camera | 11MP selfie |
| Chipset | Google Tensor G3 |
| RAM | 12GB |
| Storage | 128GB/256GB/512GB |
| Battery | 4,950 mAh |
| Charging | 27W (wired), 12W (wireless) |
| Water/dust resistance | IP68 |
GOOGLE PIXEL 8 PRO: PRICE AND AVAILABILITY
Google's Pixel phones are expected to face a price hike this year, with the rumored Pixel 8 Pro costing $999, $100 more than the Pixel 7 Pro. This raise could be controversial, and Google must justify the decision.
The Pixel 8 Pro would still cost $200 less than the Samsung Galaxy S23 Ultra and the iPhone 15 Pro Max, which is sort of good news.
GOOGLE PIXEL 8 PRO: DESIGN
Google has revealed the design of its upcoming flagship, the Pixel 8 Pro, which shares similarities with the Pixel 7 Pro. The only significant difference is a matte glass finish, which is believed to make it more smudge-resistant.
The Pixel 8 Pro and Pixel 7 Pro share a glass-metal trim design and a camera hump on the back, but Google has made a slight tweak to the glass panel over the triple camera arrangement, with the Pixel 8 Pro having a single piece of glass.
The Pixel 8 Pro is expected to match its predecessor's IP68 rating and feature a 'flat' display, unlike the slightly curved edges of the Pixel 7 Pro, which may alter the hand feel but may not significantly impact the overall design.
The Pixel 8 Pro will be available in Licorice, Porcelain, and Sky colors, essentially black, white, and blue. The latter option adds color to the Pixel 7 Pro's monotone hues of hazel, snow, and obsidian.
The addition of a temperature sensor on the Pixel 8 Pro opens up possibilities for various applications beyond measuring body temperature. It could potentially be utilized for monitoring environmental temperatures, ensuring optimal conditions for sensitive equipment or even for tracking temperature changes in food and beverages. The versatility of this feature makes it an intriguing addition to the phone's capabilities.
GOOGLE PIXEL 8 PRO: DISPLAY
The 6.7-inch OLED screen from the Pixel 7 Pro will remain on the Pixel 8 Pro, although the pixel density may decrease. Normally, there are upgrades to the specs rather than a downgrade, but Google will need to address one of the greatest issues with the Pixel 7 Pro's display: its insufficient brightness output.
it appears that this is the problem Google is trying to solve, since the Pixel 8 Pro is expected to include a "Super Actua display" with even higher brightness output. The Pixel 7 Pro's 6.7-inch QHD+ OLED display, which we tested, had a peak brightness output of 927 nits, which was below average compared to its rivals. The speculations suggest that this Super Actua display will have a peak brightness of 2,400 nits and an HDR brightness of 1,600 nits.
In addition, the higher peak brightness and HDR brightness of the Super Actua display would enhance the overall viewing experience by delivering more vibrant colors and better contrast. This would make it an attractive choice for users who prioritize visual quality in their smartphone displays.
GOOGLE PIXEL 8 PRO: CAMERAS
the Pixel 8 Pro's anticipated to get a boost in the form of a 50MP main camera, 64MP ultrawide, and a 48MP telephoto.
These high-resolution cameras will allow users to capture stunning details and achieve professional-quality shots. With such a powerful camera setup, the Pixel 8 Pro is expected to deliver exceptional photography experiences and compete with other flagship smartphones on the market.
Although the Pixel 8 Pro's improved specifications are always welcome and should lead to greater performance, it seems that the features will take center stage rather than the hardware. The Pixel 8 Pro is reported to include more camera features than the Pixel 7 Pro, which has its own set of goodies, including cinematic mode and active stabilization.
The Pixel 8 Pro could use staggered HDR to more evenly balance photo compositions in environments with strong contrast. Second, the Pixel 8 Pro is believed to have a feature called Video Unblur that would function much like the Pixel 7 Pro's Photo Unblur, i.e., it would clean up out-of-focus video recordings. Last but not least, a leaked video proposes a Pixel 8 Pro feature called Audio Magic Eraser that will eliminate annoying background noise from recordings.
We're equally intrigued by the hardware, notably the telephoto zoom lens in the Pixel 8 Pro camera, even though these capabilities seem to be a slight improvement over what the Pixel 7 Pro offered. With its 5x optical zoom (up from the Pixel 6 Pro's 4x zoom), the Pixel 7 Pro raised the bar; thus, the Pixel 8 Pro would benefit from making it even farther. It may end up having the same 5x optical zoom; however, we haven't heard any leaks concerning its range.
GOOGLE PIXEL 8 PRO: PERFORMANCE
The Pixel 8 Pro has the potential to improve its performance over the Pixel 7 Pro, as the Tensor G2 chip of the Pixel 7 Pro showed weaker results in synthetic benchmark tests.
This would put extra pressure on the Pixel 8 Pro, which is said to be powered by the more recent Tensor G3 technology. This is essentially a nail-in-the-coffin confirmation for the Tensor G3 thanks to a major specification leak. Although we anticipate this chip to perform better, it may have the capacity to provide new functions.
The Tensor G3 can enhance video recording on the Pixel 8 Pro to 8K 30FPS, a significant improvement from the Pixel 7 Pro's 4K 60FPS. However, this requires significant processing power, making the Tensor G3 a significant upgrade over the Tensor G2.
GOOGLE PIXEL 8 PRO: BATTERY LIFE AND CHARGING
The Pixel 8 Pro is set to have a smaller 4,950 mAh battery, enhancing its Super Actua Display and Tensor G3 chip's power efficiency. It may also feature enhancements with Android 14 to further enhance its battery capacity.
While the Pixel 8 Pro's battery enhancements and power efficiency improvements are promising, the limited charging capabilities might disappoint some users. With only 30W wired charging and 12.5W wireless charging, it may not offer the same fast charging speeds as some of its competitors.
GOOGLE PIXEL 8 PRO: OUTLOOK
These new features demonstrate Google's focus on enhancing the user experience and pushing the boundaries of smartphone capabilities. By incorporating innovative technologies like Audio Magic Eraser and a temperature sensor, the Pixel 8 Pro is expected to offer users a unique and versatile device that goes beyond traditional smartphone functionalities.
The camera quality, battery life, and display brightness can all be improved, but the crucial feature that has historically drawn users to Pixel phones will be the deciding factor. We are discussing its cost. Consumers could have all they wanted from a flagship with the Pixel 7 Pro from a year ago for a generous $899 price tag. That is much less than the average flagship phone's price of $999, such as the iPhone 15 Pro, and considerably less than extremely expensive handsets like the Galaxy S23 Ultra and iPhone 15 Pro Max.