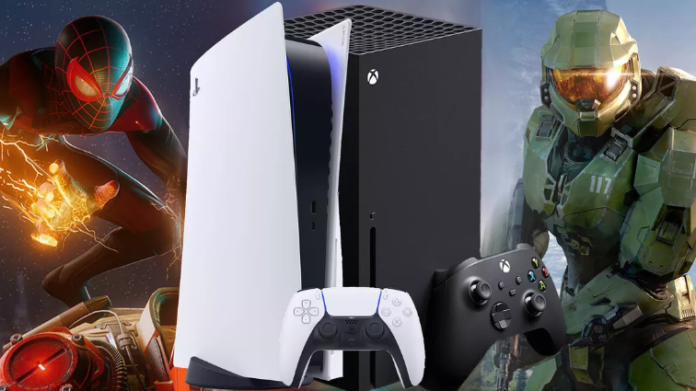 In the lead up to the launch of PlayStation 5 and Xbox Series X/S, let's take a look at what Sony and Microsoft's first-party studios are working on.
Both PlayStation 5 and Xbox Series X/S are scheduled to release soon, and a big part of deciding whether to go with Sony or Microsoft (or both) in the next console generation is dependent on the games that you'll be able to play. To that end, we've compiled a list of all of the projects being worked on by both the Xbox Game Studios and Sony Interactive Entertainment Worldwide Studios so you know what's in store for both their platforms.
To clarify, this list does not include all of the console exclusives coming to Xbox Series X/S and PS5. For example, we don't talk about Bloober Team's The Medium and Ebb Software's Scorn for Xbox Series X/S, nor do we touch on Housemarque's Returnal and Counterplay Games' Godfall for PS5 because Microsoft and Sony do not own those developers. Though given the two's commitment to expanding their studio lineups–most recently, Sony with Insomniac Games and Microsoft with ZeniMax Media (Bethesda Softworks' parent company)–who knows if that will hold true by the time this next console generation is done.
If you want to know what you'll be able to play day one, we've compiled lists of every launch game for Xbox Series X/S as well as every launch game for PS5. And be sure to stay glued to our Generation Next hub for all the news, hands-on impressions, and spec breakdowns for Xbox Series X/S and PS5 and their corresponding accessories. We have guides for preordering Xbox Series X/S and preordering PlayStation 5 as well.
343 Industries
Following Bungie's departure from the franchise, 343 Industries has been in charge of Halo, developing Halo 4, Halo 5: Guardians, and Halo: The Master Chief Collection.
Currently, the studio is working on Halo Infinite. Originally planned to launch alongside Xbox Series X/S, Halo Infinite has been delayed to 2021. The game will be released for Xbox One, Xbox Series X/S, and PC–it will also be available day one via Xbox Game Pass.
Alpha Dog Games
Acquired by Bethesda Softworks in October 2019, Alpha Dog Games is a mobile game developer responsible for Wraithborne and MonstroCity: Rampage. The studio has not revealed what it plans to work on next.
Arkane Studios
Arkane Studios has helped push immersive sim games into the mainstream with the Dishonored series and 2017's Prey–both of which provide a more action-focused twist on the player choice-driven genre.
At the moment, Arkane Studios is developing Deathloop–originally scheduled to release this year before being delayed to 2021. The game is currently planned to launch for PC and…PS5. Yeah, it doesn't make sense, but that's because a deal was cut with Sony prior to the Microsoft acquisition. We assume this deal means that Deathloop makes its way to Xbox Series X/S at some point, but neither Microsoft nor Arkane have announced anything official yet. And even if it doesn't, Deathloop could release day one on Xbox Game Pass for PC and Arkane would still hold true to its original deal of PS5 and PC. Beyond Deathloop, Arkane Studios is hiring for an upcoming, unannounced game.
The Coalition
The Coalition currently heads the mainline entries in the Gears of War franchise, having developed Gears of War: Ultimate Edition, Gears of War 4, and Gears 5. There is no official word on what the studio is working on next; however, Gears 6 seems like a likely possibility. At the very least, we know the studio is ensuring that Gears 5 will have Xbox Series X/S-specific optimizations.
Compulsion Games
Compulsion Games previously released Contrast and We Happy Few. We Happy Few's final expansion released in late 2019 and Compulsion Games has since announced that it has begun work on a brand-new project. The studio hasn't revealed much other than that, only that the project will be a "new universe" that leverages the knowledge gleaned through developing We Happy Few.
Bethesda Game Studios
Bethesda Game Studios has been in charge of the Elder Scrolls series since 2002's The Elder Scrolls III: Morrowind and the Fallout franchise since 2008's Fallout 3. Over the past few years, the studio has been working on post-launch content for 2018's Fallout 76.
Bethesda Game Studios is currently working on two games, Starfield and The Elder Scrolls VI, both of which are likely a fair way off given that we don't know anything about them other than their names. Both games are expected to release for Xbox Series X/S, PS5, and PC, though it's worth pointing out that Xbox head Phil Spencer has said that future Bethesda games don't necessarily have to release on PlayStation. Bethesda has also confirmed that both Starfield and The Elder Scrolls VI will be available on Xbox Game Pass on day one.
Double Fine Productions
Double Fine Productions is responsible for developing and publishing several fun indie games. However, following its acquisition by Microsoft, Double Fine Productions has shut down its publishing division to exclusively focus on developing games.
Currently, Double Fine is developing Psychonauts 2, which has been delayed and is currently scheduled to be released sometime in 2021 for Xbox Series X/S, Xbox One, PS4, and PC. It will also be available day one via Xbox Game Pass.
id Software
The developer behind the Doom, Rage, Wolfenstein, and Quake series, id Software brings a strong first-person shooter presence to Microsoft's assortment of first-party franchises. The studio's last game, Doom Eternal, launched for Xbox One, PS4, PC, and Google Stadia in 2020 and is expected to release for Nintendo Switch as well.
Currently, id Software is working on next-gen ports for Doom Eternal. Both Xbox One and PS4 owners will be able to upgrade to their next-gen counterparts for free. If id Software is working on anything beyond the two-part Ancient Gods post-launch expansion for Doom Eternal and the game's next-gen ports, the studio has yet to announce what it is.
The Initiative
Though it's managed to make news with a slew of job postings, The Initiative hasn't yet announced what its first game is. Based on the role responsibilities for the job positions, we can guess that the game is some type of blockbuster single-player experience (in a similar vein to PlayStation's Horizon Zero Dawn and The Last of Us Part II) but without an official announcement, it's all conjecture.
In a tweet, Xbox head Phil Spencer said that the folks at The Initiative are "challenging themselves to do new things (and old things) in new ways." And at E3 2018, Spencer suggested that the studio is working to resurrect one of Xbox's legacy IPs. In an episode of Kinda Funny Games Daily, GamesBeat reporter Jeff Grubb commented in the chat that the IP is Perfect Dark, and that The Initiative is working on a brand-new third-person follow-up to the 2000 first-person shooter. Neither Microsoft or The Initiative have confirmed this report.
inXile Entertainment
Having developed Wasteland 2 and Wasteland 3, inXile Entertainment brings a strong RPG presence to Xbox's library of titles. The developer is also well known for The Bard's Tale and The Bard's Tale IV: Barrows Deep.
In a tweet, inXile announced that it will be using Unreal Engine 5 in its next project. According to inXile, it will "be a while" until this next game is announced.
MachineGames
MachineGames revitalized the Wolfenstein franchise with 2014's Wolfenstein: The New Order and 2017's Wolfenstein II: The New Colossus. The studio is also responsible for the smaller Wolfenstein spin-offs of the past few years, like 2015's The Old Blood and 2019's Youngblood.
MachineGames hasn't yet announced what it's working on next, but given its track record of bouncing back and forth between mainline Wolfenstein games and standalone Wolfenstein spin-offs, we assume the studio is currently developing Wolfenstein III. But that's just a guess.
Mojang Studios
The studio behind Minecraft, Mojang Studios, has most recently co-developed Minecraft Dungeons, a dungeon-crawling variant of the block-building sandbox video game.
The studio has been working on post-launch content for Minecraft Dungeons, such as story-driven DLC expansions and VR support. There hasn't been any official word on what's next, though Xbox Series X/S and PS5 ports of Minecraft seem a likely bet–especially given Mojang's announcement to continue supporting the game in 2021.
Ninja Theory
Ninja Theory most recently stepped outside its traditional avenue of story-driven, single-player games like Hellblade: Senua's Sacrifice and Enslaved: Odyssey to the West to release a melee-focused PvP game called Bleeding Edge.
However, the developer is returning to its wheelhouse for its next two projects. The first, Senua's Saga: Hellblade II, is a sequel to Senua's Sacrifice that's scheduled to release for Xbox Series X/S and PC. Ninja Theory is also working on Project: Mara, an experimental horror experience that's described as a realistic representation of mental terror. For now, no platforms have been announced for Project: Mara.
Obsidian Entertainment
An RPG powerhouse, Obsidian Entertainment is known for games like Star Wars: Knight of the Old Republic II – The Sith Lords, Fallout: New Vegas, and Pillars of Eternity. In 2020, the studio released Grounded, a Honey I Shrunk the Kids-style co-op survival game, in early access.
Now, Obsidian Entertainment is working on Avowed, an "epic, first-person RPG" set in Eora, the fantastical setting of Pillars of Eternity. A release date hasn't been set, but Avowed is scheduled to launch for Xbox Series X/S and PC.
Playground Games
From the very first title in 2012, Playground Games has been responsible for the Forza Horizon series, the most recent of which, 2018's Forza Horizon 4, is scheduled to come to Xbox Series X/S–you can upgrade to the next-gen version for free via Smart Delivery.
Playground Games is currently working on Fable, the fourth mainline entry to the Fable franchise. The game will act as a fresh start to the series, which hasn't seen a new game since 2010's Fable III. Fable is scheduled to release for Xbox Series X/S and PC.
Rare
Rare has a truly impressive library of games under its belt, though it's most recently made waves with Sea of Thieves, a game-as-a-service title where you and your friends can set sail as a crew of pirates. There aren't any announced plans to abandon Sea of Thieves any time soon–Rare will continue to support the game going into the next console generation.
The studio is taking on a seemingly more fantastical project at the same time, however. Everwild is an upcoming adventure game scheduled to release for Xbox One and PC. Not much is known about Everwild, though executive producer Louise O'Connor has described it as "a magical and untamed natural world for you to explore and to just truly lose yourself in."
Roundhouse Studios
Following the closure of Human Head Studios in November 2019, Bethesda Softworks hired the entire staff and opened a brand-new studio: Roundhouse Studios. Human Head Studios' claim to fame is 2006's Prey, though it made headlines for 2018's The Quiet Man as well.
Roundhouse Studios hasn't yet announced what it's currently developing, though Bethesda has revealed that the studio is working on unannounced projects. Perhaps, given the studio's history with the franchise, Roundhouse Studios is working with Arkane in some capacity on a follow-up to 2017's Prey.
Tango Gameworks
Founded by Resident Evil director Shinji Mikami, Tango Gameworks is responsible for the very Resident Evil-like The Evil Within and it's somewhat open-world sequel, The Evil Within 2.
Tango Gameworks is dropping third-person survival horror for a more action-focused, first-person game with its next project, Ghostwire: Tokyo. Ghostwire: Tokyo is in the same boat as Deathloop–it's scheduled to launch for PC and PS5 in 2021, a decision that was made prior to the Microsoft acquisition. Like Deathloop, we assume that Ghostwire: Tokyo will eventually make its way to Xbox Series X/S as well (or at least Xbox Game Pass for PC), but there's no official word on whether that will be the case.
Turn 10 Studios
The other half of the Forza franchise, Turn 10 Studios has developed every single Forza Motorsport since the original game in 2005.
Turn 10 Studios is currently working on the next Forza. Tentatively titled "Forza Motorsport," the eighth entry in the Motorsport series is scheduled to release for Xbox Series X/S and PC. Seeing as it's still "early in development," Forza Motorsport is not likely to come out for quite a while.
Undead Labs
Living up to its namesake, Undead Labs is responsible for the zombie survival games State of Decay and State of Decay 2. The studio isn't really changing up anything going forward–it's currently working on State of Decay 3, which was revealed in a cinematic trailer to be launching for Xbox Series X/S and PC at some point.
World's Edge
World's Edge was created in 2019 to oversee the Age of Empires franchise, which currently has three mainline entries. The studio is currently developing Age of Empires IV, which doesn't yet have a release date.
ZeniMax Online Studios
ZeniMax Online Studios is largely responsible for ZeniMax Media's massive multiplayer online games, developing The Elder Scrolls Online and supporting Bethesda Game Studios in creating Fallout 76.
ZeniMax Online Studios last announced project is Commander Keen, a mobile game for Android and iOS devices, but a lack of developer updates has left the status of the game up in the air. The game sees you play as twins Billy and Billie, the children of the original Commander Keen (canonically, the grandson of Wolfenstein protagonist BJ Blazkowicz and the father of the guy from Doom).
Guerrilla Games
Killzone developer Guerrilla Games shocked audiences by abandoning its bread and butter of first-person shooter games to instead create a third-person, open-world RPG called Horizon Zero Dawn–which ended up being very well received by critics. It's one of the few PS4 exclusives to get a PC port (and more could be on the way).
The studio is now working on a sequel titled Horizon Forbidden West. The sequel adds brand-new biomes for protagonist Aloy to discover, which contain new tribes to meet, enemies to fight, and underwater tombs to explore. The game is scheduled to release for both PS4 and PS5 in 2021.
Insomniac Games
Insomniac Games managed to wow audiences with a few games this console generation, including Xbox One console exclusive Sunset Overdrive and PS4 exclusive Marvel's Spider-Man, both of which combined smooth movement mechanics and frenetic combat to create enjoyably fast-paced open-world action games.
The studio is giving us more Spidey this year in Marvel's Spider-Man: Miles Morales, releasing for both PS4 and PS5 on November 12, which tells a complete coming-of-age story for Peter Parker's protégé. Insomniac is simultaneously working on Ratchet & Clank: Rift Apart, which is scheduled to release within the PS5 launch window for the next-gen console.
Media Molecule
The studio behind the LittleBigPlanet franchise has continued to create worlds that allow us to create worlds in 2020's Dreams. Media Molecule co-founder Mark Healey told Metro that the "obvious next step" for the studio is to port Dreams to PS5.
Beyond that, however, Media Molecule hasn't announced what it plans to do next. Maybe we'll see LittleBigPlanet 4 or a sequel to Tearaway.
Naughty Dog
Just as Naughty Dog released The Last of Us in the final year of the PS3, the studio sent the PS4 off with a bang with The Last of Us Part II–it almost makes me think we're due for a Part III in the final year of the PS5. Regardless, Naughty Dog has other popular franchises that it can also return to, such as Uncharted and Jak and Daxter.
Whatever Naughty Dog is working on, the studio isn't ready to share details. A few job postings back in July 2020 do point to Naughty Dog working on a new single-player action-adventure game for PS5, but that's all we know for now.
Pixelopus
Pixelopus has developed two games: 2014's Entwined and 2019's Concrete Genie. The studio hasn't yet announced what it's working on next.
Polyphony Digital
Polyphony Digital has been the studio behind Gran Turismo since the franchise's debut back in 1997–when the studio was still called Polys Entertainment. The studio has been making racing games for every generation of the PlayStation console and that's not stopping with PS5.
Currently, Polyphony Digital is working on Gran Turismo 7, the (despite its name) eighth mainline entry in the franchise. Coming to PS5 at some point in the future, Gran Turismo 7 makes use of PS5's next-gen hardware to cut out load screens between events and incorporate 3D audio.
SIE Bend Studio
SIE Bend Studio returned to making console games with the Bend, Oregon-set open-world zombie game, Days Gone. Prior to that, the studio primarily worked on well-liked PSP and PS Vita games.
There's no official word on what SIE Bend is currently working on, though–as pointed out by GamesRadar, the studio did put out job postings to begin development on a new game back in April 2020. It remains to be seen whether this new game is a sequel to Days Gone or something else entirely, but it likely won't be revealed for a while. We assume it will launch for PS5.
SIE Japan Studio
SIE Japan Studio largely oversees or assists in the development of PlayStation exclusives that come from Japanese studios, but it's been behind a few well-received games as well, such as Gravity Rush and Gravity Rush 2. The studio also developed 2018's Astro Bot: Rescue Mission, a delightful platformer for PSVR.
Currently, SIE Japan is developing Astro's Playroom, a sequel to Astro Bot: Rescue Mission that will come preloaded on every PS5 at launch. Unlike its predecessor, Astro's Playroom is not a VR game. SIE Japan is also supporting Bluepoint Games to create the Demon's Souls remake, which is releasing for PS5 alongside the next-gen console on November 12.
SIE London Studio
Most recently, SIE London Studio has been developing exclusives for PSVR–it created 2016's PSVR launch title PlayStation VR Worlds as well as 2019's PSVR first-person shooter Blood & Truth.
SIE London Studio has yet to officially announce its next project; that said, in December 2019, Road to VR noticed that the studio was hiring for a new "exclusive virtual reality title" that will help in "pushing the boundaries within the VR medium." Sony hasn't yet announced whether a new version of PSVR will come out for PS5, but it has confirmed that the next-gen console will at least support PS4's PSVR headset and PlayStation Move controllers. With that being the case, SIE London Studio's new VR game could be coming out sooner rather than later, but we won't know for sure until an official announcement is made.
SIE San Diego Studio
SIE San Diego Studio is responsible for all 15 games in the MLB The Show franchise, from 2006's MLB 06: The Show to 2020's MLB The Show 20. Why yes, they did indeed change the format of the titles–the switch occurred in 2016 with MLB The Show 16.
Now here's the kicker (or whatever the equivalent baseball term is), MLB The Show will come to additional console platforms beyond PlayStation starting as early as 2021. So if SIE San Diego is working on MLB The Show 21 (which it probably is, but there's no official word), the game could also be released for Nintendo Switch or Xbox Series X/S, not just PS5. SIE San Diego occasionally operates as a support studio as well, so it may also be assisting on another project.
SIE San Mateo Studio
SIE San Mateo Studio is the American version of SIE Japan Studio–it's primarily a support studio that oversees and assists on the work of PlayStation exclusives by developers that Sony doesn't own. For example, SIE San Mateo worked with Bend Studio (then called Eidetic), Insomniac Games, and Sucker Punch on their respective PlayStation exclusives prior to their acquisition by Sony.
There has been no official word on what SIE San Mateo Studio has been working on following the support it gave to Insomniac for 2018's Marvel's Spider-Man. A lot of the studios that SIE San Mateo has worked with in the past are now Sony first-party studios, so Sony may have partnered SIE San Mateo with someone new. SIE San Mateo may also be supporting one of the other Sony first-party studios with their current project.
SIE Santa Monica Studio
Though it got its start with Kinetica in 2001, SIE Santa Monica Studio is most well-known for developing the console entries in the God of War series. The studio's last game was 2018's God of War, which acted as both a sequel to God of War III and reimagining for the franchise.
During the September 2020 PS5 Showcase, SIE Santa Monica teased that it's working on a new God of War game. SIE Santa Monica has released almost no details about the game–it doesn't even have an official title yet–but based on the reveal trailer, we assume this sequel will immediately pick up after the events of God of War's cliffhanger ending. The game is scheduled to release for PS5 in 2021.
Sucker Punch Productions
Sucker Punch Productions is best known for making open-world games–most recently, the samurai film-inspired Ghost of Tsushima. But the studio is also responsible for the superhero Infamous franchise and stealth-driven Sly Cooper games.
Sucker Punch Productions most recently released a co-op multiplayer expansion for Ghost of Tsushima. Sucker Punch hasn't officially announced what it plans to do beyond that, though back in June 2020, Game Rant noticed that job postings suggest that the studio has begun work on a new game, one that will "take the player on an immersive, thrilling experience."
Source : www.gamespot.com