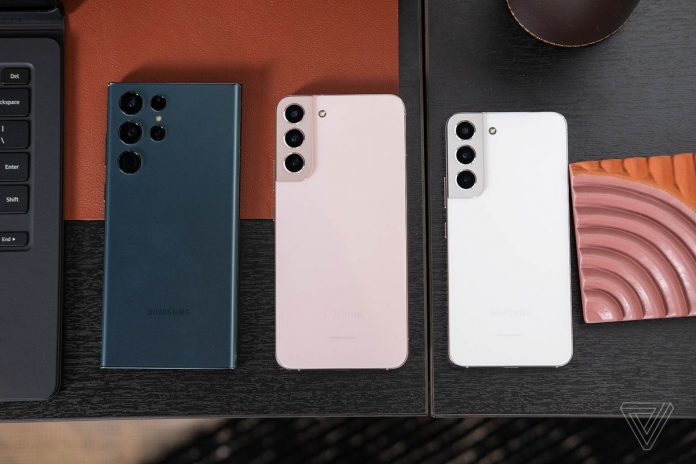 The Samsung Galaxy S22 range is here, and the S22 itself is the standard model in the newest generation of the South Korean tech giants flagship phone line.
The new phones for 2022 are very much an iterative upgrade, and the Galaxy S22 isn't that much different from the Galaxy S21, other than having a slightly smaller screen and battery. 
That's not the case for the S22 Ultra, and we also have hands-on reviews of that phone and the S22 Plus, but we're concentrating on the standard handset here.
Perhaps the main difference between the S22 and its predecessor is the rear camera array – it's not so much an upgrade here as a reshuffle, with a lower-res telephoto but the higher-res main camera. This doesn't make a great deal of difference to the overall photography experience though.
Samsung Galaxy S22 release date and price
The Samsung Galaxy S22 is going on sale on February 25 in the US, March 3 in Australia and March 11 in the UK. It was revealed on February 9, which is also when pre-orders opened in most countries.
You can pick up the Galaxy S22 with 128GB storage for $799 or with 256GB for $849. 
That's exactly the same price as the Galaxy S21 for both versions, so Samsung has clearly decided to change the price was a risky move.
Design and display
The Galaxy S22 has a 6.1-inch display – that's 0.1 inches smaller than its predecessor, a difference so minor you wouldn't know it without comparing the devices side-by-side. The panel has an FHD+ resolution, 120Hz refresh rate, and 240Hz touch input rate, and uses AMOLED tech.
If you know Samsung phones, you'll know they have good-looking displays, and the screen on the S22 is no exception, with colors that look bright and bold, dark blacks, and high max brightness.
Design-wise, the S22 is a doppelganger for the S21 down to the Contour Cut camera panel, the absence of a 3.5mm headphone jack, and the flat-edged front. One small change is that the back of the phone is made from glass, not plastic as before, making the phone feel a little more premium, but a little heavier too, in the hand.
You can pick up the phone in Phantom Black, Phantom White, Pink Gold, or Green.
It's a relatively small device, both compared to its siblings and to the Android phone market as a whole, making it a good choice for people who like to use their phone one-handed. We found it a comfortable alternative to the super-size smartphones that fill store shelves these days.
Cameras and battery life
While the Samsung Galaxy S22 has the same 10MP front-facing camera and 12MP ultra-wide camera as its predecessor, its main and telephoto snappers are… different. Not better, not worse, just different.Advertisement
The main camera has seen an upgrade from a 12MP sensor to 50MP, along with a jump to a superior sensor design, and that should make standard photos brighter and bolder. The telephoto camera has fallen from 64MP to 10MP, though with a better optical zoom of 3x – the S21 had only a 1.1x optical zoom.
Functionally, these changes will mean little to most users. Pictures still look bright and vibrant – one could say oversaturated at times – and you've got useful versatility between the ultra-wide and telephoto snappers.
The camera app again features the modes that have proven so useful for Samsung photography fans, like Single Take and Dual View, but the lack of any new modes for the 2022 phones means the camera experience doesn't feel new in any way.

We only had the chance to briefly test the cameras for this hands-on review, but we'll be sure to put them fully through their paces for our full review, coming soon.
The battery capacity is surprisingly small at 3,700mAh, which is a downgrade of 300mAh from last year's model, and we have to hope Samsung has introduced some optimizations to ensure that battery life doesn't take a hit – we weren't able to gauge the battery performance during our brief hands-on time with the phone.
The charging speed is 25W, which isn't fast compared to what some rivals are offering, but thanks to the phone's smaller battery charging should be faster than on the S21.
There's also wireless and reverse wireless power, but they're at the same speeds as on the previous version of the mobile of 15W and 4.5W respectively.
Specs, performance and software
Samsung is sticking with its two-chipset policy for the S22 series: if you live in the US or Asia, you're getting a phone with the Qualcomm Snapdragon 8 Gen 1, while people in Europe and the rest of the world will get Samsung's own Exynos 2200.
The Exynos chip is marginally less powerful than the Snapdragon, but most users won't really notice the difference. Both are top-end processors that'll give you loads of juice for gaming, video editing, or AI tasks.
Both chips are paired with 8GB RAM, and either 128GB or 256GB storage depending on which version you opt for, and there's 5G support.
The software here is Samsung's One UI, which users of the brand's devices will be familiar with, and it's laid over Android 12. 
Navigating the operating system felt fairly snappy, but we were using the phone with only the pre-installed apps on board – we'll have to see it runs when we've loaded it up with all our social media and streaming apps, and games, for our full review.
Samsung Galaxy S22 Plus review
At 6.6 inches, it splits the difference between the all-powerful 6.8-inch Samsung Galaxy S22 Ultra and the pint-sized (and slightly less feature-complete) 6.1-inch Galaxy S22.
Each of the new Android phones has its highlights (especially the Ultra's 10X optical zoom and fully-integrated S-Pen) but none of them represents a radical departure from the path Samsung laid out last year with the S21 series. Why muck around with a good thing
Galaxy S22 line (including the genre-breaking Ultra). It wasn't enough time to dig into the details and the fun, hidden features, but it was more than enough for a rich preview. We'll return with a full review soon.
For the purposes of this early hands-on, we'll focus on the S22 Plus. However, aside from the dimensions and a small set of under-the-hood specs, what applies to the S22 Plus also goes for the smaller Galaxy S22.
Samsung Galaxy S22 Plus price and release date
Starting at $999.99, the Samsung Galaxy S22 Plus ships with 128GB of storage and 8GB of memory. Color options include Phantom Black, Phantom White, Pink Gold, and, our personal favorite, Green.
There's also a version with 256GB memory that costs $1,049.
Preorders kicked off on February 9 and the devices start shipping on February 25 in the US, March 3 in Australia, and March 11 in the UK.
Design
The curves on the back of the glass-and-aluminum chassis that were still there, but only subtly so, on the S21 are now gone. The front and back of the Galaxy S22 Plus (and S22) – made from Gorilla Glass Victus Plus – are essentially flat, and the raised contour that houses the phone's three cameras is virtually unchanged from last year. We'll admit that it's growing on us.
Sandwiched in between the front and back is an "Armour aluminum" frame. The shiny metal band wrapping around the body feels almost like a throwback to some of the earliest Galaxy S-series phones, but only in the best way.
The device feels solid in the hand, rigid but not unforgiving, and comfortable to hold. That last bit might be because Samsung shrunk the phone just a bit. While the Galaxy S21 Plus was 161.5 x 75.6 x 7.8mm, the Galaxy S22 Plus is 157.4 x 75.8 x 7.8mm. Yes, that makes the phone thinner, shorter, and just a little wider – and at 196 grams, the phone's lost six grams, as well.
Nothing else about the design and build jumps out at you. The volume and power buttons are in essentially the same spots as before. There's a noticeable cutout along one edge in the metal frame for the antenna, and the bottom edge features a speaker grille (it has stereo speakers), the USB-C charging port, and the SIM slot.
Overall, the Galaxy S22 Plus is IP68 rated, which means it can handle an extended stay in a few feet of water and whatever dust you want to throw on it.
Display
At 2340 x 1080, the AMOLED display has slightly fewer pixels than the S21 Plus, but the pixel density isn't going to be much different.
The Galaxy S22 Plus supports a variable refresh rate from 10Hz to 120Hz. This means the screen will refresh at a higher rate only when necessary (for games, videos, fast scrolling through websites) and can damp it way down when, say, you're just reading text on a static screen. The obvious benefit here is better battery life.
We didn't get enough time to fully test what the variable rate means for your daily use experience, but we can report that the screen is bright, colorful and sharp, and smooth as butter when you flip through various Samsung OneUI 4.1 screens.
Under the display is an able fingerprint reader that we took for a quick test drive. The reader is larger here than it was on previous Galaxy phones, which makes the initial fingerprint registration and subsequent reading easier than ever. We registered one thumb in under 30 seconds and used it to unlock the phone instantly and repeatedly. We could've registered more digits if we wanted to.
Cameras
That edge-to-edge display has one small drill-through hole for the 10MP front-facing camera. Both offer the same 80-degree field of view and f/2.2 aperture. The camera does not include any form of binning to combine those pixels for a potentially higher-quality image. We took a few selfies with it, including using the upgraded Portrait mode, and the results were impressive.
On the back of the S22 Plus are three cameras: a 12MP ultrawide with 120-degree field of view and f/2.2 aperture, an f/1.8, 50MP wide-angle (85-degree), and an f/2.4, 10MP telephoto with 3x optical zoom.
The telephoto's 3x optical zoom is as effective as it was on the S21 Plus. It still has the same 30X space zoom, which uses a combination of digital zoom and image processing to get you much, much closer to your subject. Of course, these specs pale in comparison to the new Samsung Galaxy S22 Ultra's 10x optical zoom and 100X space zoom, which really blew our minds.
All told, the camera array is an upgrade over the Galaxy S21 Plus, which has 12MP wide and ultra-wide lenses and a 64MP, 3x optical telephoto. We'll have to wait for our full tests to see just how well the S22 Plus cameras perform compared to their predecessors.
The 50MP camera uses Samsung's new tetra-binning technology to not only combine the information of four pixels at a time into a better whole, but it also combines that image information with the original high-resolution image for even better visual results.
Our brief hands-on time didn't afford us enough time to take a wide variety of shots, but the handful we did take looked decent.
Samsung's new imaging technology also promises something it calls 'Nightography.' Yes, it's a totally made-up word, but in practice, the tech could be transformative for low-light, nighttime, and astrophotography, with Samsung promising you won't need a tripod for your shots. We couldn't try this out during our hands-on test, but we look forward to taking our review unit up into the high, dark hills.
On the video side, the Samsung Galaxy S22 Plus is ready to shoot up to 8K video at 24fps with the rear cameras, and 4K, 60fps video with the front-facing camera. The cameras also support portrait mode for video. We look forward to comparing it with Apple's impressive new iPhone 13 Cinematic mode video.
Performance and battery life
In the US, the Samsung Galaxy S22 Plus has the same Qualcomm Snapdragon 4nm Octa-Core processor as the rest of the S22 Plus line, which Samsung claims will deliver a noticeable performance and graphics boost over the S21 line's CPUs. We couldn't install any benchmarking software and therefore couldn't test those claims.
Outside the US, Samsung Galaxy S22 Plus customers will get the company's own Exynos CPU, which offers, the company promises, the same 4nm performance. Both chips are paired with 8GB of RAM, and 128 or 256GB of storage. These specs are unchanged from the S21 Plus, and we're left wondering why we still can't have either an upgradeable microSD card slot or the option of buying at least a 512GB model.
If you're wondering why you might want to buy the Samsung Galaxy S22 Plus over the S22, it comes down to a few key specs. Screen size is one, but the others are access to faster networks, such as WiFi 6E and the hot new 5G Ultra-Wideband (UWB) networks Verizon and AT&T recently rolled out in the US. The S22 has WiFi 6 and no UWB.
There's also the battery. At 4,500mAh, the S22 Plus has a slightly smaller battery than the S21 Plus (4,800mAh), but it's larger than the S22's 3,700mAh cell.
Samsung Galaxy S22 Ultra review
The Samsung Galaxy S22 Ultra doesn't look or feel much like a member of the Galaxy S series, and that's because the company has incorporated much of what made its Galaxy Note series so popular into the design of this new phone.
This is the love child of everything that made the Galaxy S series and the Galaxy Note series great, but its looks are inherited entirely from the latter product family. While the brand-new Samsung Galaxy S22 and Galaxy S22 Plus are incremental upgrades over their predecessors, the company has pivoted for its Ultra line.
In 2021, Samsung skipped its Galaxy Note series, and while the company hasn't confirmed that the product line is gone for good, the S22 Ultra is arguably the final nail in the Note's coffin. Company execs tell us that, from this point forward, Note is more of an "experience" than a product
The S Pen stylus and the square design of the Galaxy Note series are here in the Galaxy S22 Ultra, and if you're looking for a top-end smartphone with a stylus in 2022, this is likely to be one of the best you'll find.
Samsung Galaxy S22 Ultra release date and price
The Samsung Galaxy S22 Ultra is set to be an expensive smartphone, although no more so than last year's model. It costs the same as the S21 Ultra did at launch, with the cheapest version with 8GB of RAM and 128GB of storage costing $1,199.
There are also variants with 12GB of RAM and more storage, which will cost you a lot more. You can see the full prices below.
You can pre-order the Samsung Galaxy S22 Ultra now, and it'll be on sale on Friday, February 25 in the US and UK. You'll have to wait longer in Australia, where it hits store shelves on March 3.
| RAM / storage configuration | US price |
| --- | --- |
| 8/128GB | $1,199.99 |
| 12/256GB | $1,299.99 |
| 12/512GB | $1,399.99 |
| 12GB/1TB | $1,599.99 |
Design and display
The design of the Galaxy S22 Ultra is much more like a Note phone than it is like a member of the traditional Galaxy S family. That means there are flat edges at the top and bottom of the device, and the screen curves into the body at the sides. The design overall is more blocky than the Galaxy S22 or Galaxy S22 Plus.
The contour cut camera has also been dropped here, with Samsung instead introducing individual camera elements that pop out of the rear of the phone. The back of the phone is made of glass, with a brushed finish ensuring it feels premium to the touch.
You've got four color options, which are Phantom Black, Phantom White, Burgundy, or Green. That green option is a dark shade, and it's a subtle new addition to the company's range.
The key thing to note here is that the Galaxy S22 Ultra is a gargantuan phone. If you've got smaller hands, we'd recommend handling one of these before you invest.
Its dimensions are 77.9 x 163.3 x 8.9mm, which means it's a touch thicker than past Galaxy Note handsets, and it has some weight to it at 229g. We found it easy to use with both hands, but it can sometimes feel a bit weighty when you're trying to use the S Pen stylus with your other hand.
That S Pen stylus slots into the bottom edge of the phone, which is a first for the Galaxy S series. 2021's Galaxy S21 Ultra was compatible with an S Pen, but the stylus didn't slide into the device itself.
The screen on the S22 Ultra is notably large at 6.8 inches with a Quad HD Plus resolution. It uses AMOLED technology and it features a variable refresh rate of up to 120Hz – this means you'll get a smoother image when gaming and scrolling through social media feeds, with the refresh rate dialed back when you doing this like reading text in order to save battery
We've yet to use the phone long enough to give a full verdict on the display, but in our testing time we've found it to be clear, vibrant, and bright enough for everyday tasks  – and the size of the display is sure to satisfy anyone who wants a lot of space for multitasking or for watching lots of videos.
There's a fingerprint scanner embedded under the display, but we've yet to be able to test this out, and it's something else we'll come back to soon in our full review.
Camera
On paper, the camera set-up on the S22 Ultra is remarkably similar to that of the S21 Ultra. It features a 108MP f/2.2 main camera with an 85-degree wide-angle field of view and a 12MP f/2.2 ultra-wide camera with a 120-degree field of view.
There are also two telephoto cameras that are both 10MP. It means the Space Zoom feature has returned on this handset, which allows for a digital zoom up to 100x. In our testing, 100x zoom is still usable, but it's tough to get a sharp shot when you're holding the phone in a hand, and the results aren't particularly usable.
It does mean the other zoom features of the camera are useful though, especially as it means you can zoom in with ease to any level up to 100x. We found the photos were still easily usable at a 10x zoom, for example. Anything after that is using digital zoom, rather than the phone's optical zoom features.
We've yet to fully test the cameras, but we'll have a better idea of their capabilities when we return with our full review.
There are also new night mode features, which the company is calling Advanced Nightography. It uses the company's new 2.4um pixel sensor, which captures more light than previous cameras from the company. We've yet to fully test this feature, so head back for our full review to learn more.
On the front of the S22 Ultra, you'll find a 40MP front-facing camera, which seemed to provide strong results in our initial tests.
Performance and battery life
Which variant of the Galaxy S22 Ultra you're able to buy depends on where you are in the world; if you live in the US you'll get a Qualcomm Snapdragon 8 Gen 1 chipset inside this phone, while those in the UK or Australia will get Samsung's own Exynos 2200 chipset.
We've yet to test either of these chipsets properly – they're both brand-new to the market – but we'd expect some top-end speeds and performance. Benchmarking leaks have suggested that both chips will offer only minor improvements over what we saw in the Galaxy S21 series, but even if that's the case these are going to be two extremely powerful smartphones that can load any apps, games, and much more in an instant.
If you're opting for the cheapest variant of the S22 Ultra, it'll come with 8GB of RAM, while the more expensive variants come with 12GB; notably, Samsung has dropped the 16GB of RAM option it offered with the S21 Ultra.
We think it's unlikely that you'll notice a huge difference between these models, but if you're looking for the absolute best performance you may want to invest in one of the 12GB models.
The 8GB model comes with 128GB of storage, while the 12GB models have a choice of 256GB, 512GB, or 1TB – note that there's no microSD support on these handsets, so you'll want to choose your storage capacity wisely.
We've yet to use the Galaxy S22 Ultra for long enough to pass judgment on its battery life, but we can tell you that it's powered by a 5,000mAh battery, which is the same as we saw in the S21 Ultra.
That phone had solid battery life, but it wasn't the absolute best on the market. If that's an indication of what we can expect here, we'd anticipate that this phone will see you comfortably through a full day, but is unlikely to last for two days from a full charge.
Samsung has improved its fast charging here, and the S22 Ultra is compatible with up to 45W chargers. We've yet to hear any estimates on how long it'll take to charge this phone but expect it to be far faster than the 25W charging on the Galaxy S22.
You won't get a charger in the box with this phone, so you'll have to buy a 45W charger separately or use one you already have. There's also wireless charging compatibility of up to 15W.
4k smart tv Amazon fire tv stick apple apple airpods Apple Watch 6 black Friday Deals 2020 CES 2021 Cyberpunk 2077 CYBERPUNK 2077 NEXUS MODS Epic Games fortnite Fortnite Season 4 fortnite season 5 Fortnite season 6 games Gaming Laptop GTA 6 gta 6 release date ios 16 iphone12 iphone 12 pro iPhone 12 Pro max iPhone 13 iphone 14 iphone 14 release date iphone 15 iphone 15 pro mobile Netflix Nvidia OnePlus ps5 ps5 games 2021 ps6 ps6 release date RTX 3080 samsung Samsung Galaxy S21 samsung Galaxy Watch 3 smartwatch xbox xbox game pass Xbox One Xbox Series X|S Xiaomi
4k smart tv Amazon fire tv stick apple apple airpods Apple Watch 6 black Friday Deals 2020 CES 2021 Cyberpunk 2077 CYBERPUNK 2077 NEXUS MODS Epic Games fortnite Fortnite Season 4 fortnite season 5 Fortnite season 6 games Gaming Laptop GTA 6 gta 6 release date ios 16 iphone12 iphone 12 pro iPhone 12 Pro max iPhone 13 iphone 14 iphone 14 release date iphone 15 iphone 15 pro mobile Netflix Nvidia OnePlus ps5 ps5 games 2021 ps6 ps6 release date RTX 3080 samsung Samsung Galaxy S21 samsung Galaxy Watch 3 smartwatch xbox xbox game pass Xbox One Xbox Series X|S Xiaomi