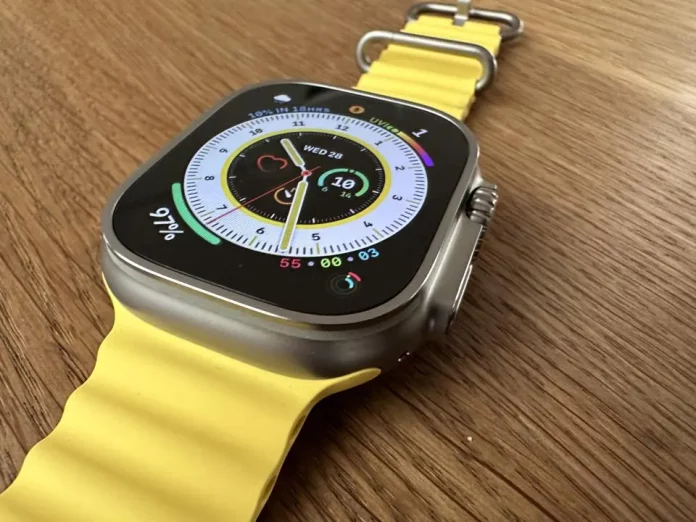 Apple Watch Series 10 is anticipated to be released. But from the debut of the first Apple Watch in the spring of 2015, there is one function that has been absent from every model. According to a recent study, it is approaching.
the update from May 2. On April 29, 2023, this article was originally published.
Updated on May 2. Even with the Apple Watch, not every update has good news. The Apple Watch Ultra, which debuted last autumn, is reported to have an upgraded model. Nothing unforeseen about it. Less certain, though, is whether or when the Ultra will update its display technology. All current Apple Watch models have OLED screens, but it's been said that this will change to microLED, a technology that might provide more brightness and pixel density. Exciting.
But it's the time which is most variable, it appears. The earliest rumored arrival was this year, so it's really been all over the place. I've always been dubious about this because throughout the history of the smartwatch, Apple has never introduced a new Apple Watch design only to drastically alter it the following year.
Bloomberg's Mark Gurman has previously said that microLED is coming, and suggested that the second half of 2024 was when we should expect it. This seems much more likely, though an update to the Ultra this fall is still possible and probably won't just be a processor update. Even though the current model might last for two years, it would be strange if the Series 10 had a new processor and the Ultra, the top model, still had last year's chip.
Anyway, the most recent report alters matters once again. The new display technology will arrive later still, according to display analyst Ross Young in a tweet. To view the tweet, click this link, but you must be a subscription to Young's material. The general idea is that the Apple Watch Ultra will have microLED in the fall of 2025. In other words, more than two years away, a long way off.
This makes perfect sense; after all, it won't be the first time Apple has had to delay the launch of a new technology to one of its products.
Another query is if Apple would roll out microLED to all of its models simultaneously or just the Apple Watch Ultra. While it's true that, in the beginning, the only thing between the least costly and most expensive Apple Watch models was their metal casings, the Ultra broke the trend by offering a whole new design. Will this imply that new screen technology will be introduced to the Ultra first and only afterwards to other models? Although we don't know yet, I think this is the most likely scenario.
Of course, there is plenty of time between now and the end of 2025 for all the facts to become clear.
April 30 update. A story from Mark Gurman of Bloomberg follows closely on the heels of the most recent rumor. The use of your Apple Watch will alter drastically with the release of watchOS 10, according to Gurman in his most recent Power On email. This is probably the platform on which the syncing functionality below will debut.
According to Gurman, Apple Watch Series 10 is "set to give its watch lineup one of the biggest software updates since the original version— with a new focus on widgets and fundamental changes to how the device works." This is fascinating, and according to Gurman, it's been created to allow for the least amount of navigating while still providing more information. Of course, for a device like a watch, conserving time should be a top goal.
The emphasis on widgets is reminiscent of the Glances interface, which was used on the first Apple Watch but has since been retired. "Apps remained core to the Apple Watch," says Gurman. Launching applications is still the most effective way to get the device's information, other from examining complexities on the watch face. The home screen is reachable with only one click of the watch's most noticeable button, the Digital Crown, to make that as simple as possible.
However, it appears that with watchOS 10, widgets will return and become a focal point of the experience, maybe even implying that you will be taken to the widgets rather than the home screen with only one push of the Digital Crown. Instead of forcing users to launch apps, Gurman says, "the idea is to let them scroll through a series of different widgets — for activity tracking, weather, stock tickers, calendar appointments, and more."
This is a significant shift, so if it sounds like one, it is. Such a significant change, like the Digital Crown modification, may initially be voluntary.
The Watch is expected to receive significant software improvements this year, which would undoubtedly be a significant improvement.
A future Apple Watch Series 10 may sync to numerous Apple devices, according to the Twitter account of @analyst941, who self-identifies as an Apple software analysis. Here's why it's important.
Currently, each Apple Watch can only be synced with one phone, despite the fact that you can sync several watches to your iPhone. So you can't even set up an Apple Watch if you don't have an iPhone but do have an iPad or a Mac.
That's obviously because Apple enjoys keeping you secure inside of its walled-garden ecosystem, which the firm would claim is done to safeguard the user experience.
But if you could connect your Apple Watch to an iPad or a Mac, a whole new set of possibilities would open up.
You can only link your Apple Watch with one of your phones if you have more than one, even if they are both iPhones. Suppose one of those iPhones You must always carry the device that the Watch is linked with in order to keep it current with alerts, for example, if you use one for business and the other for personal use.
The following is what @analyst941 tweeted: "Apple Watch can finally sync across several Apple devices. I'm not sure how this will be put into practice. All I know is that Apple Watch will no longer be dependent on a single iPhone and will sync with numerous iOS/iPadOS/Mac devices.
There are no specifics on how it will be accomplished or how it will operate, but it's a smart step. When the Apple Watch acquired LTE connection in some versions, do you remember how much more liberating it felt to wear it?
It's also unclear if an iPhone will still be required for initial setup. A companion iPad would work, but a Mac might not, I would have guessed. I'm sure an Android phone won't soon be able to link with an Apple Watch.
According to 9to5Mac, a recent claim that the Health app from the iPhone would soon be available on the iPad with iPadOS 17 may portend the arrival of set-up with an iPad.
The main advantage will be the inclusion of synchronizing with numerous Apple devices, regardless of the setup process. The only drawback I actually see is one that many new users experience: information overload unless you set precisely which email accounts and other services will deliver the Watch with data. But it's simple to correct it.
At WWDC in June, we'll almost surely learn something about this, though its complete implementation might not happen until the autumn release of the Apple Watch Series 10. In either case, it's likely to be a watchOS 10 feature that supports several Watch generations.