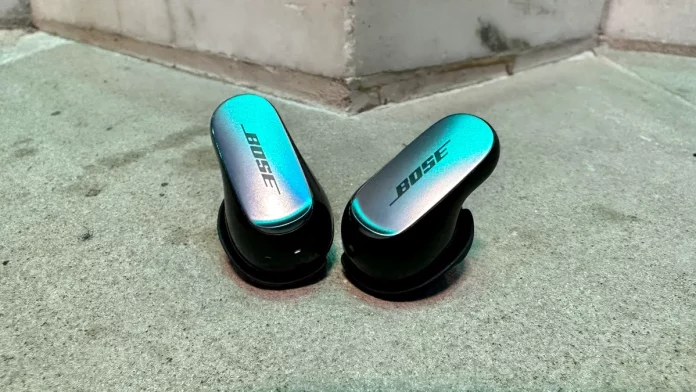 The Bose QuietComfort Ultra Earbuds are the latest addition to Bose's lineup of premium audio products. These earbuds offer an unparalleled level of noise cancellation, allowing users to enjoy their music or calls without any distractions. With a sleek and comfortable design, the QuietComfort Ultra Earbuds are perfect for both daily commutes and long flights.  
The best earbuds for active noise cancellation are the Bose QuietComfort Ultra Earbuds, and innovative immersive audio technology also makes a big impression. However, several functionalities that you would anticipate to be included with the price are absent from the earbuds.
BOSE QUIETCOMFORT ULTRA EARBUDS: SPECS
Price: $299 / £279 / AU$429
Colors: Black, white smoke
Battery life (rated): 6 hours; 24 hours (charging case)
Connectivity: Bluetooth 5.3 with aptX Adaptive support
Water resistance: Yes (IPX4 rated)
Size: 1.23 x 0.96 x 0.79 inches (per bud); 2.61 x 2.34 x 1.05 inches (charging case)
Weight: 0.27 ounces (per bud); 2.1 ounces (charging case)
However, the QuietComfort Ultra Earbuds boast several notable upgrades and improvements over their predecessors. These include enhanced noise-canceling technology, improved battery life, and a more comfortable fit for extended wear.
Bose QuietComfort Ultra Earbuds offer top-notch active noise cancellation, a companion app, and immersive audio treatment, making them a comfortable and long-lasting choice for daily use.
The Bose QuietComfort Ultra Earbuds cost $299, but they also lack a few modern functions that you'd expect from high-end earbuds. Why not include a wireless charging case similar to the one seen on the AirPods Pro 2? 
The review evaluates the Bose QuietComfort Ultra Earbuds' performance and potential replacement for the Bose QuietComfort Earbuds 2 as the best wireless earbuds for noise cancellation.
BOSE QUIETCOMFORT ULTRA EARBUDS: PRICE AND AVAILABILITY
The Bose QuietComfort Ultra Earbuds are available for $299, £279, or AU$429, available in black and white smoke, similar to the previous generation and the Sony WF-1000XM5 earbuds, while the AirPods Pro 2 is slightly more affordable.
The Bose QuietComfort Ultra Earbuds don't come with a wireless charging case, which makes them different from the Sony WF-1000XM5 and the AirPods Pro 2. To purchase the compatible Bose Wireless Charging Case Cover, visit Bose.com and pay $49 for it.
BOSE QUIETCOMFORT ULTRA EARBUDS: DESIGN AND COMFORT
The Bose QuietComfort Ultra Earbuds have undergone a design change to address a major complaint with the previous-generation model. The new tab-and-notch interlocking design secures three sizes of stability fins to the buds, making them more comfortable and secure. This feature ensures no fear of losing an earbud during runs in New York City.
To pair the Bose QuietComfort Ultra Earbuds, download the Bose Music app and perform the Earbud Seal test. This test ensures a good seal with the selected fins and earbud tip sizes, which is crucial for comfort and effective noise cancellation, similar to the AirPods Ear Tip Fit Test.
The change to a metallic sheen on the control pads that face the outside makes the buds even more appealing, though I already appreciate the traditional little stem form. Many friends praised the appearance, particularly the way the shine changed somewhat depending on how the sun hit it.
Even bad weather couldn't stop the Bose earphones from working; because of their IPX4 durability certification, I knew they could withstand raindrops when the wind often turned my cheap umbrella inside out. For people who lead active lives, the Bose QuietComfort Ultra Earbuds are therefore some of the finest sport headphones, but if you're a serious athlete, the Bose Sport Earbuds are the best running headphones within the same brand.
BOSE QUIETCOMFORT ULTRA EARBUDS: CONNECTIVITY AND CONTROLS
The Earbud Seal test is a key feature of the app, which allows users to control music playback, check battery status, and select a Bluetooth source. However, it lacks multi-point connectivity, limiting users to one playback source at a time, which is a disadvantage.
This feature allows for easy customization and quick access to different audio settings based on your current activity or environment. With just a simple long press, you can effortlessly switch between various immersive audio modes, enhancing your listening experience in different scenarios.
I set the right earbud shortcut to activate Siri, my voice assistant, enabling hands-free operation and fast questions in the meantime. Of course, the earbuds also include simple touch controls. A double tap on the panel skips the music, and swiping changes the volume. With a quick tap on either earpiece or simply taking out one of your earphones, you may pause your music. Even tapping to answer and end calls is an option.
Beyond control options, the Bose Music app's adjustable equalization enables you to customize the earbuds' sound characteristics. Although there are a few presets, like Bass Boost and Treble Boost, you can practically modify the bass, midrange, and treble to your specific listening preferences. Additionally, you can always reset the EQ using the Bose app if you don't like the profile you created.
BOSE QUIETCOMFORT ULTRA EARBUDS: ACTIVE NOISE CANCELATION
For some time now, Bose has been difficult to compete with in terms of active noise cancellation (ANC), and the Bose QuietComfort Ultra Earbuds have effectively upheld their reputation. I think the Sony WF-1000XM5 and AirPods Pro 2 have caught up in some ways, but they still don't have as many high-end customization choices as Bose.
This level of customization allows me to have a more immersive experience in different environments without compromising my situational awareness. Additionally, the ability to fine-tune the ANC levels according to my preferences makes Bose headphones stand out from the competition.
The Bose QuietComfort Ultra Earbuds offer a natural passthrough sound with "aware" mode, and the optional ActiveSense feature automatically lowers ambient sounds when loud noise is detected, similar to AirPods Pro.
BOSE QUIETCOMFORT ULTRA EARBUDS: CALL QUALITY
One of the most disappointing aspects of using the Bose QuietComfort Ultra Earbuds was the call quality. I answered calls in a variety of settings, and the person on the other end was not very amused by my voice clarity. They often complained about the background noise and muffled sound.
The speaker found that their earbuds struggled to hear them well in public, and their environmental noise cancellation was subpar compared to other earbuds. They would not use these for on-the-go calls and only in quiet environments. If alone, they would prefer using speakerphones.
BOSE QUIETCOMFORT ULTRA EARBUDS: BATTERY LIFE
Battery life for the Bose QuietComfort Ultra Earbuds has not changed over time. The Ultra model's 6-hour playback life at moderate volume settings is comparable to that of the Bose QuietComfort 2 Earbuds. earphones required recharging after around four hours of nonstop listening when I used immersive audio most of the time during testing, as predicted by Bose.
Bose's charging case offers 24 hours of total time (16 with immersive audio), providing a few days of use between charges but causing a significant battery life loss.
The lack of wireless charging capability is a notable drawback, considering the premium price of $299. It seems like an oversight that could have been easily addressed to enhance the overall user experience. However, for those who prioritize convenience, investing in the optional $49 wireless charging case could provide a convenient solution. 
VERDICT
The author suggests that Bose should have kept the Bose QuietComfort Earbuds 2 for another year and then launched the Bose QuietComfort Ultra Earbuds a year later, retaining the features of the new headphones. The immersive audio upgrade on the Ultra buds would have made a significant difference.
So why did Bose once again delay the implementation of wireless charging and multi-point Bluetooth pairing? To be honest, it's a little perplexing. In particular, if active noise cancellation and audio quality are more important to you than total convenience, I wouldn't say it's a deal-breaker. However, there are alternative high-end earphones that don't require you to make as many sacrifices. Having said that, it would be difficult to find a better option for muting outside noise.