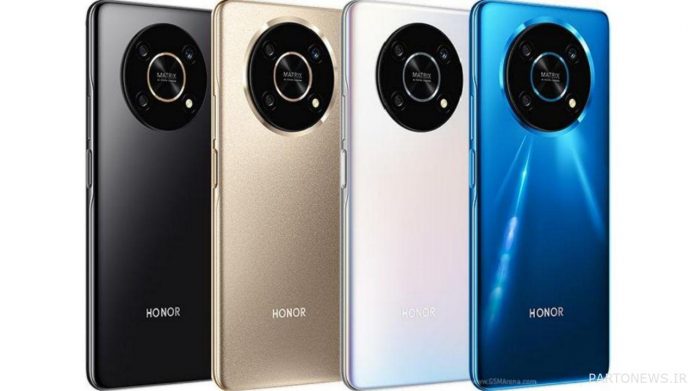 The Honor Magic 4 Lite is impressive. With a 6.81-inch screen, it looks like a pocket tablet. The sleek black exterior is made of plastic, but its grip is pretty good, making you feel like you own a premium device at a higher price.
This is almost the trend for the Honor Magic 4 Lite. It offers a lot of appreciable things and ticks several of the most important boxes while costing a reasonable price of 299€.
However, it also misses the boat a few times, which means it's not a good deal. As with most phones at this price, you'll have to compromise and focus on what's most important to your use.
Still, the Honor Magic 4 Lite has it all. The black exterior of our test device exudes quality and as soon as you use it, you will appreciate the speed of its performance, thanks to the Snapdragon 695 5G chipset.
The 6.81-inch screen looks extremely promising with a resolution of 1080 x 2388 and a refresh rate of 120 Hz. Still, it is an LCD screen and this is noticeable, sometimes offering poor viewing angles, especially outdoors.
The camera setup is equally impressive, but its performance is disappointing. On the back, the three lenses are arranged in a circle, offering a 48MP primary sensor, a 2MP depth sensor, and a 2MP macro sensor. On the front, a 16MP selfie lens occupies a tiny cutout at the top of the screen.
In any case, the photos are quite clear, but the colors are not always accurate. You'll need to make a few necessary adjustments here and there to get the most out of the Honor Magic 4 Lite. Also, don't expect to see anything spectacular from the macro or depth lens, which is not surprising at this price.
Where the Honor Magic 4 Lite fares better is with its autonomy. With a 4,800mAh battery, this phone can easily hold all day, and even a little more, depending on usage. The phone also comes with a 66W charger, which makes it possible to charge it quickly, which is very useful.
The Honor Magic 4 Lite comes with Android 11 and Honor promises Android 12 to come soon. However, even Android 12 won't be the last possible version of Android for a long time, which means it's not the ideal smartphone for tech buffs.
However, at this price, the Magic 4 Lite still offers some useful items. While it's far from a must-have compared to competitors like the Xiaomi Poco X3 NFC, a large screen, decent performance, and excellent battery life might be enough to convince some users.
Price and availability
Available
Sale price: 219$
Available in three colors
The Honor Magic 4 Lite is available for sale in France Available directly from Honor as well as third-party retailers, it usually sells for €299.
This price puts it pretty much between the Samsung Galaxy A53(opens in a new tab) and the Xiaomi Poco X3 NFC, two phones that will likely be major competitors.
The Honor Magic 4 Lite is available in three different colors: Midnight Black, Titanium Silver, and Ocean Blue.
The standard version of the phone offers 128 GB of storage and 6 GB of RAM; an 8 GB RAM version also exists.
Design
Plastic body
No IP rating
Wide but quite thin
The Honor Magic 4 Lite looks strong. Thanks to its 6.81-inch screen, it looks like it should be bulkier than it actually is. Instead, the 166 x 75.8 x 8mm measurements mean it's a pretty thin device for a phone. With a weight of 189 g, it is not too heavy either.
We tested the Midnight Black model, and while it's not very exciting to watch, it exudes some class. And this, despite the plastic finish that makes it difficult to handle. For this reason, we recommend using a case to prevent it from escaping your fingers.
On the back of the phone is a set with three lenses arranged in a circular way. It's a bit smarter than having the lens matrix on the side. The rest of the back remains sober with a simple Honor logo.
On the front, the selfie camera lens is a small subtle perforation at the top and middle of the screen. On the right of the phone are the volume toggle and power button, while at the bottom, are the SIM card slot and the resident USB-C port.
Simplicity is the name of the game here with the Honor Magic 4 Lite. The company doesn't go too far here, keeping the phone small and pretty basic. This may be the reason why the phone is quite stylish in your hand. People with smaller hands may need to stretch to use it with one hand.
Finally, don't rely on the Honor Magic 4 Lite to get close to the water, as it's not IP certified. There is also no wireless charging or microSD support.
Display
6.81-inch LCD screen
1080 x 2388 resolution
120 Hz refresh rate
The Honor Magic 4 Lite gives and takes back in equal parts. It has a large screen with decent resolution. Best of all is its high refresh rate, which is great when you scroll through the content quickly.
However, it is an LCD screen, which means it could look better. The colors and blacks are not as vivid as we would like and, worst of all, the viewing angles are quite low.
When we used the Honor Magic 4 Lite outdoors in direct sunlight, we struggled to see anything clearly on the screen. The display was quite faded and we couldn't tell the images on the screen.
It's not the worst screen to look at outdoors, but it feels like the Honor Magic 4 Lite could have been better than it is.
Camera
Rear camera 48MP + 2MP + 2MP
16MP selfie camera
Reasonable photos after some adjustments
The Honor Magic 4 Lite offers a lot of different features for photographers, but none of them work particularly well. It has three lenses on the back, including its 48MP main photo sensor, a 2MP depth lens, and a 2MP macro. It's best not to expect anything from the macro sensor, but it's pretty decent for phones in this price range.
It is the main camera that disappoints us the most. The 48MP lens takes fairly detailed photos, but the color gamut is very variable. We took pictures of a bush that produced hideously overexposed images.
We then moved on to photographing a nearby lighthouse, but these photos ended up showing a subject facing near-apocalyptic weather conditions when the weather was simply overcast.
It's possible to make a few manual adjustments and go through the Modes of the Honor Magic 4 Lite to find something that works better, but that still means it's far from being an easy-to-use camera.
Night mode fares a little better in some scenarios, but it takes time to capture the photo well, which is not always convenient.
The selfie camera does a decent job but requires a fairly stable hand to avoid blurry shots. The bokeh and beauty modes at least improve the image a little.
Performance
Powered by the Snapdragon 695 5G
128 GB of storage
Fast performance
The Honor Magic 4 Lite is a pretty fast phone to use. In our Geekbench 5 tests, it scored 669 for a single core and scored 1,875 for multiple cores. In addition, its calculation score is 1,373.
In daily use, the Honor Magic 4 Lite performs quite well. It reacts quickly to your contacts, whether you unlock it through facial recognition or through the fingerprint reader built into the power button. Similarly, games like Call of Duty Mobile have proven to be pretty fast. Coupled with 5G connectivity, you'll appreciate being able to do more and faster.
The downside? The Honor Magic 4 Lite is equipped with Android 11 and not Android 12. Honor's Magic UI interface is overlaid on Android 11, but that doesn't matter because you'll wonder where Android 12 went. The phone also comes with a handful of pre-installed Honor apps that you'll probably never open.
Android 11 runs smoothly here, but who wants an old operating system on their new phone when there's a new one out there?
Battery
4,800 mAh battery
Fast charging
No wireless charging
The Honor Magic 4 Lite will last you all day; for many users, the battery will probably last longer. On a busy day, count on a recharge before the end of the day. On quieter days, you can do without charging for a few days.
The Honor Magic 4 Lite comes with a 66W Honor SuperCharge adapter, which allows it to charge quickly. Count on nearly 80% battery life in about half an hour, and a full charge in less than an hour.
There's no wireless charging stand here, but with the super-fast wired charging speed, you'll probably prefer to plug it in any way.