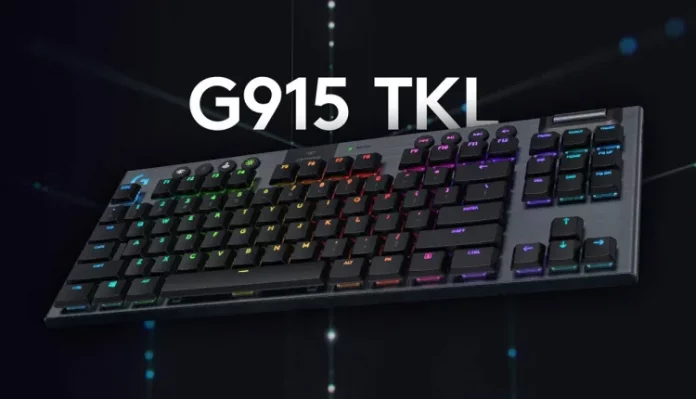 The advanced LightSpeed technology developed by Logitech G915 TKL enables response times as fast as a more traditional wired keyboard. It includes many technologies to accentuate the reliability of the Gaming Keyboard. The response time between action and execution is almost non-existent. The design of the product exudes quality. The mechanical keys with GL switches allow smooth and tactile feedback and let you glimpse the switches thanks to the frameless design.
Customize your keyboard with ultra-customizable RGB brightness buttons. It even has internal memory to save up to three profiles for quick and easy pairing. The user experience can be customized thanks to three keystroke modes integrated by the American manufacturer: linear, tactile, or click. The difference is noticeable in terms of touch and gives you the possibility to adapt the keyboard to all situations, gaming, web browsing, office automation, etc But whichever model you choose, you have exceptional mechanical switches in front of you for unparalleled comfort of use.
As is the standard for all gaming keyboards, it features anti-ghosting technology that allows multiple keys to be pressed without error. To top it off, the keyboard has a Dantesque autonomy of 40 hours before claiming the charging cable.
The wireless keyboard is currently on sale on Amazon. It benefits from a 15% discount, which gives a very decent quality-price ratio for a caliber keyboard, equipped with the best technologies to find the same performance as a good wired keyboard. It foreshadows the future of gaming keyboards, which will no doubt sooner or later be completely devoid of cables.
Here we need to open a parenthesis to the Lightspeed technology. Logitech G's wireless gaming Mice with Lightspeed technology became the first mouse worldwide to be used in CS: GO tournaments where milliseconds made a difference. This technology, which is shaped in the hands of esports professionals such as famous player Shox, LoL player Bjergsen, and Tucs, offers a great performance to players in daily life. After the mouse side, we now see Lightspeed at the center of all products based on wireless communication. With a faster data communication algorithm than wirelessly wired, the technology focuses on ensuring that every component processes data faster than ever before, establishes exceptionally robust connectivity, and consumes the lowest levels of energy. Logitech G engineers call Lightspeed technology the cornerstone of wireless gaming culture.
Logitech G915 TKL communicates over a very high-speed data protocol of 1 ms. It combines an elegant look with an aluminum alloy top panel and a steel-reinforced base to give it an ultra-thin and light rigidity. The brushed metal finish and the key surface are created to minimize fingerprints, creating a harmony that is both stylish and clean. In order to prevent the dust-soil collection that occurs with the use phase over time, the gap between the keys, switches, and surface allows us to clean easily and not accumulate over time.
With the low-profile GL mechanical keys that provide us with half the performance, speed, precision, and convenience you get from traditional keys, Logitech G915 TKL offers a very comfortable control in terms of use and is so quiet and comfortable in terms of feel and sound that you would not expect from a mechanical keyboard. Especially if you are one of those gamers who write instead of playing games for most of the day, you may not like the portfolio that other keyboards will offer you as a feeling of use after using this keyboard.
Except for use, Lightsync RGB support allows your keyboard to react between colors simultaneously with your PC and games, making your desktop more vibrant. Thanks to the automatic profiles assigned according to the games, you can notice the details you have at hand with the keyboard, which you may not pay attention to at all. With the built-in profiles on the keyboard, game mode, volume and multimedia control keys, you are likely to become both very fast and very productive.
As a wireless keyboard, the biggest problem for a user is when it will charge and how much the charge will go on average. Logitech G915 TKL fully charges in 4 hours, offering 40 hours in terms of playability. When the battery charge starts to fall below a certain level, you are prevented from suddenly being caught in the middle of the game with important notifications such as RGB colors automatically turning red and a warning on the screen via Logitech G HUB.
When you take the Logitech G915 TKL out of the box, the keyboard itself comes with a USB extension cable, a micro USB cable, and a Lightspeed USB receiver.
Physically, the Logitech G915 TKL has a length of 368 mm, a width of 150 mm, a height of 22 mm, and a weight of 810 grams.
If you want more than a wired keyboard, take up less space on your desktop, be lighter, and offer more than expected in terms of usage and performance, Logitech G915 TKL might be a good choice for you. A product that has no shortage or even more than wired keyboards.