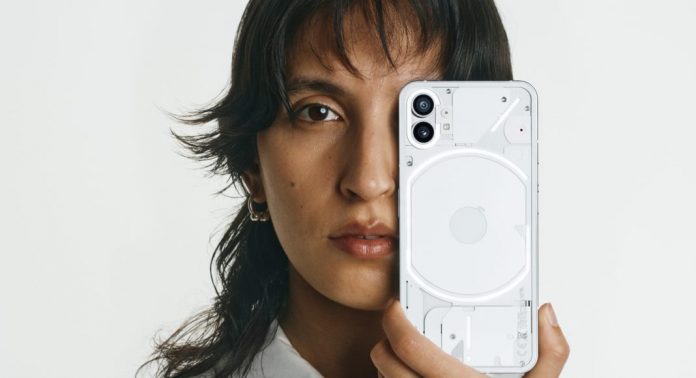 A new Phone (1) smartphone brand will make its debut on market this summer. Founded by one of the co-founders of the OnePlus brand, Nothing plays the card of originality with a smartphone with a very original design, which integrates LEDs in its shell and lights up in the dark.
The Nothing brand is not totally unknown to the battalion since it has been marketing for a year now Bluetooth headphones, the Ear (1), which have been a nice success by the way, with more than 560,000 copies sold worldwide. With its Phone (1), it is tackling a new market, not without a certain ambition.
"Today, smartphones are all the same," explains Melissa Medeiros, public relations director at Nothing. "To differentiate ourselves, we chose to focus our efforts on the smartphone shell." Like the brand's headphones, the Phone (1) adopts a transparent design, which is highlighted by an LED lighting system integrated into the shell. In total, there are more than 900 Minileds, which light up in different ways to alert the user to the arrival of a message, an update, or a call. A unique approach that gives a very stylish look to the smartphone, while having a real interest in use.
The brand also focuses on its very "ecological" side. The smartphone chassis is made entirely from recycled aluminum, and the plastic elements are made from 50% bioplastic. The smartphone is also sold in a very thin box, which takes up to half as much space on a pallet as a conventional smartphone case.
And then of course, there is the ecosystem, which is still fresh, but which promises to be ambitious. Nothing relies on a very sober version of Android with very little pre-installed software but unique features. For example, owners of a Tesla vehicle will be able to control the interior of their vehicle, including the co-air, directly from the smartphone interface, without having to open the Tesla app. The smartphone also integrates an NFT widget and is web 3.0 "ready". According to the manufacturer, this is the type of collaboration that the company intends to multiply in the coming months.
NOTHING PHONE (1) Specs
Display
6.55″
2400×1080 pixels
120Hz
OLED
Qualcomm
Snapdragon 778G+
Processor 8 Cores
CPU 8GB RAM
battery
4.500 mAh
Connectivity
5G
WiFi 6
Bluetooth 5.2
NFC
Camera
Front Camera 16MP f2.45
Stabilized Video FHD 30FPS
Main Sensor 50MP f1.8
Ultra Wide Angle Sensor 50MP f2.2
Stabilized Video 4K 30FPS
Stabilized Video FHD 60FPS
storage
128 GB
Charging
USB-C
Fast Charge 33W
Wireless Charging 15W
Reverse Charging 5W
operating system
Android 12
On paper, the offer is rather attractive. The Phone (1) is certainly not exceptional in terms of its technical sheet, it is nevertheless offered at a very competitive price. Count 469 € for the 8Gb of RAM model with 128 Gb of storage, 499 € for the one that embeds 256 Gb of storage, and 550$ for the combo 12 Gb of RAM and 256 Gb of storage.
In addition to being available for sale on the manufacturer's website, the Phone (1) will also be available at several retailers in Belgium.