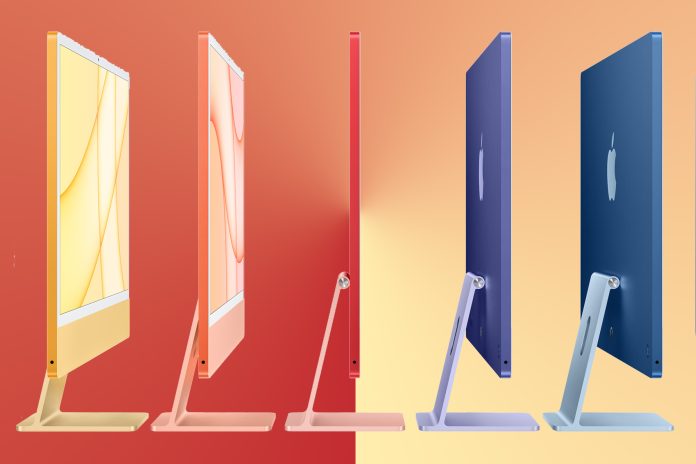 What's 7 upgrades want to see on the rumored iMac 2023 The upcoming WWDC 2023 conference will serve as the premiere event for the new iMac 2023. I sincerely hope that Apple has taken advantage of the two years after the debut of the last-standing iMac to get its act together if those reports are accurate.
iMac 2023 Specs
Although I am aware that AIO computers are designed to be minimalist, there is no justification for the way Apple pushed that concept a step further with its ports. There were just two Thunderbolt 3 ports available on the iMac 24-inch (2021) basic model. Two. And while if Apple did provide the midrange and high-end versions two USB-C ports, it still isn't enough, particularly for customers who want to use it for business or content production.
Theoretically, it makes sense, especially given that the Magic Keyboard and Magic Mouse can both wirelessly connect to it. Nevertheless, despite all of its efforts, Apple was unable to make Thunderbolt 3 a reality in the real world. not yet, at least. It did this to restore the SD card reader and HDMI connector on its Pro laptops, and it still has to do it for the desktop PC it has been promoting to both experts and regular consumers.
A minimum of two of them should be placed at the front or on the side, in my opinion. I can see why Apple hid the connectors in the rear and out of sight; after all, appearance is everything. But getting to them is so annoying. Apple should make two of them readily available so that users won't have to lean over and fumble about if they only want to quickly attach a peripheral or another device.
Better ergonomics
I can ignore the lack of ports, especially when the best USB hubs are available to solve the problem. The iMac 24-inch (2021)'s lack of articulations and adjustments is what annoys me the most.
There is a slight up-and-down tilt to the display, but that is about all. You can only change the height by purchasing a monitor mount, or if you're poor, stack some textbooks under it. Additionally, if you want to swivel, you have to spin the entire darn computer. Even while the latter is intentional, it's still unpleasant, especially if you have borderline obsessive-compulsive disorder as I do.
I cannot emphasize this enough: if Apple wants customers to continue purchasing their devices, it must try to reduce work-related through improving the ergonomics of its goods. I want at the very least suitable height adjustments built-in if the iMac 2023 is truly coming.
iMac 2023 Performance 
The iMac 24-inch (2021) isn't particularly powerful unless you spend a lot of money on the top-tier model or increase the RAM to 16GB, despite Apple's claims that it can do studio work, content production, and other demanding tasks.
I purchased the mid-range model with the 8-Core CPU, 8-Core GPU, and 8GB memory, and it struggled to handle my standard photo editing tasks in Lightroom, which involve editing 10-15 high-resolution RAW images and exporting them as high-resolution JPEGs, to the point where I pestered Apple's customer service about it within a month of purchase. It becomes much worse when I work on the same amount of editing while watching a show online.
It appears as though you had options if you wanted to use this for heavier workloads must spend a little more money and upgrade to a 16GB RAM or just get the most expensive configuration, which costs close to $2,000/£2,000 – not exactly budget-friendly.
I would love to see Apple genuinely deliver on its promises for the upcoming iMac without pressuring users to upgrade. Given that we are already paying a lot for it, provide us faster performance at cheaper setups.
iMac 2023 Price
Alternately, make it more easily available. The starting price of the 2021 model is $1,299/£1,249/AU$1,899, which is for wealthy people. In current economy, paying that much for a kit that isn't very powerful isn't exactly ideal. My mid-range model cost me $1,499, but I didn't feel like I was receiving the performance I was paying for.
Right now, people prioritize obtaining the greatest deal possible over purchasing the newest and prettiest gadget. Make sure we're receiving a lot of value for our money if Apple isn't going to provide us faster lower configurations. Why not make it under $1,000/£1,000 as Lenovo and Dell did instead of charging more than that?
iMac 2023 Face ID
The iMac 24-inch (2021) comes with the Touch ID Magic Keyboard in both the mid-range and high-end models, however that is another thing that irks me since the dang thing only functioned half the time. It won't work if your finger is even a little bit moist. It's the least dependable fingerprint reader I've ever used, but that is a completely different discussion altogether.
Face ID is what I most want to see on the next iMac. It appears that many of the less expensive Windows laptops are outperforming Apple when it comes to facial recognition login, which is not good. It feels almost atrocious that not even Apple's Pro-level MacBooks have it.
If Apple wishes to continue It must stop playing games and get its act together by integrating Face ID into its Mac line, including the next iMac, in order to keep up with its competitors.
iMac 2023 Mouse charge
Even now, I'm not sure what Apple was considering when it released the Magic Mouse. To be clear, it's a terrific mouse, but it has a stupidly significant defect that for some odd reason, no one at Apple ever vetoed.
If you've never used a Magic Mouse, I'm referring to the charging port on the bottom of the device, which effectively makes the mouse unusable when charging. It's difficult for me to imagine that no one ever suggested moving the charging port during the whole process of making this mouse, from designing it to doing quality control. Let's correct it.
I wish Apple would update the Magic Keyboard and Siri and the Magic Mouse, particularly since they have yet to receive one. But more precisely, I want it to change where the connector is located and improve the accuracy of the Touch ID reader on the keyboard.
iMac 2023 Display
Really, this is simply an added benefit. I am content with my 24-inch iMac monitor, and I say this as someone who usually uses 40-inch panels with their Windows configuration. Even if Apple mostly maintains the AIO's present size, I wouldn't mind having a little more screen space. However, there are rumors that the maker also intends to bring back its bigger 27-inch model.
However, I'm sure that many iMac owners would like a bigger display, so Apple should consider meeting their desires. Particularly given that it appears to be eating its competitors' dust in terms of new technology in general.