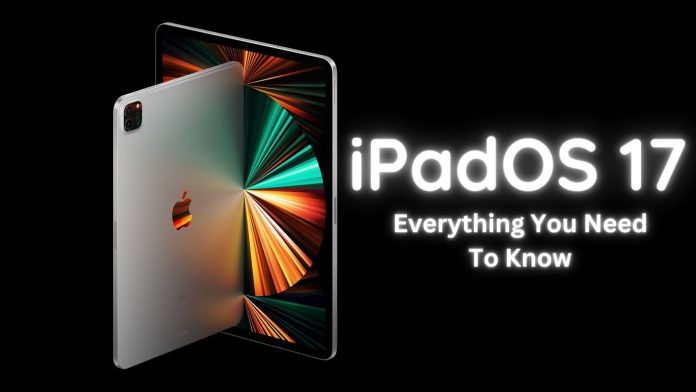 Apple is attempting to position its new iPads as alternatives to laptops. And although while these superb tablets can efficiently carry out many people's jobs, they are nonetheless essentially constrained. The Cupertino company has been attempting to address this issue for years by differentiating iOS and iPadOS17 with unique enhancements. Despite this, there is still much to be done.
It's time to move on after Apple unveiled iOS 16, iPadOS 16, macOS Ventura, and watchOS 9 last year. Despite their initial betas being months away, iOS 17, macOS 14, and watchOS 10 are highly anticipated, and now we're looking at iPadOS 17. Here are the rumored upgrades, followed by seven features we want to see in the next OS update for tablets.
There haven't been many rumors regarding Apple operating systems because they don't frequently leak beforehand. However, there have been rumors that iPadOS 17 won't be very feature-rich because Apple allegedly reallocated some of its resources to concentrate on the impending mixed-reality headgear. As a result, it's possible that some of the modifications that were intended for this release were postponed until iPadOS 18.
But there are some positive developments. Mark Gurman of Bloomberg claims that iOS 17 may include many of the improvements that customers have been asking for. Gurman doesn't specifically address iPadOS 17, but it is fair to infer that at least some of these planned iOS 17 enhancements will also be included in iPadOS 17. Considering that the tablet's operating system is primarily based on iOS former having its own iPad-only benefits while missing out on some iPhone exclusives.
Aside from that, the Cupertino corporation may permit customers to sideload applications using iPadOS 17 due to the EU's pressure over its monopolistic methods. For the time being, it is unclear how this modification will be implemented, whether it will be restricted to the EU alone, and whether iPadOS 17 will even include it at all.
Multi-user support
Although the wonderful iPad manufacturer presents the device as a laptop substitute, most users will continue to use their powerful Mac computers as long as the iPad is available in its current configuration. Yes, the iPad is likely the greatest tablet available in terms of optimal app availability and capabilities, but owing to a few lacking features, many users still don't use their iPads as a replacement for laptops.
Multi-user support is one iPad feature that has been overdue. The iPad's potential to replace a PC is limited by its ability to support only one user account, which is common practice when numerous people use a laptop. Multi-user support is currently available on Macs, HomePods, and Apple TVs, and we can only hope that Apple will include it in iPadOS 17 as well.
Funny enough, Apple already permits the creation of numerous user profiles on iPads for use in classrooms. Only iPads used outside of schools would need to have this useful capability unlocked by the corporation. The backend architecture is already available, so deploying it globally as part of iPadOS 17 shouldn't take Apple an absurd lot of resources.
Lock Screen
The customizable Lock Screen is maybe iOS 16's most notable feature. If you didn't hear, users may now add sophisticated personalizations to this feature of iOS, such as the option to alter the typeface, color, and language of the time. Along with that, you can also install helpful widgets and make your own custom backgrounds. The iPadOS 16 Lock Screen, on the other hand.
Oddly enough, during the initial iPadOS 16 beta stages, it was possible to benefit from the new iOS 16 Lock Screen modifications. As it proceeded to stabilize the OS, Apple later deactivated them.
Along with products that are just available on the iPad, we wish to see these personalization choices in iPadOS 17. For instance, the business may leave the Control Center toggle turned on to spare consumers from having to swipe again. Apple may potentially release bigger, iPad-only widgets with more extensive information that make use of the extra room and the larger size.
Home Screen
On iPadOS 17, for instance, we should be allowed to position widgets and app icons anywhere we choose. We are now constrained by the standard iOS limitation, which prevents users from having empty spaces between apps. The option to add file icons from the Files app to the Home Screen would be a wonderful feature. This would help Mac/PC users become more used to the iPad Home Screen.
Apple Pencil fix
the Apple Pencil 2, but the absence of system-level gesture support frustrated me. we have to alternate between using my finger and the Apple Pencil every time we move from one program to another because you can't swipe with the Apple Pencil to switch between applications, access the Home Screen, or activate the Control Center. It's too constricting to have Apple Pencil controls locked into only one app at a time. It cannot be used by users as a universal stylus to take the place of their fingers. we hope Apple reconsiders this choice and takes these software restrictions off of iPadOS 17.
AirPlay
Apple transformed the Mac into an AirPlay receiver with macOS Monterey. This implies that you may mirror material to the screen of your Mac using your iPhone or iPad. As we've already established, iPads offer screens that are both big and clear. The ability to directly replicate material from an iPhone to an iPad is still unavailable. Thanks to Apple's Sidecar function, Mac users may already utilize iPads as an external wifi display. The Cupertino company may simply designate the iPad as an AirPlay receiver in iPadOS 17, enabling iPhone customers to smoothly mirror media from iOS to iPadOS and benefit from the larger screen space.
Apple Watch integration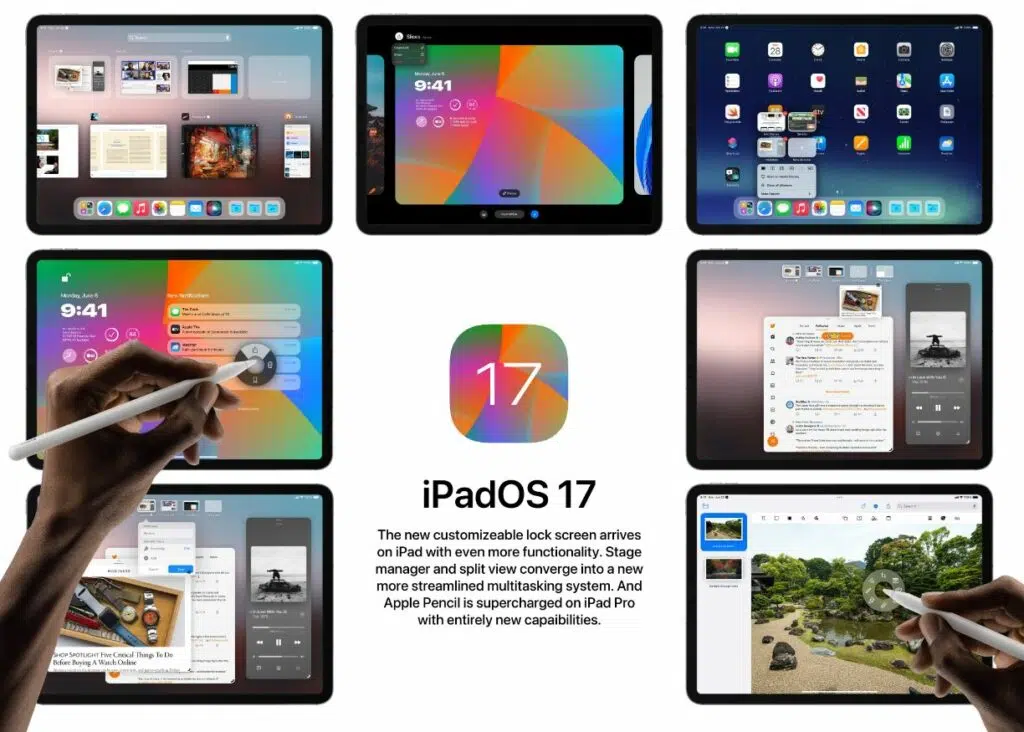 The Apple Watch on your wrist is detectable by your iPad. Click on a text field on watchOS if you don't trust me. You may immediately use the iPad to text into the Apple Watch thanks to a notice that will display on iPadOS. Not to add, when using Fitness Plus to work out, your iPad may display data from your Apple Watch. But this is insufficient.
More Apple Watch functions should be emphasized in and incorporated into iPadOS 17. My Mac and iPhone with Face ID are already unlocked by my Apple Watch. Technical barriers do not prevent Apple from implementing the same idea on the iPad. The presence of the second gadget is already known to the two.
The Watch app, which is presently only available on iOS, is another Apple Watch feature we wish to see on iPadOS 17. Many iPad owners who use Android phones would prefer to rely on an Apple Watch. An iPadOS Watch software may serve as the perfect substitute for an iPhone when purchasing one is not an option, enabling users to link and personalize their watches. For the purpose of gathering pertinent health information, the Apple Watch already relies very little on the iPhone. Users would only lose out on a few inessential indicators related to their walking habits if they didn't have an iPhone.
Even though we use an iPhone, I would adore an iPadOS 17 Watch app that would allow you to configure my Apple Watch on the large screen, receive iPad notifications on my wrist, and not be limited to only my iPhone when it comes to things pertaining to smartwatches. Naturally, this would also include the launch of a Health app by the business for the iPad, allowing customers to keep an eye on their statistics. Additionally, having this application would make it simpler for us to examine these information on the bigger monitor.
Early to mid-June 2023 may see the release of iPadOS 17. This indicates that Apple has plenty of time to think about fresh modifications and enhancements to make to this OS version. We just need to wait it out, grow to appreciate iPadOS 16 as it is right now, and pray that the business won't let us down with a pointless update.
iPads that will probably not support iPadOS 17:
5th Generation iPad (2017)
1st Generation iPad Pro (2015, 12.9″)
iPad Pro 2017 (10.5″ and 12.9″)
iPad Pro 9.7″ (2016)
iPads that'll support iPadOS 17:
All iPad Pro models after 2018
Exclusive features to M1 and M2 iPad models (including M1 iPad Air)
iPad Air 3rd gen and up
iPad Mini 5th gen and up
Base iPad 6th gen and up (since the 5th gen will probably get dropped)
4k smart tv Amazon fire tv stick apple apple airpods Apple Watch 6 black Friday Deals 2020 CES 2021 Cyberpunk 2077 CYBERPUNK 2077 NEXUS MODS Epic Games fortnite Fortnite Season 4 fortnite season 5 Fortnite season 6 games Gaming Laptop GTA 6 gta 6 release date ios 16 iphone12 iphone 12 pro iPhone 12 Pro max iPhone 13 iphone 14 iphone 14 release date iphone 15 pro lg oled MacBook Pro mobile Nvidia OnePlus ps5 ps5 games 2021 ps6 ps6 release date RTX 3080 samsung Samsung Galaxy S21 samsung Galaxy Watch 3 smartwatch xbox xbox game pass Xbox One Xbox Series X|S Xiaomi