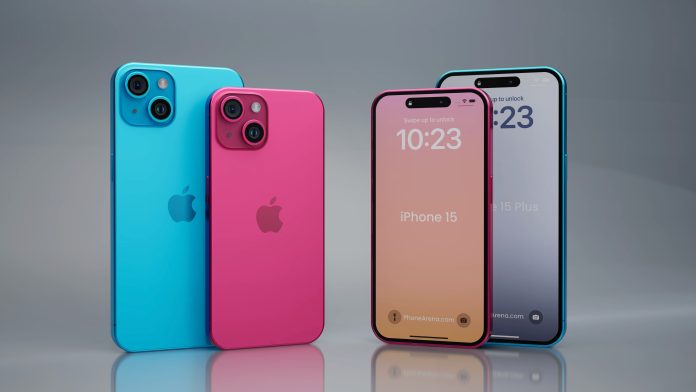 The iPhone 15 is due later this year expected September 2023, and rumors regarding probable hardware upgrades are already circulating. This year might bring a number of changes, like the switch to USB-C, an Apple Watch-like Action button, slimmer bezels, Dynamic Island for all models, and titanium Pro variants.
iPhone 15 Release date
Rumors are pointing to a few models: iPhone 15, iPhone 15 Plus, iPhone 15 Pro, and iPhone 15 Pro Max. will be released in September 2023, or potentially October if it is postponed. Following multiple iPhone releases, it's evident that Apple prefers to introduce new phones in the autumn.
iPhone 15 Price Rumors
A price estimate this early won't be accurate. But here's an idea:
iPhone 15: $899
iPhone 15 Plus: $999
iPhone 15 Pro: $1,099
iPhone 15 Pro Max: $1,299
For comparison, the high-end model in the 2022 lineup, the iPhone 14 Pro Max, started at $1,099.
This exaggerated price estimate is related to the possibility of increasing production expenses. According to Bloomberg, Apple is reportedly considering raising the prices of the iPhone 15 Pro and Pro Max.
Compared to the iPhone 14 series, the production cost of the iPhone 15 base model is expected to increase by around 12% and the iPhone 15 Pro model by around 20%.

TSMC fab price hikes may be the main culprit pic.twitter.com/GovuLF27WC

— Revegnus (@Tech_Reve) April 26, 2023
How to Pre-Order iPhone 15 ?
You'll be able to pre-order the iPhone via Apple's website on the same day or shortly after it's introduced. The specifics will be revealed during the Apple event in 2023.
iPhone 15 Features
The iPhone operating system is updated on a yearly basis, as is the iPhone itself. This suggests that iOS 17 will be available by the time the iPhone 15 is released. Although the number sequence is rather simple, the actual functionality that this OS will provide are now unknown.
There's still plenty of time between now and late 2023, so anticipate additional details to trickle in as the release date approaches. We'll keep this page updated with the latest rumours and leaks.
iPhone 15 Specs and Hardware
Despite no official announcement from Apple, a few data from leakers and analysts indicate to what the iPhone 15 specifications will most likely be.
Beginning in 2017, Apple shifted away from Touch ID in favor of Face ID. That may change with the iPhone 15. Ming-Chi Kuo is a name you're definitely acquainted with if you follow Apple-related leaks. According to the expert, the 2023 iPhone will include in-screen Touch ID—since that release year corresponds to the iPhone 15, it's reasonable to assume that Touch ID will return to the iPhone 15, and it will be built-in underneath the display
The iPhone 15's screen size is unknown, but Kuo predicts that Apple will release a "true full-screen iPhone" in 2024, as well as a lineup with an under-display front camera and under-display Face ID. The 2023 iPhone 15 range might be similar to what we've heard about the iPhone 16 display sizes: 6.3-inch iPhone 15 Pro and 6.9-inch iPhone 15 Pro Max, with the latter dubbed the Ultra model.
Ross Young predicts the next several iPhone launches in terms of under-panel technology. The iPhone 15 will most likely include a pill-and-hole design, similar to the 2022 Pro versions. The Dynamic Island, which made headlines with the iPhone 14, is reported to be on its way. the iPhone 15, but this time to all models rather than just the iPhone Pro.
Based on the technical challenges remaining for under panel cameras to meet discerning brands quality requirements as well as panel manufacturers' cost requirements, I still believe this roadmap makes sense for the iPhone. pic.twitter.com/3ck5X3sVcL

— Ross Young (@DSCCRoss) May 10, 2022
A USB-C iPhone will undoubtedly be another huge development. The European Commission suggested USB-C as the standard connector for smartphones in late 2021, and subsequently confirmed the choice in mid-2022. Starting in 2024, European legislators will make it mandatory, requiring Apple to abandon the Lightning connection that has been the norm on iPhones.
Unknownz21 tweeted a photo of the USB-C port, which you can see here. Ice Universe also features several renderings, which are said to be based on CAD drawings. In this video showing a putative demo version of the iPhone 15 Ultra, USB-C is also plainly visible.
Another thing we've heard about the under-display technology is a front-facing camera. Chances are, this won't be available until Apple perfects under-display Face ID, but perhaps both will be available in the same year: in-screen camera and Face ID (though that may not be till the iPhone 16).
According to this source, one or more versions will contain a 12MP periscope lens with 5-6x optical zoom. According to analyst Jeff Pu, one of the models would include a periscope camera with up to 10x optical magnification. According to one well-known tip, it may not be available on the iPhone 15 Pro, therefore we're likely to see this feature only on the Pro Max. The iPhone 15 Pro is expected to use the same 48MP sensor as the iPhone 14 Pro versions.
Here's a peek at the iPhone 15 Pro's estimated camera bump size and some other details:
This is iPhone 15 Pro – with @9to5mac! New buttons, giant camera bump, colors, and more… pic.twitter.com/NLFWHhYHpE

— Ian Zelbo (@ianzelbo) April 7, 2023
According to one Apple leaker, the iPhone 15 will have an A16 chip, while the 15 Pro will have an A17 chip. According to the same source, Apple is working on 8K recording, which may be limited to the most expensive model. The Pro versions will also have a titanium frame, according to reports.
According to patents and projections, the iPhone 15 might be the first iPhone to eliminate all (or virtually all) physical control buttons. Apple may do this by incorporating a touch sensor layer along the device's edge. This layer may be pressure sensitive, with different functions triggered based on the force exerted to certain locations. (However, later sources contradicted this, claiming that classic buttons will be included.)
More cads images
The buttons!
Source in video pic.twitter.com/sxy9GaNCre

— ShrimpApplePro 🍤 (@VNchocoTaco) March 20, 2023
We don't know how this phone will operate for sure yet, but another rumour has it that the Pro and Pro Max variants will include a multi-use Action button instead of the mute switch. This new button, like the iPhone's current Back Tap feature, might be set to specific actions, such as triggering the torch or Focus mode.
According to one rumour, this button will be used for screenshots, and depending on how hard you push it, it will also auto-focus the camera, capture a picture, or record a video.
According to an unconfirmed source, this iPhone will enable 15W wireless fast charging, which is nothing new. The meat of this rumour, though, is that it will function with third-party chargers that are not MagSafe certified.
Here's a cool iPhone design that incorporates some of those features, such as in-screen Face ID and Touch ID. There's also an Apple Watch-like display over the back-facing camera housing that allows quick access to music and call controls.
This article focuses on the normal iPhone 15, but Apple is also expected to announce an iPhone 15 Plus, iPhone 15 Pro, and iPhone 15 Pro Max in September. Here's how the four models stack up:
| | iPhone 15 (rumored) | iPhone 15 Plus (rumored) | iPhone 15 Pro (rumored) | iPhone 15 Pro Max (rumored) |
| --- | --- | --- | --- | --- |
| Display: | 6.1-inch OLED | 6.7-inch OLED | 6.1-inch OLED | 6.7-inch OLED |
| Resolution: | 2532 x 1170 pixels | 1284 x 2778 pixels | 1179 x 2556 pixels | 1290 x 2796 pixels |
| Refresh rate: | 60Hz | 60Hz | Adaptive 1-120Hz | Adaptive 1-120Hz |
| Chipset: | A16 Bionic | A16 Bionic | A17 Bionic | A17 Bionic |
| Rear cameras: | 48MP main, 12MP ultrawide | 48MP main, 12MP ultrawide | 48MP wide, 12MP ultra-wide, 12MP telephoto with 3x optical zoom | 48MP wide, 12MP ultra-wide, 12MP telephoto with 6x variable zoom |
| Front camera: | 12MP | 12MP | 12MP | 12MP dual-lens |
| RAM: | 6GB | 6GB | 8GB | 8GB |
| Storage: | 128GB, 256GB, 512GB | 128GB, 256GB, 512GB | 256GB, 512GB, 1TB, 2TB | 256GB, 512GB, 1TB, 2TB |
| Battery: | 3,877mAh | 4,912mAh | 3,650mAh | 4,852mAh |