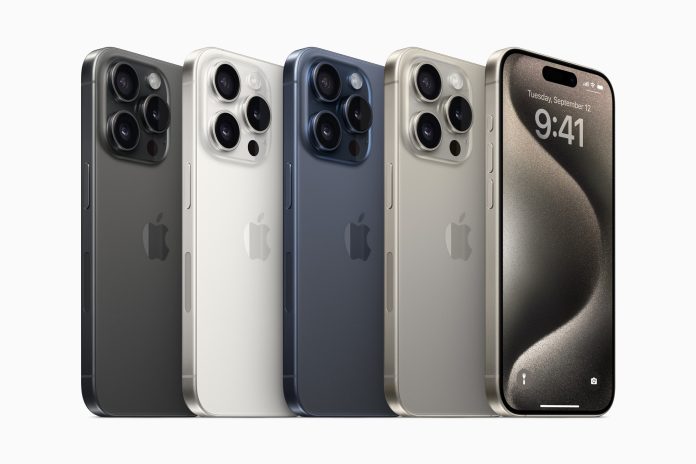 The iPhone 15 Pro and iPhone 15 Pro Max also feature an advanced A15 Bionic chip, delivering unmatched performance and efficiency. Additionally, the devices boast an impressive Super Retina XDR display with ProMotion technology, offering a seamless and immersive visual experience for users.  
The gadgets also include upgraded camera technology that produces amazing images and movies with more clarity and detail.
The next generation of portraits with focus and depth control, improvements to night mode and smart HDR, a more sophisticated 48MP main camera system that now supports the new super-high resolution 24MP default, and other significant camera upgrades enable the equivalent of seven professional lenses with incredible image quality. 
These camera upgrades allow users to capture stunning photos even in low-light conditions and have greater control over the depth of field in their portraits. With the improved camera technology, users can expect to achieve professional-level photography results without the need for additional equipment or editing software.
The iPhone 15 Pro Max features
an all-new 5x telephoto camera. The A17 Pro enables next-generation gaming experiences and professional performance. The new USBC connector is supercharged with USB 3 speeds—up to 20x quicker than USB 2—and, when combined with new video standards, allows powerful pro workflows that were previously unattainable.
With the iPhone 15 Pro Max's all-new 5x telephoto camera, users can capture stunning close-up shots with incredible detail and clarity. Additionally, the A17 Pro's next-generation gaming capabilities and professional performance ensure a seamless and immersive gaming experience like never before.
The iPhone 15 Pro series, with the inclusion of Roadside Assistance via satellite, expands on Apple's revolutionary satellite technology to link consumers to aid if they have automobile issues while off the grid.
The iPhone 15 Pro and 15 Pro Max will be available in four new gorgeous finishes: black titanium, white titanium, blue titanium, and natural titanium. Pre-orders commence on Friday, September 15, and deliveries begin on Friday, September 22.
With its advanced satellite technology, the iPhone 15 Pro series not only enhances communication but also offers a seamless navigation experience, ensuring users never get lost again. Additionally, the stunning new finishes of the iPhone 15 Pro and 15 Pro Max add a touch of elegance to complement any style. 
"This is the most pro lineup we have ever created, with a state-of-the-art titanium design, the best iPhone camera system yet that enables game-changing new workflows, and the A17 Pro chip, which ushers in a new chapter of performance and games never seen before on the iPhone," said Greg Joswiak, Apple's senior vice president of Worldwide Marketing. "The iPhone 15 Pro and iPhone 15 Pro Max represent the best of Apple design and industry-first innovations to help enrich our users' everyday experiences while unleashing their creativity." Joswiak also highlighted the enhanced durability of the iPhone 15 Pro and iPhone 15 Pro Max, thanks to their state-of-the-art titanium design. These devices are built to withstand everyday wear and tear, ensuring longevity for users. Additionally, Apple's commitment to pushing boundaries in performance and gaming is evident with the powerful A17 Pro chip, delivering unparalleled speed and graphics capabilities for an immersive user experience. 
A Stunning, Lightweight, and Design
The iPhone 15 Pro and iPhone 15 Pro Max are available in 6.1-inch and 6.7-inch display sizes, featuring a lightweight titanium design with a high strength-to-weight ratio. The Pro lineup includes tough back glass and a ceramic shield on the front, encased in a 100% recycled aluminum substructure. The Super Retina XDR display with Always-On and ProMotion technologies enhances the viewing experience.
The all-new Action button replaces the single-function switch used to toggle between ring and silent, offering additional options so users can choose between quickly accessing the camera or flashlight; activating Voice Memos, Focus modes, Translate, and accessibility features like Magnifier; or using Shortcuts for more options. A press-and-hold gesture with fine-tuned haptic feedback and visual cues in the Dynamic Island ensure the new button launches the intended action.
A17 Pro: A New Generation of Apple Silicon for iPhone
Apple's iPhone 15 Pro and iPhone 15 Pro Max are powered by the A17 Pro, the industry's first 3-nanometer chip. The chip features a 10% faster CPU and a 2x faster neural engine, enabling features like autocorrect and personal voice in iOS 17. The pro-class GPU is 20% faster, offering smoother graphics and immersive AR experiences. The device also features a dedicated AV1 decoder for efficient video experiences and USB 3 speeds for the first time.
A Powerful Pro Camera System for More Creative Control
The iPhone 15 Pro and 15 Pro Max now offer next-generation portraits with sharper detail, vivid colors, and better low-light performance. Portrait mode is enabled without needing to switch, allowing users to capture in-depth information and adjust the focus point.
The iPhone 15 Pro and iPhone 15 Pro Max now feature improved night mode with sharper details and vivid colors, powered by the Photonic Engine and LiDAR scanner. Smart HDR captures subjects and the background with true-to-life skin tones, ensuring brighter highlights, richer midtones, and deeper shadows in photos. The A17 Pro upgrade improves video quality, with improvements in low-light video and Action mode. The device also offers up to 20x faster transfer speeds with an optional USB 3 cable, allowing photographers to create a pro studio. ProRes video can be recorded directly to external storage, enabling higher recording options up to 4K at 60 fps. The iPhone 15 Pro also supports ACES, a global standard for color workflows.
Next-Level Wireless Performance and Connectivity
The iPhone 15 Pro lineup offers new charging options, allowing users to stay connected while traveling. Both models use the USB-C connector, allowing users to charge their iPhone, Mac, iPad, and AirPods Pro. They also support USB 3 for data transfer speeds up to 10 gigabits per second, up to 20x faster than before. The second-generation Ultra Wideband chip allows two iPhone devices to connect at three times the range, allowing users to share locations and find each other in crowds. The iPhone 15 Pro and iPhone 15 Pro Max also support Wi-Fi 6E for better wireless performance and Thread-enabled smartphones, opening up future opportunities for home app integrations. They come equipped with super-fast 5G, improved audio quality on phone calls, and eSIM support from over 295 carriers. These devices offer affordable international roaming plans and prepaid eSIM plans in over 50 countries and regions.
Featuring iOS 17
The iPhone 15 Pro and iPhone 15 Pro Max have been updated with iOS 17, enhancing the personalization and intuitiveness of the device. The iPhone app now offers customizable contact posters, Live Voicemail, stickers, more powerful search, transcription of audio messages, and Check In. Users can now share contact information by bringing two devices together, allowing for easier sharing of large files over the internet. StandBy offers a customizable full-screen experience with glanceable information, perfect for desks, nightstands, or kitchen counters. Interactive widgets on the Home Screen, Lock Screen, and StandBy allow users to take action with just a tap. Safari now offers greater protection for private browsing and profiles, separating browsing for work and personal topics. Other updates include Journal, an app for gratitude reflection, autocorrect and dictation improvements, and password and passkey sharing with iCloud Keychain.
Pricing and Availability
iPhone 15 Pro and iPhone 15 Pro Max will be available in black titanium, white titanium, blue titanium, and natural titanium finishes. iPhone 15 Pro remains at the same starting price of $999 (U.S.) or $41.62 (U.S.) per month, available in 128GB, 256GB, 512GB, and 1TB storage capacities. iPhone 15 Pro Max starts at $1,199 (U.S.) or $49.95 (U.S.) per month, available in 256GB, 512GB, and 1TB storage capacities.
Apple offers great ways to save and upgrade to the latest iPhone. Customers in the U.S. can get $200–$650 (U.S.) in credit when they trade in an iPhone 11 or later and upgrade to iPhone 15 Pro or iPhone 15 Pro Max by visiting the Apple Store Online, or at an Apple Store location. To see what their device is worth and for terms and conditions, customers can visit apple.com/shop/trade-in.
Customers can get iPhone 15 Pro for as low as $0 (U.S.) after a qualifying trade-in with select U.S. carriers. For eligibility requirements and more details, see apple.com/shop/buy-iphone/carrier-offers.
Customers in more than 40 countries and regions, including Australia, Canada, China, France, Germany, India, Japan, Mexico, the UAE, the U.K., and the U.S., will be able to pre-order iPhone 15 Pro and iPhone 15 Pro Max beginning at 5 a.m. PDT this Friday, September 15, with availability beginning Friday, September 22.
iPhone 15 Pro and iPhone 15 Pro Max will be available in Macao, Malaysia, Türkiye, Vietnam, and 17 other countries and regions beginning Friday, September 29.
FineWoven Wallet with MagSafe and FineWoven Case with MagSafe will both be available for $59 (U.S.) in five new colors for the iPhone 15 lineup: black, taupe, mulberry, pacific blue, and evergreen. In addition to the iPhone 15 Pro and iPhone 15 Pro Max Clear Case, available for $49 (U.S.), a Silicone Case with MagSafe will be available for $49 (U.S.) in black, storm blue, clay, light pink, guava, orange sorbet, cypress, and winter blue.
iOS 17 will be available as a free software update on Monday, September 18.
Beginning September 18, iCloud+ will offer two new plans: 6TB for $29.99 (U.S.) per month and 12TB for $59.99 (U.S.) per month, providing additional storage to keep files, photos, videos, and more safe, accessible, and easy to share. The new plans are great for users with large photo and video libraries or those using Family Sharing, and will provide access to premium features, including Private Relay, Hide My Email, Custom Email Domains, and HomeKit Secure Video support.
Customers who purchase iPhone 15 Pro and iPhone 15 Pro Max will receive three free months of Apple Arcade and Apple Fitness+ with a new subscription.