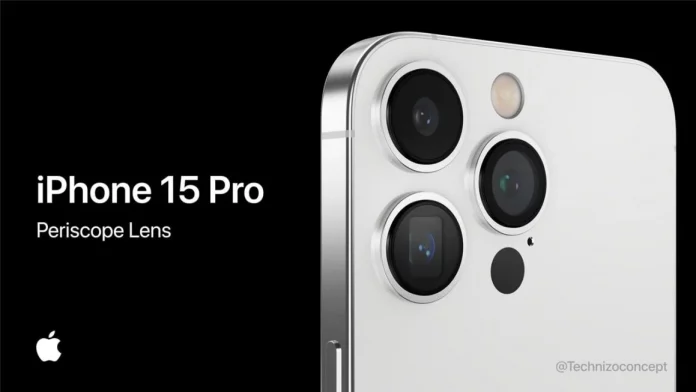 We still have to wait for the launch of the iPhone 14 Pro, but the arrows are already focused on the iPhone 15 Pro. This model is seen as the big 'game changer' where Android fans may also dare to make the switch to Apple. What is this change all about? We take a closer look at that in this article.
USB-C is coming to iPhone 15
Starting with the big, reportedly, USB-C should be coming to the entire iPhone 15 release date in 2023! The reason is that from 2024, new European legislation will require that all phones (among other devices) come with a common USB-C port.
Technically, the mandate won't affect the iPhone 15 (expected in 2023), but if the rumors are true, Apple will rush to future-proof the iPhone 15. This seems pretty likely now that we know that AirPods Pro 2 (coming this fall) should have a USB-C port – a first for Cupertino's wireless earbuds, which would mark the beginning of Apple's total USB-C transition.
Periscope zoom camera
Yes! Rumor has it that the long-awaited modern periscope zoom lens, which we first saw on the Huawei P30 Pro in 2019, is finally about to enter the Apple universe. But not as a fictional character. This time it should be real! After tons of "confirmations" and phone calls from sources, top analyst Ming-Chi Kuo now says that the long-range camera will be one of the main selling points of the iPhone 15 Pro, and that's exciting!
For the record, Kuo outlines that as of now, only the larger iPhone 15 Pro Max is expected to get a new 5-6x periscope zoom lens. That said, I'd take this with a hefty grain of salt since Apple's current approach when it comes to hardware upgrades is to equip the small and larger iPhones with the same set of features.
Aside from leaks, another hint that the iPhone 15 Pro series may be bringing a periscope zoom camera is Apple's patents, but also the fact that the iPhone 14 Pro is expected to have only one new camera in the face of the 48MP primary lens.
iOS 16 becomes customizable
I'm aware that the concept of an iPhone with USB-C sounds shocking enough. However, there is something equally shocking that finds its way into iPhone 15, but also iPhone 14 (and all iPhones up to iPhone 8) and that is the latest version of Apple's mobile operating system – iOS 16!
A revamped lock screen with a lock screen gallery shared iCloud Photo Library, edit a message, shared Safari tab groups, passkeys (like a password, but more secure), and Live text in photos and videos are just a small part of all the new and exciting features coming to iOS 16.
Many call iOS 16 "one of the biggest software updates in the history of the iPhone", and while this may be debatable, I think we can all come together and say that iOS 16 is the biggest customization-focused upgrade we've seen coming to Apple's iPhone.
Thus, for the first time, iPhone users can fully customize their lock screen with iOS 16. Apple's added support for up to five widgets that are always waiting for you. Plus, despite being kept secret, we already know that Apple plans to introduce the long-awaited Always-On display feature with iPhone 14 (some pretty solid-looking leaks have basically confirmed that). Wallpapers on iPhone are now super customizable too.
There's a feature called Photo Shuffle, which allows the iPhone to automatically change the background on a daily/hourly basis, or every time you wake the phone from sleep or tap the lock screen. This can make your iPhone feel fresh every time you unlock it.
Lock screen backgrounds on iOS 16 now also integrate a portrait mode-like effect, where if you have a photo with a striking subject (think: your face/pet/a building), your iPhone can automatically crop it and place it over time/clock widget on your lock screen. It creates a depth effect that makes your subject and clock look a bit more vivid/3D. My first impression is that the algorithm is surprisingly accurate (often to the point of perfection).
iPhone 15 Pro is almost perfect
Of course, iPhone 15 Pro won't have all Convincing Android users to throw away their phone and wake up next to a 7-inch iPhone Max.
I've made technology sound romantic – give me some points! But that's not quite the idea behind this story.
Well, actually it's in a way, but this only concerns me… Look, I've had an iPhone 8 for a while, and I recently bought an iPhone 13 mini. I love the size, and I wouldn't trade it in for another iPhone for the time being.
That said, the iPhone 13 mini still lacks some fantastic features that the Google Pixel 6 Pro has, such as a USB-C port and a brilliant periscope zoom camera. That's why I know I'm not switching to an iPhone 14 model.
That said, it's not like USB-C and a periscope camera will make iPhone 15 Pro the most versatile phone ever. I'm secretly hoping for more.
Reverse wireless charging
RWC could very well be coming to iPhone 15 Pro (or even iPhone 14 Pro), but we still don't have any hints that this could happen. Anyway, I leave the house every now and then with a dead AirPods/FreeBuds Pro case, and if I want to listen to my podcast, the only option is to go back home and plug in my earbuds. This seemingly minor annoyance can be a mood killer.
With my Samsung (at the gym, for example), I can just put my earbud case with wireless charging feature on the back of my phone and let the Samsung do the work so I can use my earbuds for the next few hours before I can go home and give them a full charge. Reverse wireless charging is the kind of feature you don't know you need and it would be great to finally see it on the iPhone.
Fast charging
A full charge takes almost 2 hours for the iPhone 13 range, and while the "50% in 30 min" that Apple gives us is pretty satisfying, I still wish I had the extreme convenience of my Huawei P30 Pro, which gave me a full day of use after being plugged in for 30 min.
Less angular design
Thanks to the upcoming iPhone 14 Max, the average iPhone size will reach a new high in 2022. The point is that the flat design of the iPhone just doesn't go well with its increasing size. In fact, even the iPhone 13 mini digs into my hands when I use it for more than a few minutes, and I'm not exaggerating.
I may be the minority here, as everyone seems to love the new flat iPhones, but I tend to put functional design above aesthetics. Handling the iPhone 8 after about a month of using the iPhone 13 mini feels… terrific.
Is this the transition moment?
If I have to look at the current trends in the smartphone market, then the answer to this question is probably yes! Apple's market share for smartphones is growing, and people are now choosing more than ever to spend their money on flagship phones in particular, which is great news for Cupertino.
However, if I have to be reasonable, I have to consider that by the time iPhone 15 Pro is out, Samsung, Google, Xiaomi & Co have probably taken Android phones to newer heights, meaning it might be a little trickier for Apple to attract Android users. Still, USB-C on the iPhone means you can charge all your Apple or non-Apple products with one cable, which could be enough to accommodate a large portion of non-iPhone users (as well as iPhone users with older phones).
Needless to say, the camera is the focal point of all new flagship phones these days, so I bet an iPhone 15 Pro with a periscope zoom lens will amaze many minds and end up in many pockets. Especially those who have never had a phone with a periscope zoom camera.
The presence of features like Reverse Wireless Charging and good fast charging would be the icing on the cake for the iPhone 15 Pro series. Still, their potential absence certainly doesn't sound like a deal breaker to me, in case I decided to go full-time for the iPhone and retire my Pixel.