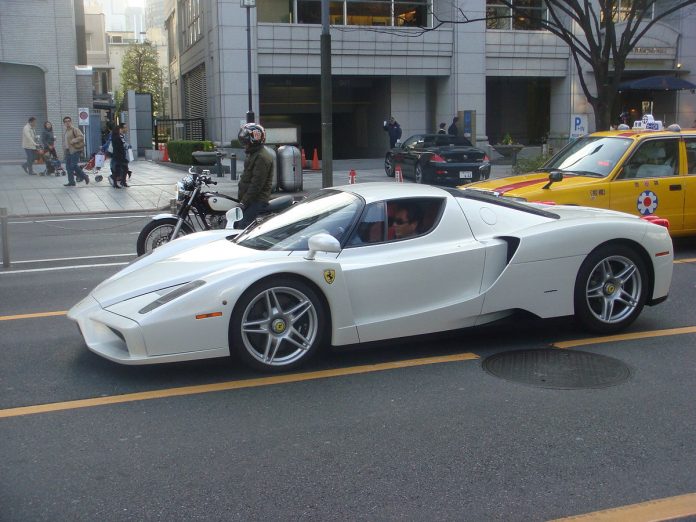 The white Ferrari Enzo Auction for One Night Only
A special 24-hour online auction will be held on June 29 for one of the rarest cars in the world. The white Ferrari Enzo will be offered by RM Sotheby's without a reserve.
Chassis 133023 is one of fewer than 20 "Extrampaionario" cars that was finished in a non-standard color. Its Bianco Avus exterior paint color is the only example of that cohort and the full production run of the Enzo.
A Nero leather interior complements the paint. Rossi Corsa instruments and extra-large carbon-fiber bucket seats come complete with 3D black cloth inserts.
The Ferrari Enzo is one of the rarest cars the Maranello-based marque has ever produced, creating just 493 examples. However, only one left the factory in "Bianco Avus," and now this one-off example is heading to auction thanks to RM Sotheby's.
The Ferrari Enzo was developed in 2002 using technology gleaned from the brand's Formula One program. Every Enzo has a carbon fiber body, an
F1-style automated-shift manual transmission, 15-inch Brembo ceramic disc brakes, and active aerodynamics. Its small, adjustable rear spoiler works to provide the car with a maximum of 1,290 pound-force of downforce at top speed.
Here lies a naturally-aspirated V12 engine that produces 651 HP and 485 lb-ft of torque, which uses an automated manual F1-inspired transmission to send the power to the rear wheels. The result is a 0-60 MPH time of 3.1 seconds and a top speed of 221 MPH.
The sports car is powered by a V12 engine that was the first of a new generation of power plants by Ferrari. It is similar to the V8 that was used in the Maserati Quattroporte during the time, only larger.
It rides on 19-inch wheels.
Just 399 reservations were allocated when the car was introduced at the Paris Motor Show in 2002. The car achieved sold-out status before the first delivery.
However, more than 399 were made. The actual production number is 493.
The 400th production example was donated to the Vatican to aid in the Catholic's church's charitable efforts. That model was sold at auction by Sotheby's in 2005 for $1.1 million USD.
One of three production mules of the Enzo was sold alongside it, bringing in $236,300 USD.
Ferrari Planning 15 New Products by 2026
Ferrari laid out a bold future in its latest Capital Markets Day strategic plan. The presentation covers 2022-2026, but it also explained a lot about what the Italian automaker has in store for the next decade or so with a plan for both hybrids and electric vehicles, carbon neutrality, and news about its upcoming SUV.
The company will launch 15 products between 2023 and 2026, some of which will be variants of current models like the Ferrari F8 and 296 GTS. New vehicles will also join, including the company's first SUV.
The Ferrari Purosangue, whose name means "pure blood", will be unveiled in September. Its chief competitor is expected to be the Lamborghini Urus SUV, which accounts for more than 60 percent of that brand's sales.