Android 13, codenamed Tiramisu, ought to be an ideal time for Google to fine-tune what's already there in the millions of Android smartphones around the world.
We've combed via our Pixel, OnePlus, and different Android phones to roundup 5 features we'd like to see arrive in Android 13 later this year, no depend on how important or minor these may additionally be.
But first, we'll run you thru when we assume it to land and which Android phones will possibly be supported. We'll additionally appear at the features we already know about, as the developer preview is out now, whole with a few Android 13 features.
Android 13 release date
The new Android version commonly seems for developers in February and indeed the first developer preview of Android 13 is now available, having launched on February 10, and a 2d preview has due to the fact followed.
These early releases provide developers a heads up as to what needs to be performed in the fall of that year, permitting them an idea of what they should implement for future versions of their apps.
Google has additionally revealed an Android 13 roadmap which you can see above. From this you can see that the first proper beta would possibly land in April, with a steady release in June, probable to coincide with Google I/O, which we now know kicks off on May 11, then a shipping date in September. Though October is possible too, as it is when Android 12 landed.
Android 13 supported phones
Android has a reputation for now not making it easy to update your phone to the latest version. Part of it is due to the one-of-a-kind manufacturers on who have designed Android to fit a brand, such as Samsung.
But with Google releasing a new Pixel phone each year, these normally come with the latest Android version. It wouldn't be a surprise to see a Pixel 7 or a Pixel Fold appear with Android 13 in October once more, to begin with.
Other manufacturers normally follow after a few months of testing and putting their very own spin on the new Android release, however it's usually now not until the first half of the next year.
Android 13 features
We do not recognize much about what Android 13 will provide yet, however, the first developer preview has revealed some features, with a 2nd developer preview revealing more.
Eagle-eyed developers have recently noticed signs that Android 13 should support the use of two numbers (and two carriers) on a single eSIM at the identical time technology that Google patented back in 2020.
Meanwhile, Google's dynamic theming will now work with third-party app icons. This is just a Pixel characteristic for now, however with Google pushing to get different producers to support dynamic theming it ought to eventually benefit most phones.
This release is additionally very focused on privacy, including a photo picker feature that lets you share media such as photos with apps besides granting them access to your complete media library.
Similarly, a new 'Nearby system permission for Wi-Fi' will allow apps to discover and join to close by devices over Wi-Fi without needing location permissions.
Plus, with Android 13 users will be capable to set the default language on a per-app basis. So you ought to set one app to English and any other to Spanish for example.
As for the 2d developer preview, that includes a new Foreground Services Task Manager for monitoring and closing apps that are running in the foreground.
It additionally consists of the ability to dim wallpapers, redesigned media controls, and new user profile features, such as a profile picker button on the status bar, and a full-screen profile switcher, which is in all likelihood designed for use with large devices. Plus, the first time you open an app it will now have to ask your permission to send you notifications.
While now not an established feature, evidence of the capacity to change the flashlight brightness has additionally been found in Android 13 code, even though it appears as this may typically be limited to phones that launch with Android 13 – no longer these that are updated to it.
Google has additionally revealed that it is working on app archiving – a feature that would let you archive apps to free up around 60% of the area they take up, barring absolutely deleting them. This would remove parts of them, however, keep the icon on your phone and suggest they can quickly be restored next time you come to use them.
UI Fixes
the colors in Android 12 lack contrast – everything looks pale compared to the vibrancy that iOS shows. But according to Android Police, it looks like Google is already aware of this, as new vibrant colors have seemingly leaked for Android 13.
Scrolling Screenshots for all, not some apps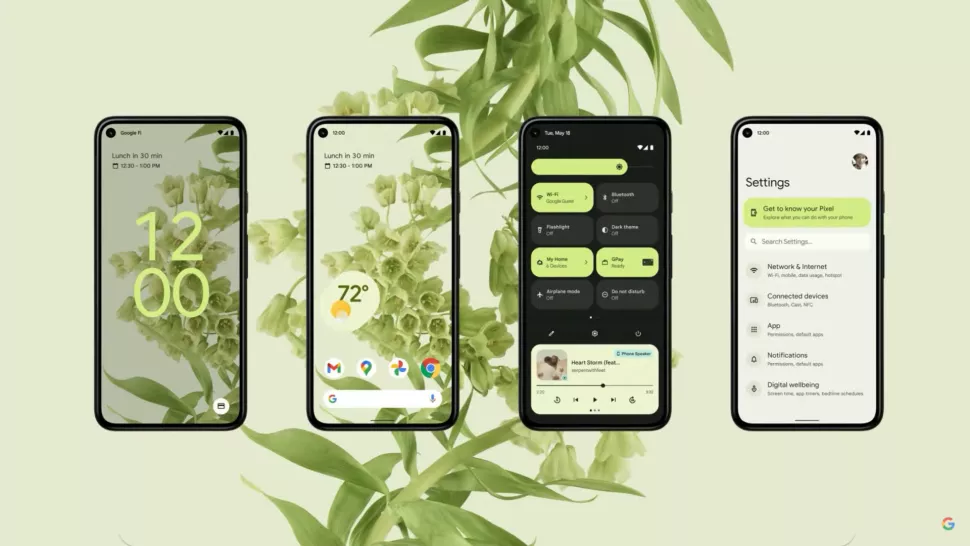 This feature used to be introduced for some apps in Android 12, where you may want to take a screenshot of a web page, however Android would stitch the content material into one image.
However, whilst it's a beneficial feature, it requires developers to include a 'View-based UI' in the app, otherwise scrolling screenshots isn't a choice for users.
Instead, Android 13 ought to make this available to all apps, regardless of the current requirement. Users shouldn't want to check whether or not sure features in Android are additionally available to certain apps, and scrolling screenshots is one of them.
Release the backtab gesture
 Android, the backtab could be an easy win for users, especially as the software can be better customized compared to iOS. Imagine an Android 13 backtap where you can launch certain apps or media with a certain amount of taps, or the end result changes, depending on the app that you're currently using.