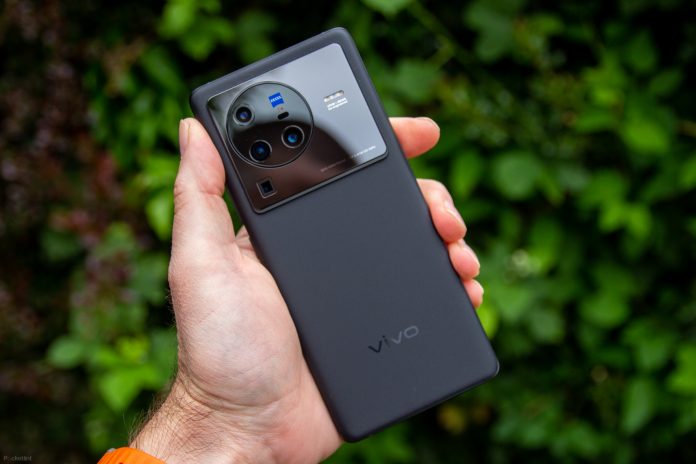 Vivo is competing with Apple and Samsung in the luxury segment: The new Vivo X80 Pro for 1100 euros is supposed to compete with the expensive flagships of the rivals with state-of-the-art hardware and Zeiss camera – and leaves a pretty well-thought-out impression in the test with extras such as sophisticated gimbal video stabilization and an extra-large finger scanner.
Vivo's new luxury smartphone does not need to hide from the competition in terms of features: The X80 Pro with the Qualcomm Snapdragon 8 Gen 1 one of the currently most powerful smartphone processors, is equipped with twelve gigabytes of RAM and 256 gigabytes of flash memory. This means that you are well equipped for demanding 3D games and have sufficient storage space.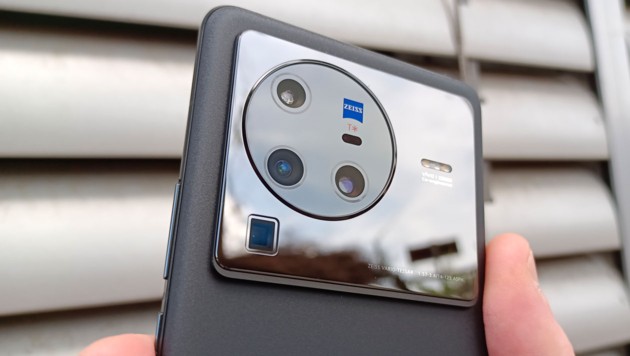 Display
A bright HDR OLED display with adaptive 120 Hertz refresh rate, sharp 3200 x 1440 pixels resolution, and 6.78 inches diagonal ensures excellent image quality. Practical extra: Vivo gives the X80 Pro an extra-large fingerprint scanner in the display, allowing the device to be unlocked biometrically quickly and reliably.
Camera
Special attention has been paid to the quadruple-camera system developed together with the German optics specialist Zeiss. It consists of a fast (F/1.57) 50-megapixel main camera with optical image stabilization, a 48-megapixel wide-angle camera (F/2.2), and two optically stabilized zoom cameras with two and 5x magnification with twelve and 8-megapixel resolution. The dual zoom camera (F/1.85) is significantly brighter than the periscope optics (F/3.4) with five times magnification. Videos are recorded in a maximum of 8K resolution (30 frames per second).
In the practical test, the camera system leaves nothing to be desired: The main camera delivers photos at a compact camera level in good light and still produces sharp and bright results even with less optimal lighting. The wide-angle camera is also very successful with its high resolution and light intensity.
The zoom cameras deliver sharp results in good light up to zoom factor 15, with even more magnification sharpness and level of detail decrease noticeably. When recording video, the gimbal stabilization leaves an excellent impression: shaky hands are compensated with impressive reliability. The 32-megapixel front camera also delivers impeccable results.
Features
The radio equipment is up to date: Vivo's new flagship can provide a suitable tariff, be operated in 5G networks, and also offers a modern WLAN standard with Wi-Fi 6. Bluetooth is on board in version 5.2, there is also NFC and an infrared blaster, with which the device can be used as a universal remote control.
The usual navigation services – GPS, GLONASS, BeiDou, Galileo, QZSS – are also on board. The X80 Pro has two SIM card slots, but you won't find a memory card slot and a jack for headphones.
Haptics and workmanship correspond to the price range: The X80 Pro is dust and water-resistant according to IP68 specifications, and the housing consists of a metal frame and a toughened glass back. However, this is extremely slippery, which in combination with the display curved over the edge of the device and the generous dimensions of the 220-gram device does not necessarily contribute to safe handling.
The use of the enclosed shell seems to make sense – also because of the camera system protruding strongly from the housing.
Battery
Vivo not only includes a protective case with the X80 Pro, but also an 80-watt fast charger. This allows the 4700 mAh battery in the device to be fully charged within 45 minutes, alternatively, wireless charging stations are also supported. Fully charged, average users get two days of runtime from the electricity supplier. Gaming intensive use with a 120-hertz refresh rate can also empty the battery within a day.
software 
The software is Android 12 including the common Google applications. Vivo uses an in-house user interface called FuntouchOS, which will not present Android connoisseurs with any challenges and, among other things, brings a well-made and functional camera app. There is some bloatware – a streaming service, two social networks – pre-installed, but the potentially unwanted entries can be uninstalled.
In the test period, the Vivo X80 Pro already received the first software updates, but we can not say anything about the long-term update supply.