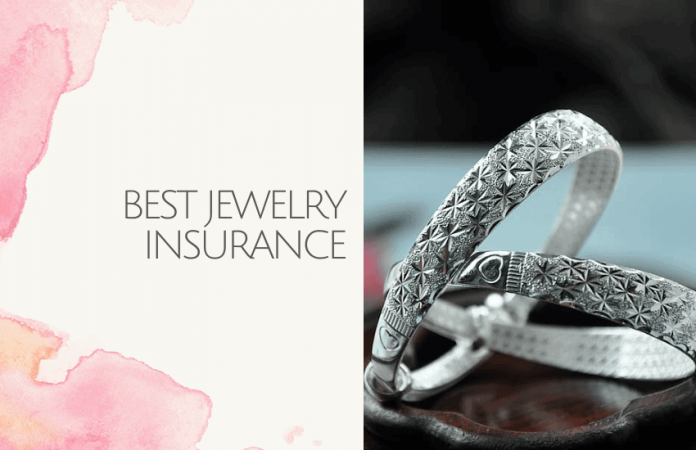 Best Jewelry Insurance Companies of 2021
Jewelry insurance protects the value of your cherished pieces, mostly by providing you with repair, replacement, or reimbursement of the appraised value. While you can count on some protection for your jewelry in a homeowners insurance policy, many consumers with valuable jewelry opt to buy separate coverage with higher limits and deductible requirements that make sense for personal valuables.
The best jewelry insurance companies offer affordable coverage for a variety of different types of jewelry. They will offer different policies to choose from, make it easy to get a quote and provide helpful customer service agents as well as competitive prices.
Jewelers Mutual Insurance Group
---
No. of Policy Types: Multiple
Coverage Limit: Varies
Price: Small percentage of item's value
Why We Chose It
We chose Jewelers Mutual as best overall because of their industry longevity, coverage of most major perils, and you can customize your coverage without a deductible. 
Pros & ConsPros
Online quotes available
No deductible
Major perils included
Cons
Coverage excludes animal infestation
Coverage excludes war
Coverage excludes intentional actions
Overview
Jewelers Mutual Insurance Group has been around since 1913, and this company boasts an A+ rating from AM Best.1 That makes this provider one of the longest-running jewelry insurance companies in operation today, and also one that is known for its financial strength and trustworthiness.
Jewelers Mutual Insurance Group makes it easy to get a quote for your treasured pieces online and in a matter of minutes. Not only do they offer jewelry insurance for individuals who want to ensure their personal collection, but they're also a trusted name among jewelry insurance companies for jewelers who want protection for their collections and jewelry stores.
Policies from Jewelers Mutual can be tailored to your needs and the amount of coverage you want. You can choose your deductible, or you can choose not to have a deductible. The limits of your policy will also vary depending on the appraised value of the jewelry pieces you cover. 
This provider also covers direct physical loss or damage to your insured items "unless the loss is caused by a peril that is excluded." Their contract exclusions include loss of jewelry due to civil authority (such as a lawful seizure) and general wear and tear. Jewelers Mutual Insurance Group covers all major perils you may expect to encounter with your jewelry over the years.
We also like that this provider lets you submit a claim and follow up on the process entirely online. However, you should note that the appraisal amount for any jewelry you insure lists the total amount your policy could payout if you file a claim. With that in mind, you'll want to get an appraisal for each piece of jewelry you insure. 
Their policies can be very affordable. The premium is often a small percentage of the value of your item.
JIBNA Personal Jewelry Insurance
---
No. of Policy Types: 1
Coverage Limit: Varies
Price: 1-2% of jewelry value
GET A QUOTEWhy We Chose It
We chose JIBNA as the best for a personalized experience because you get to work with an agent to purchase your policy and file any claims. 
Pros & ConsPros
Unique underwriting technique eliminates much guesswork
All-risk coverage, including coverage for mysterious disappearance
Cons
You cannot get a free quote online
Website doesn't allow you to file claims online
Overview
JIBNA Personal Jewelry Insurance offers all-risk coverage, including insurance for mysterious disappearances. The company also boasts an A- rating from AM Best for financial strength, and they have been in business in some capacity since 1975.2
Since this provider only insures personal jewelry, they have been able to enact an advanced underwriting process that takes a lot of guesswork out of the equation. Their underwriting software expertly evaluates jewelry appraisals to "perform insurance to value (ITV) calculations." This process allows them to accurately determine how much coverage you need for each piece. With that being said, you'll want to get an appraisal for each piece of jewelry you plan to insure.
With JIBNA Personal Jewelry Insurance, you have to work with an agent to get a quote. You would also need to file any applicable claims with your agent, which can take up more time than doing it all online. However, some people may prefer to work with an insurance agent on their jewelry policy and claims versus going it alone. After all, an agent can help walk you through the process and provide some much-needed personal support.
In terms of the cost of jewelry insurance, consumers typically pay around 1–2% of the jewelry value for their policy with most companies. That would be $100–$200 for a $10,000 wedding ring or necklace. You can keep this in mind as you begin to speak with a JIBNA agent.
Lavalier
---
No. of Policy Types: Multiple
Coverage Limit: $50,000 per piece
Price: 1-2% of jewelry value per year
GET A QUOTEWhy We Chose It
Lavalier lets you get a free online quote for your jewelry without sharing contact or personal information other than a ZIP code, making them ideal for those who prefer to keep their information private. 
Pros & ConsPros
Discounts available
All-risk coverage included
Flexible deductible
Cons
Per-piece coverage limit of $50,000 (with some exceptions)
Appraisals required for pieces over $5,000
Watches may not be covered
Overview
While Lavalier is a household name among jewelry insurance providers, it uses Berkley Asset Protection as its underwriting partner. Berkley Asset Protection then writes on behalf of Berkley National Insurance Company, which has received an A+ rating from AM Best.3
Lavalier makes it easy to get a quote for jewelry insurance if you're worried about your privacy. They let you get pricing for a policy without even entering your contact details, although you do have to enter the zip code where you live.
According to Lavalier, coverage offered is worldwide, although coverage is limited to $50,000 per piece with some potential exceptions made. That makes Lavalier a poor choice if you have incredibly expensive jewelry to insure. Appraisals are also required for pieces worth $5,000 or more.
Fortunately, Lavalier offers all-risk coverage, which means that all loss, damage, theft, and mysterious disappearances are included in your policy. On the flip side, some situations are excluded, including manufacturer defects, intentional actions, war, and nuclear hazards.
A policy for your jewelry typically costs 1% to 2% of its value each year, so a $10,000 wedding ring may be insured for $100 to $200.
Zillion
---
No. of Policy Types: Multiple
Coverage Limit: Contact for details
Price: Contact for quotes
GET A QUOTE Why We Chose It
Policies from Zillion come with no deductibles for replacements and repairs, meaning you won't face sudden, surprise charges when you go to file a claim.Pros & ConsPros
Buy all-risk coverage with no deductible
Coverage is worldwide
30-day money-back guarantee
Cons
Provide personal information to get a quote
No pricing information on site
Vague policy descriptions
Overview
Jewelry insurance from Zillion is underwritten by AXA XL, which has a superior A+ rating for financial strength from AM Best.4 This means you can rest assured that the coverage you purchase will be financially viable if you need to file a claim.
Jewelry coverage from Zillion includes protection against theft, other types of loss, damage, and disappearance. Coverage is worldwide, meaning it applies no matter where you are in the world when you make a claim. This coverage is even good for natural disasters, and you can cancel any time within 30 days of your policy for a full refund.
If you want a policy that doesn't come with a pricey deductible, you'll want to check out Zillion for this purpose. Their policies come with a $0 deductible for replacements and repairs, whereas others allow you to opt for no deductible in exchange for a higher premium. There are also no hidden service fees or charges involved in buying this coverage.
While Zillion doesn't explicitly state you'll want an appraisal for your jewelry, you should get one if you want to ensure you are reimbursed for its true value. With that being said, you should note that filing a claim won't affect your premiums going forward. You can also file a claim online and benefit from free shipping protection.
In terms of cost, Zillion's quotes are competitive, and we recommend them if you're looking for an affordable option.
Chubb
---
No. of Policy Types: Multiple
Coverage Limit: Varies
Price: Contact agent
GET A QUOTEWhy We Chose It
Chubb offers an agreed value feature that promises the cash value of your settlement will be an amount declared ahead of time. 
Pros & ConsPros
Receive 100% of the amount promised
Long and positive company history
Receive more if jewelry has increased in value
Cons
Must work with an agent
No pricing information
Difficult to compare to other providers due to limited information
Overview
Chubb may not be a household name, but they are the world's largest publicly traded property and casualty company. Chubb has also been in business in some capacity since 1792, so they have incredible longevity within the world of property and jewelry insurance. In terms of financial security, Chubb also boasts an A++ rating from AM Best.5
Chubb Valuables Insurance works for jewelry and other expensive items you own and want to protect. You can purchase individualized coverage that provides the exact amount of protection you need, and appraisals are only required for jewelry items worth $100,000 or more. You will likely want to get an appraisal for your jewelry ahead of time if you want to ensure you receive your item's full value.
Policies from Chubb also come with an agreed value feature that states you will receive 100% of the value you agree upon in a cash settlement if your item is stolen or damaged and unable to be repaired. In some cases, Chubb may even pay up to 150% of the amount of your policy if the value of your item increases. So, having an appraisal completed is an essential step in ensuring you'll receive the cash payout you deserve. Jewelry insurance policies from Chubb can also be purchased with no deductible.
One major downside of Chubb is that you need to work with an independent agent to get a quote for your policy. That makes it considerably more difficult to shop around and compare pricing from more than one provider. The cost of their policies falls in line with others in our ranking.
GemShield
---
No. of Policy Types: Multiple
Coverage Limit: $100,000 maximum
Price: 1-2% of jewelry per year
GET A QUOTEWhy We Chose It
GemShield is best for new jewelry because they don't require an appraisal for newly purchased pieces and will insure jewelry based on receipts.
Pros & ConsPros
Options with no deductible available
Worldwide coverage moves with you
Work with your own jeweler
Cons
Maximum policy limit per piece
Total maximum policy limit
Company not as well-known as some others
Overview
GemShield is another jewelry insurance company with policies that are underwritten by Berkley Asset Protection, and these policies are offered through Wasserman & Wexler Insurance Agency, LLC. Their policies are best for individuals who move around from place to place since coverage is worldwide, and it's also important to note that GemShield covers all major risks, including mysterious disappearance.
GemShield offers automatic coverage for new jewelry but also covers other pieces. You can use the GemShield website to get a free quote online, and you'll find out how much you need to pay within a matter of minutes. Generally speaking, GemShield insurance policies cost 1% to 2% of the insured jewelry value per year, based on the purchase price or appraised value.
Another benefit of GemShield is the fact that you can use your own jeweler for replacement or repairs. You don't have to work with a jeweler that's been pre-approved by GemShield. You can also tailor your coverage to your needs, including the option of no deductible. 
GEICO
---
No. of Policy Types: Multiple
Coverage Limit: Varies
Price: 1-2% of jewelry value per year
GET A QUOTE Why We Chose It
With a positive reputation and years of industry experience, GEICO offers multiple types of insurance policies with bundling discounts. 
Pros & ConsPros
Strong company reputation
Free online quote and quick coverage
Cons
Scratches and tarnished may not be covered
Must contact company for maximum policy limits
Overview
While GEICO and its gecko mascot may only come to mind when you think of auto insurance, this provider also offers insurance for individual jewelry pieces. Fortunately, this is yet another provider you can count on and trust. GEICO was purchased by Berkshire Hathaway, which is headed by Warren Buffett, in 1996. The company has an A++ rating for financial strength from AM Best.6 Consumers may be eligible for discounts when bundling policies together.
When it comes to jewelry insurance, GEICO lets consumers apply for a free quote online and get coverage in a matter of minutes. According to their figures, policies typically cost around 1–2% of the value of the jewelry at hand.
Coverage from GEICO is also for all major perils, including mysterious disappearance and loss. GEICO's coverage is also good worldwide, meaning your jewelry will be protected no matter where your travels take you.
While you don't necessarily need an appraisal to purchase coverage, you will need an appraisal to file a claim. With that in mind, you should get an appraisal for all jewelry you plan to buy insurance for. 
Compare The Best Jewelry Insurance Companies
Company
No. of Policy Types
Coverage Limit
Price
Requires an Appraisal
Jewelers Mutual Insurance Group
Best Overall
Multiple
Varies
A small percentage of an item's value
Yes
JIBNA Personal Jewelry Insurance
Best Personal Experience 
1
Varies
1-2% of jewelry value
Yes
Lavalier
Best for Privacy 
Multiple
$50,000 per piece
1-2% of jewelry value per year
Yes
Zillion
Best Coverage with No Deductible 
Multiple
Contact for details
Contact for quotes
No
Chubb
Best for Full Value Coverage 
Multiple
Varies
Contact agent
No
GemShield
Best for New Jewelry 
Multiple
$100,000 maximum
1-2% of jewelry value
No
Geico 
Best for Bundling Policies 
Multiple
Varies
1-2% of jewelry value
No
How to Choose the Best Jewelry Insurance Companies
Do You Need A Jewelry Insurance Company?
Before deciding if you need a jewelry insurance company, you should assess what type of homeowners or renters insurance you already have, the policy coverage, and also consider your jewelry collection. Often, homeowners insurance only covers up to $5,000 for jewelry so if you own a large collection or some valuable pieces, you may want to explore your jewelry insurance coverage options.
Comparing Jewelry Insurance Companies
When comparing jewelry insurance companies you want to keep several things in mind such as the reputation of the company, its reviews, and how long it has been in business. Additional factors to consider include:
Plans: How many plans do the provider offer? What types of plans are offered? Know what the plans cover and if you can customize them to your needs. Once you know what the plans entail you can compare them to other plans offered by different providers.
Coverage limits: Each insurance company has different coverage limits. Make sure the company you choose covers the value of your jewelry. You don't want to choose a company that only covers $100,000 worth of jewelry if you own a $250,000 one-of-a-kind watch.
Appraisals: Most companies require appraisals before filing a claim but check and see if the company requires one, when it needs to be submitted, and if additional photographs or receipts are required. This is important to know before an item gets lost or stolen.
Exclusions: Each provider will have different exclusions, so know what they are so you can properly compare them. Is there anything that isn't covered? Are things like loose stones covered? Is misplaced jewelry covered? You'll likely want to choose the provider that has the fewest exclusions, especially if you plan on adding more pieces to your policy in the future.
Bundling: Find out if each jewelry insurance company offers other insurance policies and if they do, if they allow you to bundle your policies and receive a discount.
Selecting A Jewelry Insurance Policy That Works For You
After you have made your selection and chosen the best jewelry insurance company for your needs, it's time to apply for a quote. This can usually be done online or over the phone. You may need your current homeowners or renters' insurance policy information and you will also need your Social Security number, valid photo identification, and information on where the jewelry will be kept. For example, if you own the home, travel with expense pieces, or keep them in a safe. These factors might affect the price of the policy (and the coverage you receive), so you'll want to be honest.
You'll also want to consider how you'll pay your bill or file a claim. E-payment via credit card is usually preferred, although some companies allow you to mail a check. You might also be able to manage your policy online or through an app.
Frequently Asked Questions
What Is Jewelry Insurance?
Like other types of insurance for a boat or a car, jewelry insurance is a financial product that provides coverage for the item at hand. With jewelry insurance, you can pay an annual premium for a policy that protects your jewelry against damage or theft. Policies often have a deductible, but some jewelry companies offer this coverage with no required deductible.
Some jewelry insurance policies require an appraisal for covered items over a certain amount, such as $5,000. You'll need to make sure all jewelry you purchase and want coverage for is ultimately included and outlined in your policy as a "scheduled item."
Does Homeowners Insurance Cover Jewelry?
Homeowners' insurance often includes a personal property component that includes jewelry. However, the way homeowners insurance is set up can make the coverage for jewelry less than optimal and expensive to use.
many homeowners insurance policies come with a limit as low as $1,000 per item of jewelry. A homeowners insurance deductible might also apply, which could wipe out the value of the policy entirely.
This is why many consumers prefer to buy separate jewelry insurance coverage that is specific to their collection. They can purchase an amount of coverage that will make them whole in the event of a loss this way, and they can choose their deductible and other policy details.
What Does Jewelry Insurance Typically Include?
Before you purchase a jewelry insurance policy, you should know what is and isn't included. Jewelry insurance typically includes any loss, including damage or theft. This can include a mysterious disappearance, which is any situation where your jewelry is suddenly missing without an explanation. Jewelry insurance does not typically include damage from wear and tear or intentional acts.
What Are the Expected Costs of Jewelry Insurance?
Most jewelry insurance policies tend to cost between 1% and 2% of the jewelry's value in question. For example, an insurance policy to cover a wedding ring worth $10,000 could set you back between $100 and $200 per year. 
Coverage can vary in terms of pricing and scope. If you choose a policy without a deductible and with full replacement value, you can expect to pay higher premiums.
How to File a Claim for Jewelry Insurance
The process involved in filing a jewelry insurance claim depends on where you purchase your policy. If you bought a policy through an agent, you'll work with your agent to file a claim. If you purchased a policy online, on the other hand, you'll likely be able to file your claim and provide the evidence and documentation required online as well. Most jewelry insurance providers also let their clients file claims over the phone.
Either way, you should expect to provide information on the date of the loss and what exactly happened to your jewelry. You will also need to provide your policy number, your name, and your contact information.
Your jewelry insurance company will investigate your claim, and you may be asked to answer some additional questions and provide more supporting evidence.