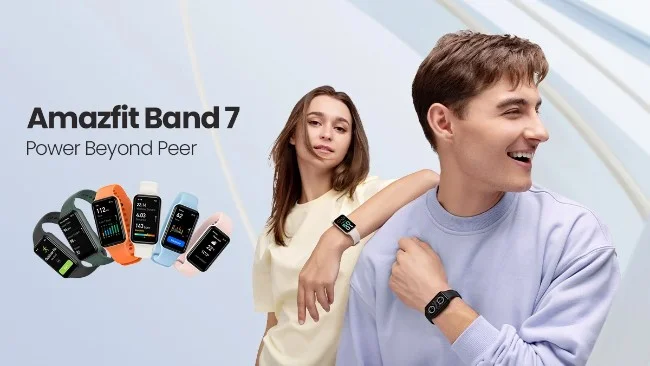 Amazfit, once a subsidiary of Xiaomi, is currently a rival to the manufacturer led by Lei Jun, although it still shares a DNA very similar to that of the former mother house. Now we have the new smart band Amazfit Band 7 with a design similar to Xiaomi's Mi Band 7, but an incredible autonomy for up to 28 days of use!
Is this the new queen of smart bracelets? Especially with an advertised retail price of $49.99, or $49.99 for the international market, the future is promising for Amazfit. Note also that this smart band uses the Zepp OS system, with its company application for Android and iOS mobile devices.
Reached Amazfit Band 7, the rival of Xiaomi Smart Band 7
Like Xiaomi's Mi Band 7, the Amazfit Band 7 is also available with bracelets of various colors, from black, orange, white, green, blue, to pink. However, the case features the standard black strap that can later be replaced by the user.
This is the successor to the Amazfit Band 5 launched in 2022 by the manufacturer to compete with Xiaomi's Mi Band 5. However, we did not have an Amazfit Band 6 in 2021, preferring the company to wait for 2022 to incorporate more novelties between generations.
The strategic option is not devoid of merit, although Amazfit continues to present itself as an alternative to Xiaomi, it is certain that this manufacturer gradually has more difficulties in convincing consumers of the novelties present in the new iterations of Mi Band, its product "ex-libris".
Amazfit's activity bracelet has autonomy for up to 28 days
The Zeppos platform ensures the integration of Amazon's Alexa virtual assistant into the smart band. In addition, we have a whole range of functions for monitoring and monitoring the physical activity and overall health of the user. In particular, we highlight the function of SpO2, as well as heart rate, stress, and sleep monitoring with the Amazfit Band 7.
The bracelet can also accompany more than 120 sports during training, such as the Xiaomi Mi Band 7. In addition, it has water resistance up to 50 meters (5 ATM), but lacks the GPS location integrated into its core.
AMOLED 1.47-inch display with HD resolution on Amazfit Band 7
We also have a 1.47-inch display, AMOLED with HD resolution (198 x 368 pixels) and slight curvature in this panel. Thus, we have a density of 282 ppi. At the same time, we have a battery of 232 mAh of capacity that promises extraordinary autonomy for up to 28 days – data advanced by the brand.
It should be explained that this autonomy for up to 28 days is achieved in battery-saving mode. That is, disabling some of the functions of the bracelet to preserve energy. Nevertheless, it is an undeniable asset of this new wearable that wants to compete and overcome Xiaomi's rivals.
Up to 12 days of heavy use, or 28 days in Savings mode
In short, we have a new smart band extremely competent and similar to Xiaomi's Mi Band 7. The main differences are in the format and screen size, declared autonomy, and, in addition, the recommended price of sale to the public.
Finally, Amazfit Band 7 is available through the official Amazfit store and its website. Apparently