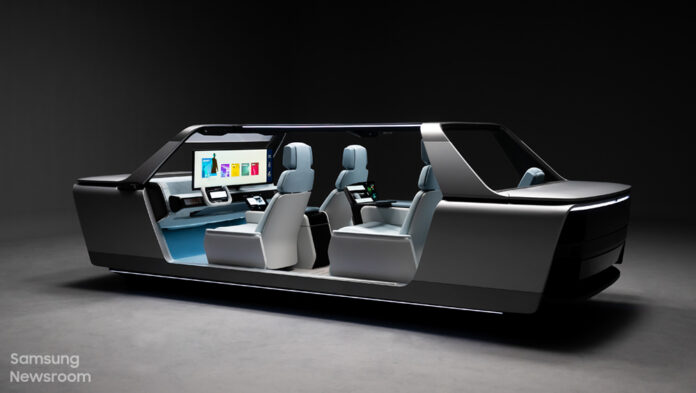 The Samsung Digital Cockpit is an entertainment hub we can get behind: it features a high-tech screen, sound system, along with a smart health service that monitors your stress levels. Keep reading to discover more of this new Samsung launch highlights.
Samsung has unveiled the Digital Cockpit at the CES 2021 virtual event. You may have previously seen this concept back in 2018, but the company has just released its top features: a 49-inch QLED display, sound system, 5G technology, and much more. All in all, you can incorporate it into your vehicle, creating an entertainment hub for passengers to enjoy on the road.
Combining Samsung Electronics' latest advancements in telecommunications, semiconductors and display technologies with HARMAN's automotive expertise, the Digital Cockpit 2021 was created to answer the question of 'How far can we take vehicle technology?'
Since it was first introduced at CES 2018, the Digital Cockpit has been constantly evolving – adding new types of innovations each and every year. Read on to learn more about what 2021's Digital Cockpit could mean for the future of vehicles, and how it will open the door for users to enjoy a wide range of experiences from the comfort of their car.
Transforming Vehicles Into Places Where Passengers Would Love to Stay
The Digital Cockpit 2021 was designed with a focus on simplifying communication and delivering fun on-the-go experiences.
The Digital Cockpit's Drive mode is optimized to present drivers with a variety of information without obstructing their view of the road.
The solution combines a wide, 49-inch QLED display with a sound system that makes content feel that much more immersive. These technologies allow users to enjoy a customized entertainment experience, while also enabling them to communicate with the world around them.
That's the true beauty of the Digital Cockpit in a nutshell: its displays, which are customized for various use cases, transform the vehicle into a versatile and convenient all-purpose space. One of the solution's greatest strengths is its 5G technology, which enhances users' experience by allowing them to utilize these features without interruptions.
Media mode makes full use of the Digital Cockpit 2021's spacious Front Panoramic Display.
Wouldn't it be nice if your car could serve as a mobile office? The Digital Cockpit makes this possible with tools that help users maximize their productivity when they're on the move. The solution makes it easy to manage all kinds of work, supports video conferencing, and even includes tools for editing video clips. The Digital Cockpit's interior proves that it is possible to work comfortably from your car with hardware that supports seamless mobile productivity.
▲ The Digital Cockpit 2021 not only supports video conferencing, but also includes tools to help users record and edit videos.
Safety is paramount when it comes to car design. To help foster a safe and relaxing driving environment, the Digital Cockpit 2021 features an expanded version of the Samsung Health service that's included in Samsung's latest smartphones and TVs.
Automotive Samsung Health analyzes passengers' conditions utilizing a combination of cameras and wearable and mobile devices installed in the vehicle.
The new service, known as Automotive Samsung Health, analyzes passengers' health status before boarding. It also regularly monitors passengers' stress levels and will adjust the vehicle's lighting, scent, or music in an effort to help them relax. In addition, by analyzing their sleeping patterns and the movement of their eyelids, the service can help ensure that drivers remain awake and alert when on the road.
(Left) The Control Display on the rear center armrest includes simple controls for adjusting the temperature and volume. (Right) A view of the armrest's Control Display when inactive.
The Digital Cockpit's Control Display on the rear center armrest includes a touch-based control pad that allows passengers to manage a variety of environment-related functions via simple and intuitive gestures. The controls automatically disappear when passengers aren't using them, enhancing the interior's modern look.
Spending a Day With the Digital Cockpit 2021
What are some good ways to utilize Samsung's latest Digital Cockpit, which is customized to cater to our ever-changing lives? Check out the following use cases to find out how the Digital Cockpit 2021's detailed features will help redefine vehicles as we know them – transforming them from a simple means of transportation into a space for managing aspects of daily life.
We're living in an era of incredible content. The Digital Cockpit 2021 offers you the freedom to enjoy that content anytime, anywhere. It does this by transforming your vehicle into a mobile entertainment hub that's just as comfortable as your living room.
The Digital Cockpit 2021's Front Panoramic Display is optimized for enjoying content.
Take the Digital Cockpit's Front Panoramic Display, for example. When driving, only the top half of the screen is exposed to avoid obstructing the driver's view. However, when the vehicle stops or parks, it adjusts the display to a more prominent position to enable users to take full advantage of its 49-inch screen. The spacious display allows you to enjoy real-time gaming, online concerts, live broadcasts and more at a level of immersion that makes you feel like you're really there.
(Left) The steering wheel includes a built-in screen with controls for the Front Panoramic Display. (Right) The backseat display can be adjusted to either a horizontal or a vertical position depending on the situation.
In the center of the steering wheel, where most vehicles would feature a car horn, the Digital Cockpit features a driver-exclusive screen. It's yet another example of how the Digital Cockpit takes the traditional automobile interior to the next level. Now, rather than using physical buttons to honk the horn or activate turn signals, drivers can utilize an 8.8-inch touchscreen LCD display. The display works as a controller when enjoying entertainment, making it easy to play content, adjust the volume, and navigate the menu. The display maximizes users' enjoyment of the Digital Cockpit by providing an optimal tool for managing its functions.
To maximize users' sound experience, the speakers are also installed on headrest of each seat. This allows users to fully enjoy the HARMAN sound system's premium audio performance, and makes it easier for them to immerse themselves in their favorite games.
The vehicle also features an Out-Cabin Screen located on its back side that allows users to enjoy a wide range of content when engaging in outdoor activities like camping.Case #2
We are living in an era in which we're simultaneously creating, consuming, and communicating through content. Today, I'll use the Digital Cockpit 2021 to make a video about how I spent my day with it. After using its built-in tools to make some quick edits, I'll upload my video to my social media accounts.
The Digital Cockpit's studio mode offers tools to help users create dynamic videos even when they're on the go. It works in conjunction with the vehicle's in-cabin cameras, which are located in the upper part of each seat. After recording a memorable moment, users have the option to create their own content utilizing various editing tools. To help make each video that much more unique, we recommend trying out a variety of filters depending on the mood of the clip.
After filming, it's time to utilize the 13.2-inch Center Information Display located in the center of the front seat. This touchscreen display allows users to conveniently manage a wide range of apps and functions. Included among them is the Share content function, which lets users instantly upload recorded videos or share them with passengers in the rear using the Digital Cockpit's backseat display.
Users can easily upload the content using the Center Information Display, which is located in the center of front seat.Case #3
I'm feeling tired today, so I'm concerned that I might not be as alert as I'll need to be when I hit the road. I'll need to drive through areas with especially heavy traffic. Can the Digital Cockpit 2021 help me?
What driver wouldn't want the assistance of a helpful eye that can scan the road in real time to help you arrive at your destination safe and sound? The Digital Cockpit 2021 makes this possible with its 360 Vision Monitoring System. When driving, parking or stopping, the system recognizes vehicles and pedestrians near the car in real time utilizing a combination of four cameras and deep learning technology. By keeping you abreast of everything it sees, it helps reduce risks when you're on the road.
Located in the top-center of the windshield, the Digital Cockpit 2021's Floating Window display presents drivers with a variety of useful information. This includes insights on the vehicle's surroundings, as well as traffic signals, road signs, and weather information.
The vehicle's exterior features a front-mounted screen that allows drivers to display messages for pedestrians or other drivers
To help them navigate uncertain roads, the Digital Cockpit 2021 allows drivers to communicate with those around them using audiovisual methods. The vehicle is capable of recognizing when pedestrians are nearby, and its front-mounted display can be used to display messages for pedestrians to help ensure their safety.
The vehicle's directional speaker is much softer than traditional, loud car horns, and allows drivers to grab the attention of other drivers and pedestrians at crosswalks in a way that reduces noise pollution in urban areas.
Combining immersive entertainment with next-level safety functions and productivity tools, the vehicles of the future will be so much more than a means to get from Point A to Point B. By continuously updating its Digital Cockpit solution, and unlocking new and enriching in-vehicle experiences, Samsung is bringing us closer to making that exciting future a reality.