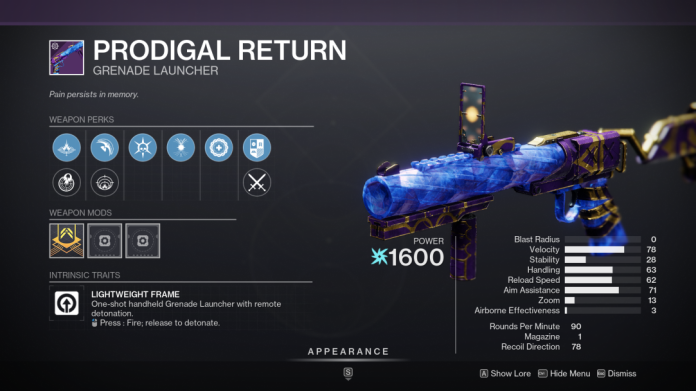 With the launch of the Root of Nightmares Raid, a brand-new shotgun called Nessa's Oblation was added to Destiny 2. This weapon excels in PvE content because it can roll with a special Perk combo. Nessa's Oblation shoots a single-slug bullet since it has a Pinpoint Slug Frame. The weapon's recoil pattern is also more consistently vertical. Due to their precision and propensity to one-shot Guardians, Slug Shotguns are a fan-favorite PvP archetype.
Nessa's Oblation is only accessible to Guardians during the Root of Nightmares Raid. Destiny 2's first and second encounters, as well as the battle with Nesarec, all have the potential to drop this shotgun. Nessa's Oblation will be dropped if Root of Nightmares is challenged on Master difficulty rather than the Adept variant.
Increased basic stats will result from this, and Guardians will be able to add Adept Mods to further raise stats. The root of Nightmares is one of the game's simpler raids, while it's still difficult. This makes it possible for most players to earn the Shotgun. Additionally, to receive this reward, Guardians do not have to complete the whole raid.
How To Get The Nessa's Oblation God Rolls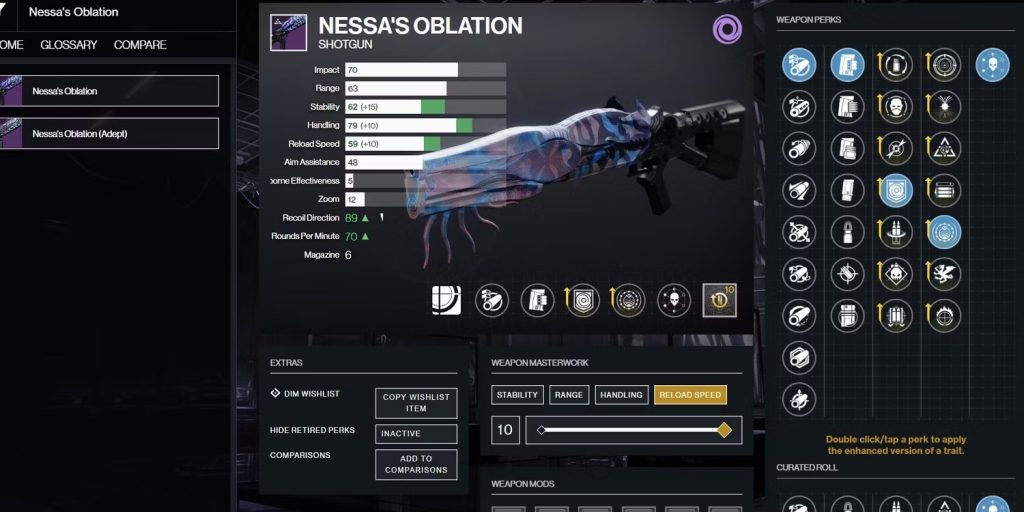 In the Root of Nightmares Raid, players can get a Deep Sight, or Red-Bordered, variant of these weapons after successfully completing encounters. Guardians can create these weapons in The Enclave on Mars if they have extracted enough Patterns. This can eliminate the need to look for a particular weapon's roll. For instance, Nessa's Oblation may have seven distinct Perks in the third and fourth columns, making it challenging to choose the ideal God Roll. Ehroar discusses the different Perks and which combos Guardians should concentrate on in a video on YouTube.
| Nessa's Oblation PvE God Roll | Perks |
| --- | --- |
| Barrel | Arrowhead Break |
| Magazine | Assault Mag |
| Trait 1 | Repulsor Brace |
| Trait 2 | Destabilizing Rounds |
| Origin Trait | Harmonic Resonance |
| Nessa's Oblation PvP God Roll | Perks |
| Barrel | Arrowhead Break |
| Magazine | Assault Mag |
| Trait 1 | Reconstruction |
| Trait 2 | Vorpal Weapon |
| Origin Trait | Harmonic Resonance |
Arrowhead Break and Assault Mag are beneficial to the God Rolls for each game mode. These improve stability, firing rate, and handling speed while reducing recoil by a large margin. Players should choose Reconstruction for PvP as it slowly reloads the weapon from reserves and can increase the magazine size. Even after the shotgun is stored, this impact continues to exist. The damage dealt to bosses, vehicles, and Guardians utilizing their Supers is increased by the Vorpal Weapon.
Players should choose Repulsor Brace from the third column of Perks in PvE content. When defeating foes that have the Void debuff, this provides an over shield. When an Orb of Power is picked up in season 20, the Artifact Mod Volatile Flow provides Volatile rounds to Void weapons. Fortunately, Guardians may still use Destabilizing Rounds to retain this potent debuff outside of Season of Defiance. Final blows turn neighboring enemies volatile, according to the Perk.
Nessa's Oblation's special combination makes it very potent in PvE content. This is a fantastic substitute for the Conditional Finality Exotic Shotgun in Destiny 2, which the majority of players will seek out. Nessa's Oblation should be a part of every player's collection.
DESTINY 2 UPDATE 7.0.5.0
SUMMER BATTLEFIELD
The Consecrated Essence's potential duplication has been fixed.
CRUCIBLE
– Clash, Zone Control, and Rift are part of the new 6v6 Connection-Based Matchmaking (CBMM) Weekly Rotator that has been added.
As of right now, Mayhem, Momentum Control, and Scorched make up the 6v6 Party Rotator.
– Crucible instructional quest has been updated to reflect playlist changes.
– Added a statistic displaying your position in the Competitive Division.
– Players in the Ascendant Competitive Division can now buy an emblem from Shaxx.
– Glorious and Dredgen awarding/gilding errors were fixed. If a player has finished the necessary Triumphs, they must all reclaim/regild their titles.
– strengthened the respawn over the shield in The Crucible.
– In Rift, the Spark is no longer lost when Grapple is activated.
– Players in Rift are no longer able to splash the Spark when traveling more quickly than 15 meters per second.
VANGUARD OPS Nessa's Oblation
Legend difficulty Defiant Battlegrounds now rotate their weapon overcharge weekly.
Defeating Tormentors now provides revive tokens like Champions and Hive Guardians in some activities.
Fixed Hive door locks in Heist Battlegrounds to behave the same in all versions of the activity.
Tuned difficulty in Heist Battlegrounds present in Vanguard and Nightfall playlists.
Fixed an issue where a crash could rarely occur shortly after picking up the first Solar Cell in The Arms Dealer.
Fixed an issue where The Arms Dealer enemies, which continually respawn to drop required Solar Cells, could be farmed limitlessly for points.
RAIDS AND DUNGEONS
Fixed an issue in the Duality dungeon where Nightmare of Gahlran could not teleport back to the encounter space after falling out of the environment.
Fixed an issue where checkpoints were shared between Legend and Master mode for raids and dungeons.
Fixed an issue in Root of Nightmares where the Scission encounter would sometimes soft lock preventing progress.
Fixed an issue in Root of Nightmares where sometimes the intended screen VFX did not play when players failed the encounter.
Fixed an issue in Root of Nightmares where Nezarec will sometimes not cast a wipe when intended.
EXOTIC MISSION
Fixed an issue where players could sometimes get pushed through walls by Vex traps and then get stuck there.
GAMEPLAY AND INVESTMENT
ARMOR
Fixed an issue where the Peacekeepers' reload perk wouldn´t activate after you stowed an energy slot SMG.
Fixed an issue where Phoenix Cradle was not consistently extending the duration of the Sol Invictus buff while Burning Maul was equipped.
WEAPON
Fixed an issue where certain Gambit weapons were not contributing to the Dark Age Arsenal Triumph.
PVE PRIMARY WEAPON BALANCE Nessa's Oblation
Increased the damage of the following weapon types against red and orange-bar enemies in PvE.

Auto Rifles: 25%
Pulse Rifles, Hand Cannons, and Sidearms: 20%
Scout Rifles: 10%
WEAPON ARCHETYPES
Submachine Guns

Ikelos SMGs

Removed some tuning in the custom scope that was causing this weapon to have significantly less recoil than intended. The recoil is now in line with other Aggressive SMGs.

Hand Cannons

Fixed an issue causing the Adept Exalted Truth to have a lower magazine size than the standard version.

Fusion Rifles

Rapid Fires

Per burst: 245 to 260
Per bolt: 27.2 to 28.9

Damage in PvE is unchanged.

Trace Rifles

Increased base damage by 4% (base damage goes from 12 to 12.5).
Reduced precision hit multiplier from 1.4x to 1.35x (crit damage goes from 16.8 to 16.9).
Reduced flinch by 10% at 100 stability stat (scales down at lower values).

Sniper Rifles

Rapid-Fire Sniper Rifles

Reduced recoil by 50%.
Increased total ammunition (magazine + reserves) by 30%.

Heavy Grenade Launchers

Fixed an issue where Omolon Heavy Grenade Launchers were missing their VFX.
Fixed an issue where Dimensional Hypotrochoid could be obtained with a range of masterwork. This fix prevents the weapon from dropping with range and changes any existing copies with range to the equivalent handling tier.
EXOTIC WEAPONS Nessa's Oblation
Final Warning

Can no longer mark targets through Titan Barricades.

Tarrabah

Reduced the amount of Ravenous Beast energy generated when taking damage from 3% to 1%.
Reduced zoom from 16 to 15.

Revision Zero

The Fourth Times Charm will now be reset when entering Hunter's Trace.

This will prevent the issue of firing a single shot while in Hunter's Trace and being forcibly returned to pulse mode when Fourth Times the Charm activates.

Increased PvE damage of the Hunter's Trace rounds by 25%.
Increased PvE damage of the Häkke Heavy Burst rounds by 75%.
PERKS
Fixed an issue in which the enhanced version of the Wellspring perk generated too little energy when the player had any number of charged abilities.
OTHER CHANGES
Added the capability to upgrade Root of Nightmares Adept weapons with enhanced traits. If you have unlocked Deepsight on weapons, an enhancement socket will be available to perform this upgrade in the weapon details screen.
Fixed tooltips for Master dungeons to properly list Artifice Armor as rewards.
ABILITIES
Rally Barricade

The area of effect now extends slightly further behind and above the Rally Barricade to make staying in the buff area more achievable, especially on uneven terrain.

Fixed an issue where Stasis Shards created by the Glacial Harvest aspect would not grant melee ability energy to Penumbral Blast if the player had a Sword or Glaive readied.
Fixed an issue where Jolt chain lightning was unable to target some types of PvE combatants.
Fixed an issue where trying to throw rapidly while carrying a Tangle could result in an uncharged melee attack.
BOUNTIES AND PURSUITS
Fixed an issue where players couldn´t interact with the Evidence Board after the Exotic Glaive pursuit is completed.
GENERAL
Added the Best Dressed Commendation.
Fixed an issue where the objective to complete a dungeon solo Solo Spelunker does not count completions from before the player is Guardian Rank 10.
Fixed an issue where the objective to complete the raid on Master difficulty does not count completions from before the player is Guardian Rank 10.
Players who have crafted their first Exotic Glaive from The Witch Queen can now claim the Patterns for their other characters from the Evidence Board.
Veteran players now receive the correct amount of lore books when they reach Guardian Rank 7 for the first time.
Fixed an issue where players are blocked from progressing past Guardian Rank 3 if they previously bought all available subclass Aspects.
4k smart tv Amazon fire tv stick apple apple airpods Apple Watch 6 black Friday Deals 2020 CES 2021 Cyberpunk 2077 CYBERPUNK 2077 NEXUS MODS Epic Games fortnite Fortnite Season 4 fortnite season 5 Fortnite season 6 games Gaming Laptop GTA 6 gta 6 release date ios 16 iphone12 iphone 12 pro iPhone 12 Pro max iPhone 13 iphone 14 iphone 14 release date iphone 15 iphone 15 pro mobile Netflix Nvidia OnePlus ps5 ps5 games 2021 ps6 ps6 release date RTX 3080 samsung Samsung Galaxy S21 samsung Galaxy Watch 3 smartwatch xbox xbox game pass Xbox One Xbox Series X|S Xiaomi