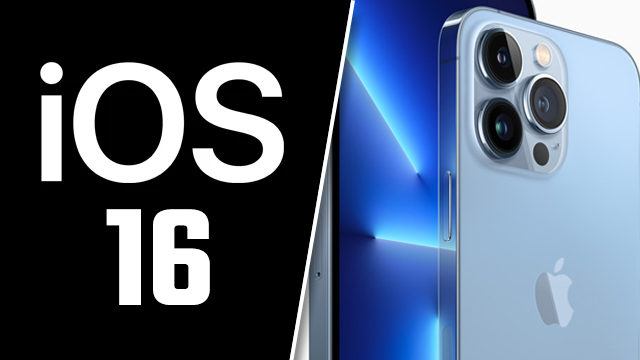 When is iOS 16 coming to iPhones? With the launch of iOS 15, Apple fans are now looking to the future. Specifically, iPhone users are wondering about the iOS 16 release date that's almost inevitably coming down the line. But, will iOS 16 launch in 2022? Here's the latest on the Apple iOS 16 launch day for iPhone handsets.
iOS 16: new lock screen, upgraded messages, and more
The Apple iOS 16 release date for iPhone is July 2022 Beta ver., most likely. Apple's recent launch schedule is to release operating system overhauls during the same period annually, pointing towards a September 2022 iOS 16 release date.
iOS 14 came out in September 2020, then the iOS 15 launch would follow in September 2021. Accounting for past precedent, the iOS 16 launch day seems likely to arrive in September 2022. Apple has established a consistent development cycle during the ongoing COVID-19 pandemic, with no signs that the California tech giant will break away from it anytime soon.
New iOS versions usually launch alongside, or at least close to, brand-new iPhone models as well. With this in mind, the iPhone 14 range release date could be September or October 2022. If it's anything like iPhone 13, the next generation of Apple smartphones could run iOS 16 right out of the box.
Long before the potential September 2022 iOS 16 launch, however, users can expect to see new iOS 15 updates. The first patch, iOS 15.1, is set to add the SharePlay feature. Fans were anticipating SharePlay functionality alongside the initial iOS 15 launch, but, unfortunately, it wasn't meant to be.
In a similar vein, iPhone 13 Pro and Pro Max customers were looking to utilize ProRes at launch. This high-quality video codec software makes shooting professional videos easy, but those with iPhone 13 Pro/Pro Max pre-orders will now need to wait for its implementation.
That's assuming people receive their shiny new smartphones in time for the September 24 launch day, anyway. Some specific models of iPhone 13 Mini and many Pro/Pro Max orders are suffering shipping delays well into October and November.
Supported iPhones for iOS 16
Anyone with an iPhone 8 and newer will be able to update to iOS 16, which means if you have an iPhone 7 or older you're out of luck.
Customizable lock screens
With iOS 16, you'll be able to customize your lock screen by tapping in any area to change the text font and colors.
Complications (which are essentially widgets) can also be enabled here, a feature lifted from the Apple Watch. You'll be able to add three of these to your lock screen, while the Now Playing screen is being moved towards the bottom for easier access with your thumb.
You won't be limited to just one lock screen either. Similar to creating a watch face on your Apple Watch, you can swipe between different lock screens, so you can have access to different widgets based on your needs.
Focus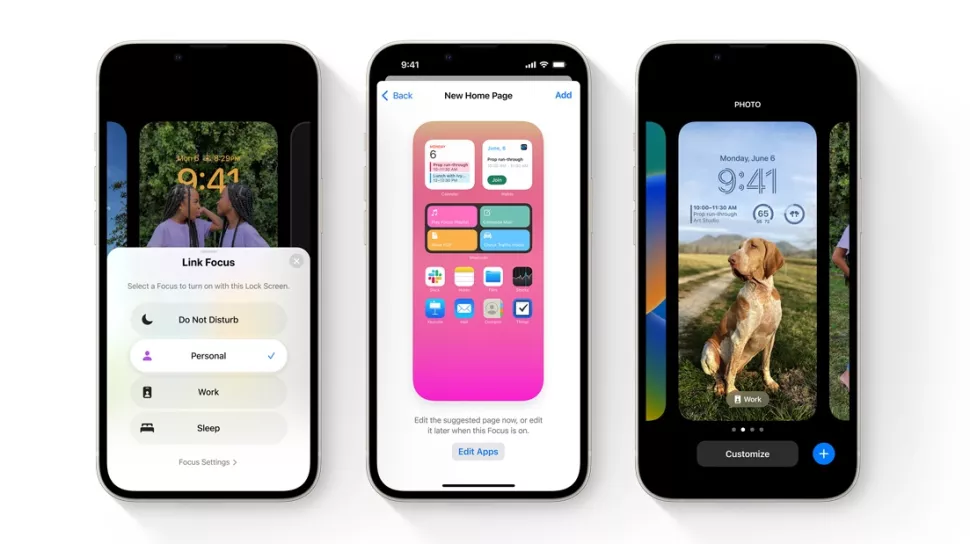 Focus mode is also getting some updates, and some of these ties into the lock screen, as the lock screen that's shown can automatically be switched based on the Focus profile you have.
For example, a 'Meeting' focus profile could make your lock screen change wallpaper and offer a row of widgets showing details of that event.
You can also use 'Focus Filters' to block out tabs in Safari, accounts in Mail, events in Calendar, and more, to help you manage your workflow.
Notifications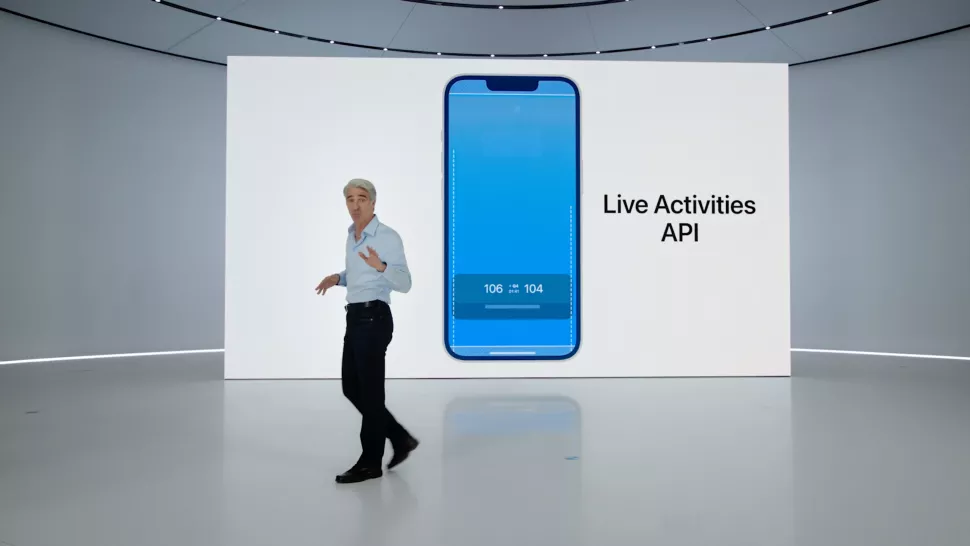 Notifications are also getting improvements, with 'Live Activities', which are essentially pinned widget-like notifications that allow you to check the score of a game, track the progress of food delivery, and more.
Notifications also have a new design, aimed at making them visually pop, and feature new animations – rolling in from the bottom of the lock screen so they're easy to see at a glance while staying out of the way.
And you can choose to view notifications in an expanded list view, a stacked view, or a hidden view.
Messages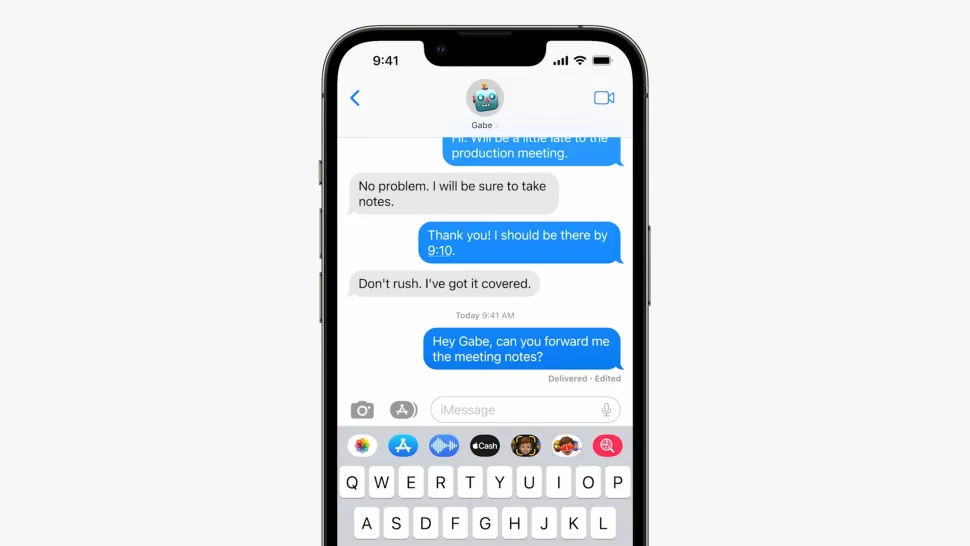 Apple has added several new features to Messages. 'Undo send' has arrived for one, allowing you to delete a message for up to 15 minutes after you've sent it – for example if you realize you've sent it to the wrong person. Similarly, you can also edit messages in the first 15 minutes. Note though that this only works for iPhone to iPhone messages.
SharePlay is also coming to the app, so you can play a movie in Disney Plus for example, and share it with someone via Messages.
Dictation has also been improved, as it now lets users move fluidly between voice and touch inputs, so you can type to add text or move the cursor without having to stop Dictation.
Live text is seeing improvements as well – you can copy and paste text in the video, alongside being able to copy text when translating a video.
You can also recover messages up to 30 days after deleting them, send an invitation to collaborate on a project in Messages, and get alerts when someone makes an edit in a collaboration.
Maps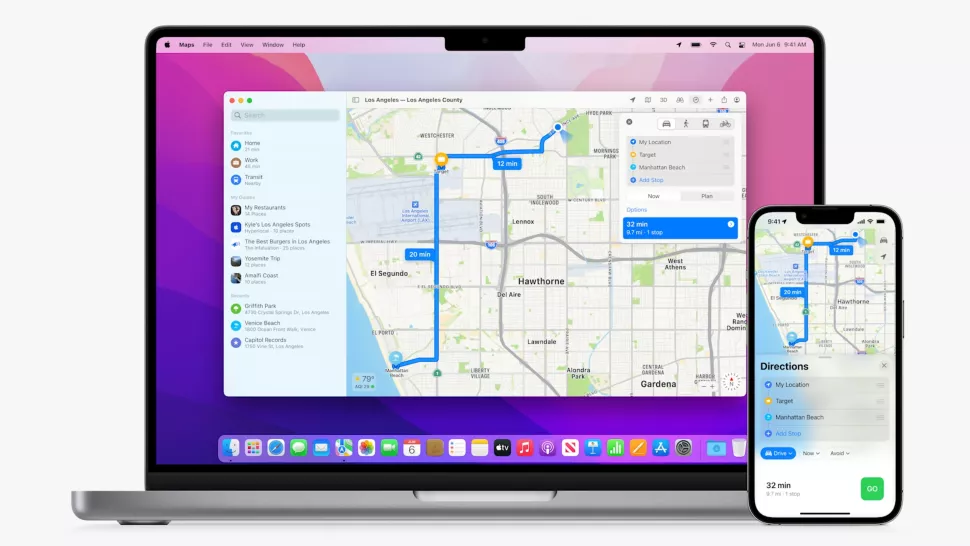 Maps will finally enable you to store recent trips in the app, and you can send them from a Mac or iPad device.
You can also add multiple stops on a route, and while on a journey you can ask Siri to add another destination, hands-free, in case another errand pops up, while 'Look Around', Apple's take on Google Street View, is being opened up to third-party apps.
Plus, you can see transit fares, and – without leaving Maps – you can add transit cards to Wallet, replenish your card, and see low balances.
Home App is redesigned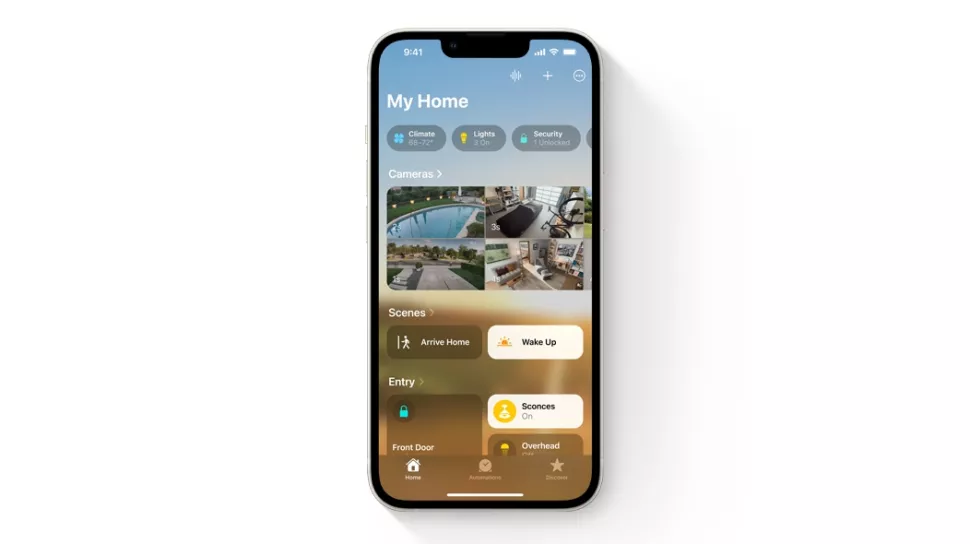 In conjunction with the incoming new Matter smart home standard, the Home app is getting a redesign to make it easier to manage your smart appliances and rooms.
You'll be able to see all your rooms in a single view, alongside categories for lights, climate, security, and more. You can tap on a category to see more detailed status information, and view up to four security cameras at once.
You can also add smart home widgets to the lock screen, allowing you to view the status of your home at a glance, and quickly access smart home controls.
Spatial Audio
You can use your iPhone's TrueDepth Camera to create a personal Spatial Audio profile for your AirPods Pro or AirPods Max, for what Apple calls "an even more precise and immersive listening experience".
iOS 16 Features Accepted
Redesigned notifications
"Focus" on reducing distractions
Spatial Audio and SharePlay in FaceTime calls
Text recognition in images
ID cards in the Wallet app
Added privacy features
Safari, Maps, Weather, and Notes app redesigns
How to download iOS 16 Beta Profile. This year, WWDC 2022 opens on June 13. According to Apple, this will be the world's largest developer conference on a scale.
iOS 16 Beta Release Date: June 13
According to past WWDC practice, new ecosystems including iOS 16, iPadOS 16, watchOS, macOS, and others are being launched. Want to have iOS 16 / iPadOS 16 updates to try the new stuff first, read this tutorial, you can learn how to download and install the iOS 16 beta.
IOS 16 BETA RELEASE DATE
iOS 16 beta and iPadOS 16 beta are released on June 13, 2022, after WWDC, developers can beta on your device to create and develop applications compatible with the new system. The public version is unveiled around September 20, 2022, after Apple's Fall Conference, iOS / iPadOS users can receive the update notification in their appropriate device.
IOS 16 SUPPORTED DEVICES
iOS 16 and iPad 16 are compatible with all of the same devices as iOS 15 and iPadOS 15, including older devices like iPhone SE and iPhone 6s. The devices launched this year are of course compatible, like iPhone SE 2020, iPad Pro 2020. The detailed devices are listed below:
iPhone SE 2020
11 Pro Max/11 Pro/11
XS Max
XS
XR
X
8 Plus
8
7 Plus
7
PREPARATION BEFORE UPDATING
Backup your iPhone iPad iPod
Before updating to iOS 16, backing up your iPhone / iPad data will be very necessary. It may lose your data and settings on your device. AnyTrans is a powerful data management and transfer tool for all iOS devices. As for the backup function, 3 modes to choose from 1. A full backup is used for the first time; 2. Incremental backup allows you to backup newly produced data which is not in existing backups, it saves backup time; 3. Air Backup allows you to perform backup wirelessly over Wi-Fi. In Backup Record, you can find the data you backed up at any time and restore those backups completely and selectively. Better than iTunes, AnyTrans lets you preview and manage the contents of the backup. Now download and install AnyTrans on PC / Mac to create an accessible backup for your iPhone.
Step 1: Launch AnyTrans on your computer> Connect the iOS device to the computer with a USB cable.
Step 2: Click on the Manage Backups button> Select Full Backup.
UPDATE IOS 16 BETA VIA DEVELOPER ACCOUNT
If you have the developer account, you can perform the iOS16 beta update, here are the steps:
Download the iOS beta software restore image for your device from the download page (after WWDC).
Make sure you're running the latest version of iTunes (or Finder) on your Mac.
Open iTunes (or Finder) on your Mac.
Connect your iOS device to your computer with the cable.
Enter your device passcode or trust this computer on your device.
Select your iOS device when it appears in iTunes.
In the Summary panel, hold the Option key and click the Check for Updates button.
Select the iOS beta software restore the image and click Open to start the installation.
After installing the beta, your device will restart and require a network connection.
DOWNLOAD AND INSTALL THE IOS 16 BETA PROFILE
iOS 16 beta profile file will be released, that is, ordinary iOS users can experience the latest iOS without iTunes, or Mac, without a developer account, in the next part is the detailed guide to downloading and installing iOS16 beta without a developer account. directly:
On your iPhone iPad iPod, download the profile of your iPhone, iPad, or iPod. Click on Allow to download the configuration profile, after downloading click on Close.
In the Settings app, tap General> Profile, here you can see the iOS16 beta / iPadOS 16 beta profile, install it.
Enter your code for security, then read the policies, tap Install, and finally Restart your device.
After restarting, in the Settings app, tap General> Software update> Download and install. Wait, if the download completes you can install iOS16 immediately.