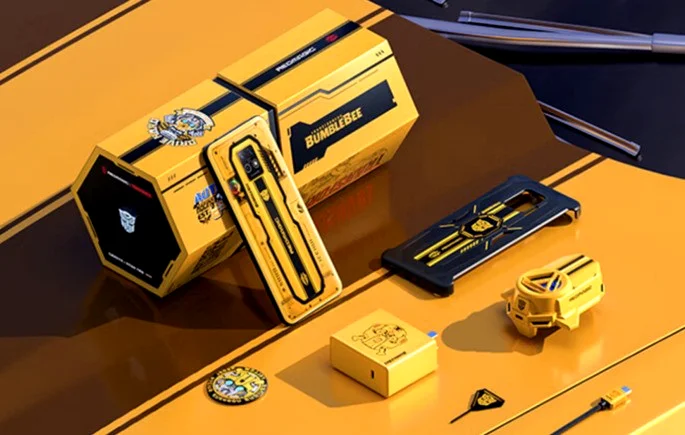 Nubia has just released a special and limited edition of Red Magic 7S Pro that arrives with a design inspired by the famous character Bumblebee, from the Transformers saga.
In addition to the Transformers design, the smartphone arrives with a surprise included in the box and the top specifications of the standard model of this Nubia series.
Red Magic 7S Pro Bumblebee Special Edition includes a new dockable external fan
Nubia is releasing a new exclusive edition of its Red Magis 7S Pro which, in its design, is inspired by the iconic character Bumblebee from the Transformers saga. With a yellow chassis with black notes that immediately refers to the well-known Autobot, the new smartphone reserves other surprises for users.
This limited edition includes in the box a new attachable external fan that can be placed on the smartphone to help dissipate heat. This accessory is especially useful for extended gaming sessions.
But also in the box, users will also find a new protective cover with the same Autobot design that perfectly combines with the new Red Magic and that gives the fans the sense of transformation of the robotic saga.
Red Magic 7S Pro Bumblebee Special Edition specifications
And these are the novelties since the Red Magic 7S Pro Bumblebee Special Edition includes the same top specifications as its standard counterpart of this Nubia series.
Thus, the controls are the Snapdragon 8+ Gen 1 processor, complemented by up to 16 GB of RAM and up to 512 GB of UFS 3.1 internal storage. The model is also powered by a huge 5,000 mAh battery with support for fast charging of 135 watts.
The front zone is occupied by the 6.8-inch AMOLED display that provides full HD+ resolution and an update rate of 120 Hz. In the optical part, the Red Magic 7S Pro Bumblebee Special Edition features a 64-megapixel primary sensor, aided by an ultrawide of eight megapixels and a two-megapixel macro sensor, also offering the ability to record 8K videos at 30 frames per second.
For now, the model is only available on the Chinese market for approximately 945 euros, and there is no information on whether it will be made available globally.