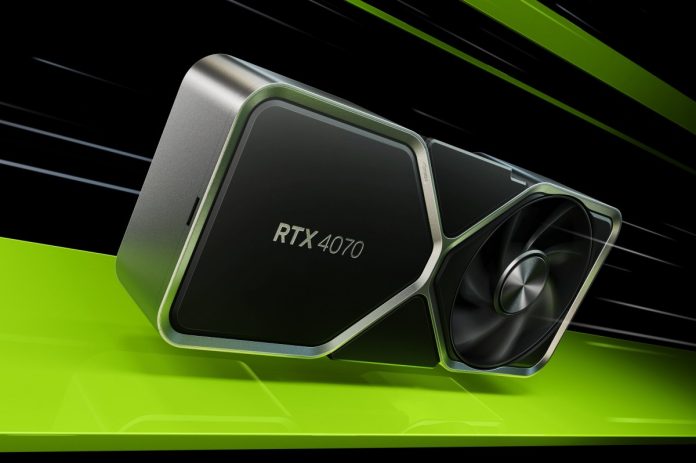 The Nvidia GeForce RTX 4070 is undoubtedly the best option for most gamers to purchase because it offers the ideal balance of performance, cost, and cutting-edge features. It's difficult to criticize this card except for its price, but Nvidia deserves praise for keeping it under $600; even if it had cost more, we would still have recommended it.
Now available, the Nvidia GeForce RTX 4070 is a great upgrade option for gamers who have been waiting for one. It is capable of doing almost anything.
It's challenging to top the RTX 3070, one of the all-time great graphics cards, and in our review of the Nvidia GeForce RTX 3070, we praised the card for being a superior performer at 1080p and 1440p, where the vast majority of PC gamers play, as well as being a significantly more cost-effective choice than the other two launch cards for Nvidia's Ampere lineup. We were notably impressed with how the RTX 3070 delivered performance on par with the RTX 2080 Ti at half the cost.
Everything we stated about the RTX 3070 still holds true for the RTX 4070, only now it can game decently at all resolutions rather than just 4K. As a result, it's a graphics card that anyone can fall in love with without spending a fortune.
Since the RTX 3070 was introduced at the tail end of 2020, a lot has happened, but sadly not all of it for the better. Everywhere you turn, prices are rising, and the Nvidia RTX 4070 isn't exempt. The RTX 4070 is 20% more expensive than the RTX 3070 at launch, costing $599 (or £510 or AU$ 870).
You shouldn't be thrilled about this either, and neither am I. However, if you look at the RTX 4070's performance results, you'll find it difficult to penalize it in any way. While the RTX 3080 tops the RTX 4070 at native 4K, switch on DLSS, and the RTX 3080 just gets blown away, it consistently produces RTX 3080-level performance more or less across the board and even manages to bloddy the nose of the Nvidia GeForce RTX 3080 Ti.
This graphics card has problems, which is expected, but considering what's available, it's simple enough to overlook them and enjoy absolutely exceptional performance at a price that's within reason.
NVIDIA GEFORCE RTX 4070: PRICE & AVAILABILITY
How much is it? $599 (about £510 / AU$870)
When is it out? April 13, 2023
Third-party cards retail prices will match or exceed Nvidia's MSRP
The Nvidia GeForce RTX 4070 will go on sale on April 13, 2023, for $599 (about £510 or AU$870). Although the pricing of third-party partners' RTX 4070 models may vary, they will always be equal to or more expensive than the Nvidia GeForce RTX 4070 Founders Edition.
Notably, the RTX 4070's price has increased by 20% compared to the RTX 3070, the card it replaces, which had a debut price of $499 in the US (about £425 or AU$725). While we would have like to see the price remain constant from generation to generation, this shouldn't come as a surprise to anybody who has been following the recent spike in GPU prices.
For instance, the Nvidia GeForce RTX 4080 has an absurdly high
MSRP of $1,199 (an increase of almost 72% over the RTX 3080), while the Nvidia GeForce RTX 4090 also saw a rise in pricing over the RTX 3090, going from $1,499 to $1,599.
The AMD Radeon RX 7900 XT, which has a $899 / £799 (around AU$1,350) MSRP, making it 50% more costly than the RTX 4070, is the closest AMD has this generation. In the meantime, we haven't seen AMD's direct RTX 4070 competition, the AMD Radeon RX 7800 XT.
For what it's worth, this card costs the same as the Nvidia GeForce RTX 3070 Ti. However, given that the RTX 4070 performs far better than the 3070 Ti, you at least get more for your money with this card.
NVIDIA GEFORCE RTX 4070: FEATURES & CHIPSET
| Component | Nvidia RTX 4070 | Nvidia RTX 4070 Ti | Nvidia RTX 3070 |
| --- | --- | --- | --- |
| Price | $599 (about £510 / AU$870) | $799 / £799 / AU$1,479 | $499 (about £425 / AU$725) |
| GPU | AD104 | AD104 | GA104 |
| Transistor count | 35.8 billion | 35.8 billion | 17.4 billion |
| TGP | 200W | 285W | 220W |
| CUDA Cores | 5,888 | 7,680 | 5,888 |
| RT Cores | 46 | 60 | 46 |
| Tensor Cores | 184 | 240 | 184 |
| Base Clock | 1,920MHz | 2,310MHz | 1,500MHz |
| Boost Clock | 2,475MHz | 2,610MHz | 1,725MHz |
| VRAM | 12GB GDDR6X | 12GB GDDR6X | 8GB GDDR6 |
| Memory Clock | 1,313MHz | 1,313MHz | 1,750MHz |
| Bus Size | 192-bit | 192-bit | 256-bit |
| Memory Bandwidth | 504.2 GB/s | 504.2 GB/s | 448.0 GB/s |
On paper, there aren't many differences between the Nvidia RTX 4070 and its last-generation predecessor because it has the same amount of streaming multiprocessors, CUDA cores (5,888), ray-tracing cores (46), and tensor cores (184).
It does upgrade its memory to the faster GDDR6X and add 50% more VRAM, making a total of 12GB available. The RTX 4070 features an effective memory speed of 21 Gbps, the same as the Nvidia RTX 4070 Ti, for a memory bandwidth of 504.2 GB/s, with a 192-bit bus and a memory clock of 1,313MHz.
It clocks in at 1,920MHz base and 2,475MHz boost, compared to the 4070 Ti's 2,310MHz base and 2,610MHz boost, and has a lower base and boost frequency.
However, this is a significant improvement over the RTX 3070's 1,500MHz base and 1,725MHz boost frequency.
This is because the TSMC AD104 GPU was manufactured using a 5nm technology, whilst the Samsung GA104 for the RTX 3070 was manufactured using an 8nm process. The RTX 4070 and RTX 3070 both have the same amount of cores, but the RTX 4070's are both quicker and more advanced because to the next-generation ray tracing and tensor cores that are powered by those higher speeds.
What seems to be two very identical cards in theory yet is anything but in practice is Nvidia Lovelace's DLSS 3 with Frame Generation capability, which Nvidia Ampere and Turing cards lack.
NVIDIA GEFORCE RTX 4070: DESIGN
| Header Cell – Column 0 | Nvidia RTX 4070 | Nvidia RTX 3070 | Nvidia RTX 4080 |
| --- | --- | --- | --- |
| Slots | Dual-slot | Dual-slot | Triple-slot |
| Dimensions (L x W x H) | 9.5 x 4.4 x 1.5 ins | 242 x 112 x 38 mm | 9.5 x 4.4 x 1.4 ins | 242 x 112 x 36 mm | 12 x 5.5 x 2.5 ins | 310 x 140 x 39 mm |
| Weight | 2.25 lbs | 1.02 kg | 2.25 lbs | 1.02 kg | 4.66 lbs | 2.11 kg |
| Power | 1 x 16-pin | 1 x 12-pin | 1 x 16-pin |
| Outputs | 3 x DisplayPort 1.4b, 1 x HDMI 2.1 | 3 x DisplayPort 1.4b, 1 x HDMI 2.1 | 3 x DisplayPort 1.4b, 1 x HDMI 2.1 |
| Cooling | Twin-fan | Twin-fan | Twin-fan |
The RTX 4070's TGP is merely 200W owing to Nvidia's ability to squeeze greater performance out of less power thanks to the 5nm technology.Nvidia finally offers a next-generation graphics card with the RTX 4070 Founders Edition that can really fit in your case without needing a construction winch to keep it in place.
Although the previous cards weren't all that awful, you should still add a GPU bracket to your case for safety (after all, there's no harm in safeguarding your investment) despite their smaller size and lighter weight. Ard for a sub-600W, lower-power design.
However, the RTX 4070 feels more like a piece of machinery in my hand than any other card from this generation. The RTX 4070 seems like a dated GeForce graphics card from a few years ago, whereas even the more modestly sized AMD Radeon RX 7900 XTX and RX 7900 XT feel significant.
The RTX 4070 Founders Edition maintains the same fan design as the RTX 4090 and RTX 4080 that came before it (a fan on the front and a fan on the back), but it is reduced to a dual-slot card that is around two-thirds the size of those enormous beasts. The RTX 4070 also has a 16-pin power socket with a supplied adapter, the same outputs as earlier RTX Lovelace cards (thus no USB-C out), and other features.
for the card's two 8-pin leads.
Nvidia could have potentially used a single 8-pin connector with a TGP of 200W, but Team Green appears to be steadfastly dedicated to the 12VHPWR cable. I'll never stop whining about it, but circumstances are what they are. You won't have to worry about that if your power supply is ATX 3.0, but the rest of us will have to cope with more cable management.
NVIDIA GEFORCE RTX 4070: PERFORMANCE
Let's just say that the Nvidia RTX 4070 is currently the greatest 1440p graphics card available, and that it will probably hold that position for a considerable amount of time.
To begin with, we can examine its synthetic performance in tests like 3DMark to see how the basics measure up. Its performance prowess isn't restricted to simply 1440p, mind you, and when I get into the gaming performance, you'll discover that its 4K gaming potential is intriguing (with limitations).
Why SHOULD YOU BUY THE NVIDIA GEFORCE RTX 4070?
| Attributes | Notes | Rating |
| --- | --- | --- |
| Value | While 20% more expensive than the card it replaces, its performance more than justifies its price. | 4 / 5 |
| Features & chipset | TSMC's 5nm process, mature RT and Tensor cores, and 50% more VRAM than the RTX 3070 add up to a hell of a graphics card. | 5 / 5 |
| Design | Like the RTX 4080, but smaller and more manageable, save for the 16-pin power cable that's arguably unnecessary. | 4.5 / 5 |
| Performance | Great 4K gaming performance and respectable creative performance as well, all for 200W power draw. | 5 / 5 |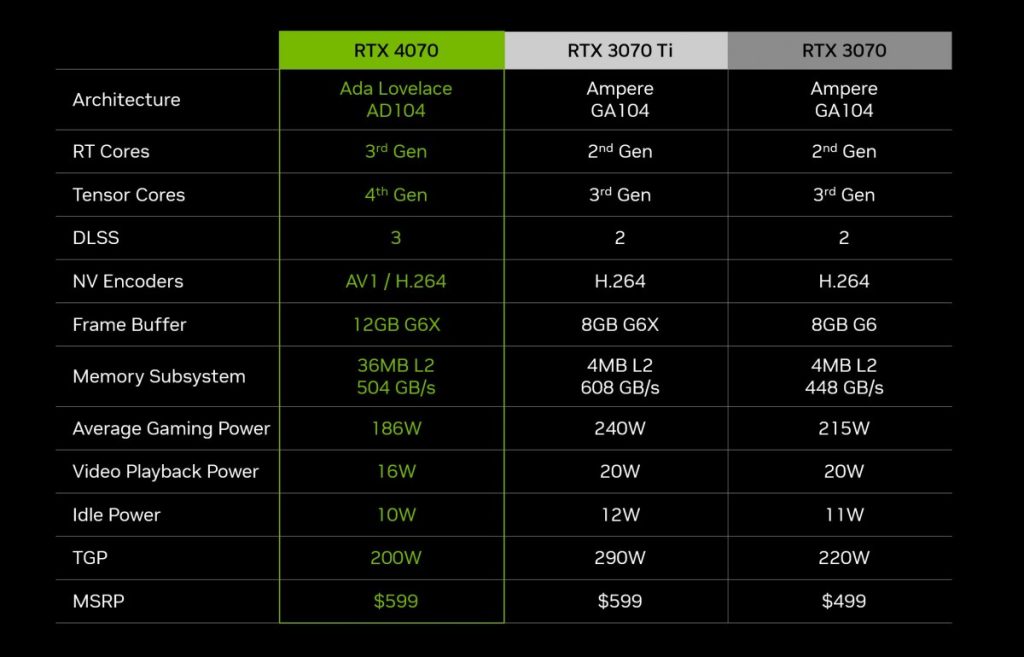 Finally,
Nvidia asserts that the RTX 4070 operates at half the power consumption of the RTX 3080 while providing equivalent performance. The regular 3080 has 10GB of memory, and the RTX 4070 has 12GB. Nvidia asserts that the RTX 4070 is 1.4 times quicker at frame generation than the 3080 and 2.6 times faster than the 2070 Super, none of which enable this function.
The RTX 4070 will be offered tomorrow for a starting price of $599 straight from Nvidia as well as via board partners including ASUS, Colorful, Gain ward, GALAX, GIGABYTE, INNO3D, KFA2, MSI, Palit, PNY, and ZOTAC. Up to May 8, 2023, owners of the 4070 and other 40-series cards will additionally get the new Overwatch 2 Battle Pass Bundle with extra OW2 cash.
4k smart tv Amazon fire tv stick apple apple airpods Apple Watch 6 black Friday Deals 2020 CES 2021 Cyberpunk 2077 CYBERPUNK 2077 NEXUS MODS Epic Games fortnite Fortnite Season 4 fortnite season 5 Fortnite season 6 games Gaming Laptop GTA 6 gta 6 release date ios 16 iphone12 iphone 12 pro iPhone 12 Pro max iPhone 13 iphone 14 iphone 14 release date iphone 15 iphone 15 pro mobile Netflix Nvidia OnePlus ps5 ps5 games 2021 ps6 ps6 release date RTX 3080 samsung Samsung Galaxy S21 samsung Galaxy Watch 3 smartwatch xbox xbox game pass Xbox One Xbox Series X|S Xiaomi