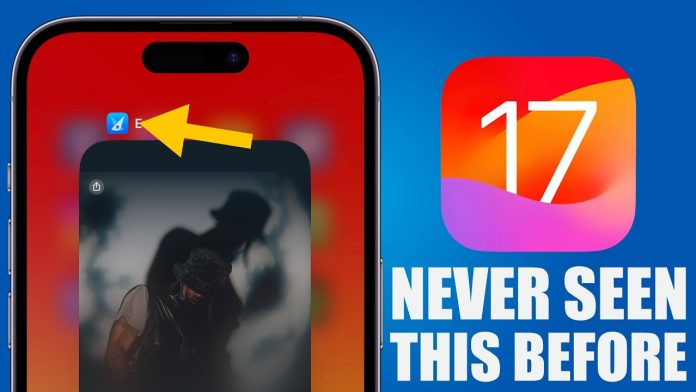 iOS 17 Review update to Apple's iPhone software, focusing on minor improvements rather than a complete overhaul. It upgrades communication apps like Phone, FaceTime, and Messages and simplifies everyday tasks on the iPhone. The update also introduces system-wide improvements, some of which users will likely embrace immediately. 
The full release of iOS 17 is now available as a download for any iPhone that supports the software and as the installed software on iPhone 15 models, arriving on September 22. The update is aimed at improving the overall iPhone experience. 
One notable feature of iOS 17 is the redesigned Control Center, which provides easier access to commonly used settings and features. Additionally, the update includes enhanced privacy measures, ensuring that user data is protected and secure. These improvements make iOS 17 a highly anticipated release for iPhone users looking for a more streamlined and secure experience.
In this review, we will discuss the new features and improvements in iOS 17, as well as any potential issues or drawbacks that users may encounter. Additionally, I will provide insights on the overall performance and stability of the operating system to help you make an informed decision about updating to iOS 17. 
IOS 17 REVIEW:COMPATIBILITY
Only three devices are no longer compatible with Apple software upgrades now that iOS 17 is out. After iOS 16, the iPhone 8, iPhone 8 Plus, and iPhone X will not get any upgrades.
You will need an iPhone XR or later to run iOS 17. That practically includes every phone produced by Apple since the autumn of 2018, including the iPhone 15, iPhone 15 Plus, iPhone 15 Pro, and iPhone 15 Pro Max. Here's how to get iOS 17 and install it on your current iPhone.
However, it's important to note that even though the iPhone X will no longer receive software updates, it will still continue to function and run apps just fine. Additionally, Apple's commitment to providing regular updates ensures that iPhone users can enjoy the latest features and security enhancements for years to come. 
IOS 17 REVIEW: COMMUNICATION FEATURES
One of the notable changes in iOS 17 is the enhanced functionality of the phone app, which now offers improved call management features and a more intuitive user interface. Additionally, FaceTime introduces exciting new features such as group video calls and augmented reality filters, enhancing the overall communication experience for users.
The biggest improvement to iOS 17 Phone is a live voicemail feature that lets you more effectively screen calls from unknown callers or determine whether calls from people you know are actually urgent and need to be handled right away.
This feature ensures that your privacy is maintained and your personal information is not compromised. Additionally, the transcriptions are accurate and reliable, allowing you to quickly assess the importance of the call without having to listen to the voicemail.
This approach can also save time for both parties involved, as callers can leave a detailed message without having to engage in a lengthy conversation. Moreover, the use of accurate and reliable transcriptions ensures that important information is not missed or misunderstood, improving overall communication efficiency.
we encountered issues with Live Voicemail during beta testing, with transcriptions not always displaying; instead, I would get the less informative "A message is being left" text. But, whether it's because Apple made some changes or because I've become accustomed to utilizing the function, I'm finding Live Voicemail to operate better when iOS 17 comes. The secret, it appears, is to leave your phone unlocked while receiving phone calls so that transcriptions aren't buried in the name of privacy; clicking the Voicemail icon that shows when there's an incoming call also appears to assist.
we appreciate the desire for some kind of anonymity with incoming calls, but I wish Live Voicemail worked with less effort on my side. Nonetheless, it's a great feature that truly showcases your iPhone's on-board intelligence.
Contact Posters
Contact posters allow you to add a personal touch to your incoming calls by displaying a customized image and font style. While not essential, this feature enhances the overall personalization of iOS and adds a unique touch to your device.
FaceTime
Overall, these new features enhance the user experience and make FaceTime more interactive and convenient. The confetti and voicemail options add a touch of playfulness and practicality, respectively, making IOS 17 FaceTime a more well-rounded communication tool.
Messages
Messages looks the finest of all the communication applications in iOS 17, even if not every improvement in Messages is expected to be immediately accepted by consumers.
Prior to iOS 17, iMessage applications like Apple Cash, Photos, and Digital Touch appeared in the chat app just above the keyboard. Everything is reduced to a Plus button directly to the left of the text field in iOS 17. When you press the button, your iMessage applications will spread upward, with the most frequently used ones at the top.
This feature adds a layer of convenience and safety to your conversations, especially when coordinating plans or ensuring someone's well-being during travel. It eliminates the need for constant text updates and provides peace of mind for both parties involved.
Check-In has an extra safety function: if you don't make any movement toward your destination for 15 minutes, the feature will inquire whether you're okay. If no answer is received, it will automatically communicate important information such as your last position, battery, and cellular status. In theory, the person on the other end of the text chat may use that information to find you if you're having difficulty.
My Check In tests, luckily, only included pre-planned delays rather than true crises, but I liked seeing the notice when I hadn't made any forward movement. I particularly admire Check In's capacity to identify arrivals automatically and deliver messages to anxious loved ones without my interaction. Check In is also sufficiently adaptable. to use a timer if you'd prefer that you'd rather notify people that you'll be arriving at a certain time. 
Other changes to Messages look to make the messaging app easier to use. You can now swipe right on a message to reply directly to it, instead of tapping and holding on that message to summon a pop-up menu with a reply option. A catch-up arrow in the top right corner of conversations lets you jump back to the first unread message since you last checked in on the conversation. Audio messages sent in Messages are now transcribed, another feature "inspired" by the Pixel 7.
Stickers
iOS 17 introduces a sticker drawer for easy access to all iPhone stickers, accessible from any app with an emoji keyboard, including Markup and Freeform. It also allows users to use emoji stickers on documents and attach stickers as tapbacks to respond to messages.
I'll admit that I'm an old man who doesn't understand the excitement around stickers, but iOS 17 adds one more feature that I think is very great. You can make your live photos—those photographs taken with the iPhone camera that retain a little amount of movement—into stickers as well. The best part is that live stickers keep that movement in the sticker itself.
Not only can you create live stickers from your own live photos, but you can also download a wide variety of animated stickers from the App Store. These stickers add an extra touch of fun and creativity to your messages, allowing you to express yourself in a unique way. So go ahead and unleash your imagination with these captivating live stickers!
IOS 17 REVIEW: STANDBY MODE
iOS 17 introduces Standby Mode, allowing iPhones to double-duty as smart screens when charging in landscape mode, eliminating the need for idly charging.
This feature not only enhances the charging experience but also allows users to make the most of their idle time. By transforming the iPhone into a smart screen, users can stay updated with important information and enjoy a personalized visual display while their device charges.
If it wasn't clear from the description, standby mode allows for a considerable degree of flexibility. You may also modify the gradient color of the clock and switch between several clock types to find one that appeals to you. You can only configure StandBy mode while the phone is in StandBy mode; the options only affect whether the function is enabled or not, whether notifications display, and whether the clock goes red while Night Mode is activated.
Standby mode is most effective with an iPhone with an always-on display, such as the Pro versions of the iPhone 14 and 15. However, testing on non-Pro iPhones has found its biggest limitation: the phone sleeps after 20 seconds of inactivity.
Standby mode doesn't require a charging stand; it can be activated by propping the phone horizontally. However, a MagSafe-compatible charging stand is recommended for better positioning.
IOS 17 REVIEW: SYSTEM UPDATES
One notable change in iOS 17 is the redesigned Control Center, which now offers more customization options and a refreshed look. Additionally, the update introduces enhanced privacy features, such as App Privacy Reports, giving users more control over their data and app permissions.
AirDrop
Apple's iOS 17 introduces AirDrop transfers, simplifying file sharing with iPhone users when they're in close proximity to another iOS 17-powered device.
Position your phone next to the person you want to share a photo with, and a splash of animation will flash on your screen. Confirm the AirPlay transfer, and the photo will be transferred over.
The author admits to a bit of a learning curve, initially relying on the share menu for file transfers, but finds it more convenient and hopes it becomes more familiar over time.
NameDrop, a new AirDrop feature, enables users to pass contact information between their iPhones, similar to contact posters created with the Phone app. It's designed for people not already in your contacts, so use it with anyone running iOS 17.
Interactive widgets
As someone who believes that widgets are the best addition to Apple's previous iOS upgrades, I assumed that the addition of interactive widgets in iOS 17 would be my favorite iOS 17 feature. I enjoy the addition, even if it is restricted in the early days of iOS 17.
Active widgets allow users to interact with a widget without navigating to the app. For example, a widget with a list of reminders allows users to mark tasks completed within the widget without launching Reminders, and the completed task disappears in animation.
These interactive widgets enhance user convenience by providing quick access to essential app functionalities. With the ability to control playback and access reading lists directly from the widget, users can seamlessly stay engaged with their favorite content without the need to open the respective apps. This feature further streamlines user interactions and enhances the overall user experience on iOS 17.
Interactive widgets can be placed on any widget on your iPhone display for iOS 17's StandBy mode, including the lock screen and home screen.
 This update also brings a refreshed design to the lock screen and home screen, giving them a more modern and sleek look. Additionally, iOS 17 introduces new customization options, allowing users to personalize their widgets and choose which information they want to see at a glance. 
IOS 17 REVIEW : Siri
Apple's iOS 17 introduces new capabilities for its digital assistant, including the ability to summon Siri during phone or FaceTime calls, make back-to-back requests to Siri, and set alarms. However, the biggest change is the ability to summon Siri by saying "Siri" instead of "Hey Siri." This change is a mixed bag, as it may save time but may also cause issues for users who read aloud and have a habit of saying "Hey Siri" to their iPhone.
It's interesting to see how technology evolves and how our habits adapt to these changes. It's possible that in the future, saying just "Siri" will become the norm, and we'll forget about the old way of addressing our devices. However, for now, it seems like a small adjustment that might take some time to get used to. 
Visual Lookup
iOS 17 introduces the ability to create live stickers by tapping and holding on an image, as well as transforming regular photos into stickers with the new Add Sticker option. Additionally, users can lift multiple objects from a photo using Visual Look Up. The app now recognizes different symbols, allowing users to find similar recipes and information about car dashboard lights or cleaning techniques. The feature also extends to videos, allowing users to search for information in a pop-up menu when tapping and holding on a subject.
Keyboard improvements
Apple says it improved the language model used by iOS 17's keyboard, with the idea of reducing the number of autocorrect-related mishaps. This seems like a feature that will get better over time, as I still see a few of my tweets made more incomprehensible than usual thanks to an ill-timed autocorrect. (I'm willing to concede that this may be Twitter's fault as much as iOS 17's.) I have noticed that instances of "Well" turning into "We'll" have dropped during my time with iOS 17.
A more evident keyboard improvement involves predictive text, which now appears inline in apps like Messages. Just tap the space bar to complete the word or phrase in a potentially time-saving addition.
IOS 17 REVIEW: APP UPDATES
One of the major changes in iOS 17 is the redesigned Maps app, which now offers more detailed maps and enhanced navigation features. Additionally, the Photos app has been improved with advanced editing tools and a new Memories feature that automatically creates personalized photo albums based on your favorite moments.
Safari
iPhone's web browser has been updated to prioritize privacy. Private browsing will lock when not in use, allowing users to exit Safari without fear of unauthorized access. To unlock the locked web page, users must tap the Unlock button and sign in with Face ID.
iOS 17 Safari now features profiles, allowing users to set up separate browsing history, cookies, extensions, tab groups, and favorites. This allows users to maintain a digital divide between their work and personal lives, ensuring a seamless experience on the phone.
iOS 17 offers a tool called "Listen to Page" that allows users to ask Siri to read articles to them. This feature is useful for keeping different browsing sessions separate, as it allows users tool. get a digest of an article while doing something else. Siri's reading ability is solid, with only a few awkward pauses and mispronunciations.
IOS 17 review : Maps
iOS 17 Maps has introduced the ability to download maps for offline use, a feature that Gooyears:s users have enjoyed for years. This feature is particularly useful for iPhone users who frequently travel to national pafirst—I'm strong cellular connectivity. To download a map for offline use, users can pull up a map and click the Download button. The larger the map, the more space it takes up on the phone. Once downloaded, users can access the map at any time and get driving directions, regardless of whether they are connected to a wireless network or not. To maximize offline usage, users should download maps well in advance and capture as large an area as possible. To keep the maps stored on the phone, users must update them regularly to prevent them from expiring and self-deleting.
More app updates in iOS 17
Find My allows you to share an AirTag or other Find My network accessories with up to five other individuals.
Photos now identify pets' faces just as quickly as people's faces, and there's a new People & Pets area that includes your four-legged buddies.
You may utilize SharePlay in the Music app to let other people in your car control the music playing.
The sharing option in the fitness app has been revamped to make it easier to use. Your trophy case also receives a makeover to properly exhibit the accolades you win for further motivation.
If you have an Apple News+ subscription, you may access daily crossword puzzles in the News app.
IOS 17 REVIEW: VERDICT
iOS 17 the features are compelling enough and the process of downloading the update onto your iPhone is ridiculously simple. Rather, the question is when you should update.
The iOS 17 beta was somewhat buggy, for me anyhow, but Apple seemed to stomp out a lot of the bugs as the summer wore on. The only persistent problem I still experience is that tapping some home screen widgets will cause the app to crash.
That's not to say that's the only bug, though. Likely, just after iOS 17's release, we'll hear for some more flaws here and there, and if history is any guide, the initial release might impact your iPhone's battery. Apple usually fixes that with a quick update, but it's something to keep in mind should history repeat itself.
My advice for upgrading to iOS 17 is the same as any major iOS release — if you want the smoothest experience, wait a few days to see if any major bugs emerge. If not, feel free to jump in the pool or wait a bit longer for the first software patch to come through, ensuring a stress-free upgrade.
When you do upgrade, I think you'll like what you see, though in my case, the big ticket additions — Live Voicemail, StandBy Mode and Contact Posters aren't the reason I like iOS 17. Rather, it's the little things — auto-sorting grocery lists, linked notes and easier text message searches all add up to time-saving improvements throughout the software.
Phone software updates should be about improving your experience using your mobile device. iOS 17 delivers that, using small changes to great effect.