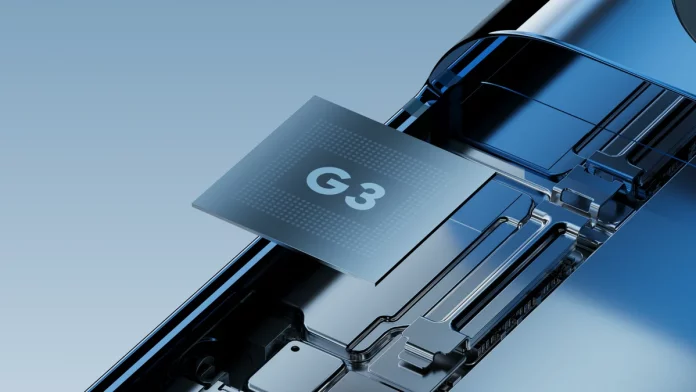 The Tensor G3 SoC in the new Pixel 8 and Pixel 8 Pro is expected to deliver even faster and more efficient AI capabilities, thanks to Google's continued emphasis on enhancing AI performance. With this latest iteration, users can anticipate a seamless and powerful AI-driven experience that enhances various aspects of their smartphone usage. 
Google's Tensor G3 technology enables the Pixel 8 and Pixel 8 Pro to run twice as many machine learnings on the device, and the largest model on the Pixel 8 is 10 times more complex than on the Pixel 6, showcasing Google's engineering capabilities.
Although it makes sense that the Tensor G3 chip is quicker than the G2, Google's SoCs have never really been known for their speed. Its new characteristics will be of greater significance. This year, improved call screen capabilities for removing spam calls are part of that. Better audio and video quality will be made possible by Tensor G3, according to Google, notably for the Pixel's Clear Calling feature. Similar to how the original Magic Eraser tool can clear up the backgrounds of images, you can now use the "Audio Magic Eraser" to erase unwanted noises from your movies.
The Tensor G3 enables Google to extend screen reading to every aspect of the Pixel 8 experience. If you wish to read a lengthy article while on the go, screen reading is activated by a prolonged press of the power button. Additionally, playback speed options and playback language selections are provided.
Google's Tensor G3 is rumored to feature a 9-core CPU with a Cortex-X3 core running at 2.91GHz, 12GB of RAM, and a Mali-G715 GPU. It's built on Samsung's 4nm process, making it more efficient than the Tensor G2, although no technical details have been disclosed. 
The Tensor G3's powerful specifications suggest that it will deliver enhanced performance and efficiency compared to its predecessor, the Tensor G2. While specific technical details have not been revealed yet, the use of Samsung's 4nm process indicates a step forward in terms of energy efficiency and processing capabilities.
Google's Pixel phones, initially focusing on AI, now feature groundbreaking features like Night Sight and the Tensor G3 on the Pixel 8 and Pixel 8 Pro.