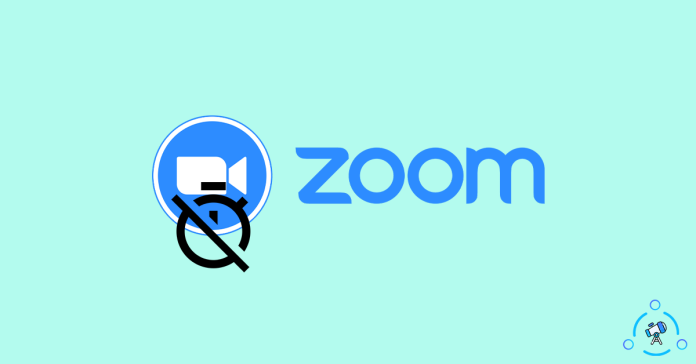 You may already be aware that the free version of Zoom can only host a meeting for 40 minutes. Well, there is a way to get past the 40-minute restriction on Zoom without having to subscribe to the premium plan, and here's how. The Zoom conference will finish automatically when the timer reaches 40 minutes, and all participants will be ejected.
Officially, the only way to remove the 40-minute limit from Zoom's free plan is to subscribe to one of Zoom's premium plans. The hold can add more than 99 individuals and hold the meeting for up to 24 hours with the premium plan.
In this post, we'll look at a strategy that will allow you to effortlessly circumvent Zoom's 40-minute restriction and host meetings for any length of time. This can come in handy when you wish to
About Different Zoom Plans
Zoom provides both free and premium subscriptions. The free plan has various limitations that might be aggravating at times.
There are four plans in Zoom:
Basic – Free
Pro – $14.99
Business – $19.99
Enterprise – $19.99
Above given are all the different plans available on Zoom. And here is the limitations on the free plan:
Only Host up to 100 participants
Group meetings up to 40 minutes
One to one session for up to 30 hours
The second alternative, a 40-minute time limit, is the issue here. Some meetings may go longer than 40 minutes, and not all of them will be able to pay Zoom's premium edition. This is where the approach described below can help you get around the Zoom free plan restriction.
In summary, you may easily arrange meetings lasting longer than 40 minutes without having to subscribe to the premium plan. It works great on the free plan.
How to Get Around Zoom's 40 Minutes Time Limit?
Follow the guide given below to get the Zoom time limit removed.
Step 1: First of all, open Zoom and log in to your account. If you do not already have an account, create a new one and sign in to it.
Step 2: Now, instead of clicking the New Meeting button, click the Schedule button with the calendar icon.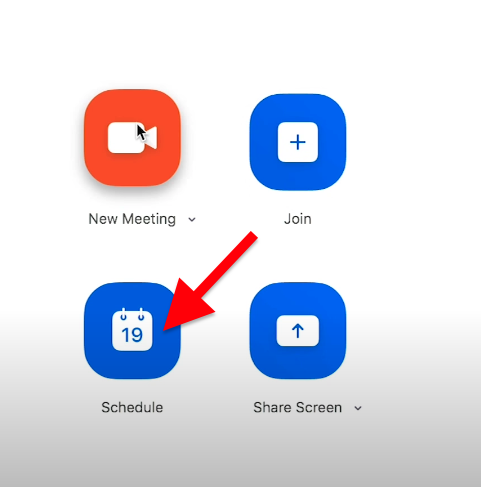 Step 3: A pop-up box will appear where you want to configure necessary things like the start time, end time, name of the meeting, and many other options.
You may give a name to the meeting under the Topic field.
Under the Date & Time option, select the date and time when you want to host the meeting. You can choose the time every 30 minutes.
Configure other settings as per your wish, and under Calender options, make sure to select Other Calendars options. Do not select iCal, Google Calendar or Outlook.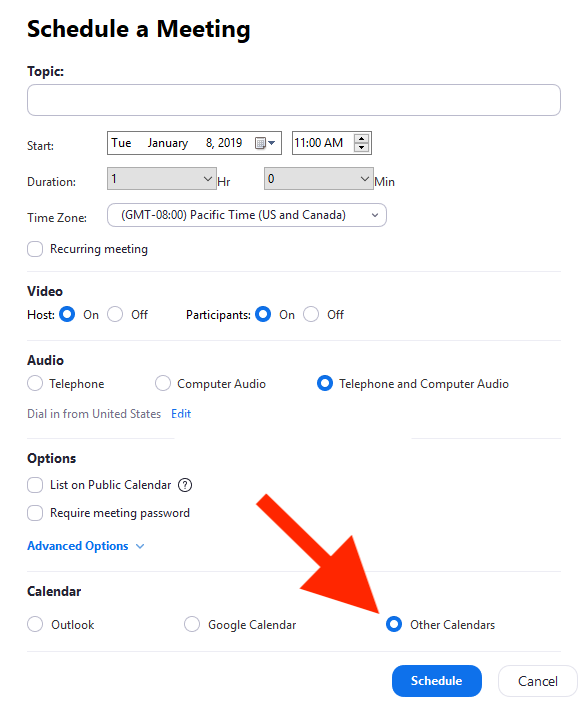 Step 4: Now click on the Save button to schedule the new Zoom meeting.
A new pop-up window will open, displaying the Zoom meeting URL, ID, and password. Make a note of them and share the link with everyone.
Here comes the main trick.
A countdown clock will show inside the meeting window when the meeting approaches 40 minutes. Before the session ends automatically, the Host must click the Leave Meeting button. Make sure you click the Leave Meeting button rather than the End for All button.
Now, click the same joining link once more, and a fresh 40-minute session will begin. Repeat these processes every 40 minutes, and you can keep the meeting going indefinitely.
Please keep in mind that this approach only works with Zoom clients running on Windows and macOS. Other Zoom versions, including the online version, do not support it.
This may seem annoying at first, but it is the only way to get around Zoom's 40-minute limit.
Other Options to Get Rid of 40 Minutes Limit
If you do not wish to follow the procedures outlined above, your only other choice is to subscribe to one of Zoom's premium programmes. The lowest Zoom subscription is $14.99 a month and allows you to conduct a conference with more than 100 people for up to 24 hours.
You also have the option of using additional Zoom options. If you don't want to use Zoom, there are dozens of alternative services that allow us to hold free video conferences. Below is a list of various services that you may utilize right now.
Google Meet
Microsoft Teams
GoToMeeting
Some of the Zoom alternatives mentioned above are better when it comes to the free version. For example, the free version of Google Meet lets you host a meeting for up to 60 minutes, 20 minutes more than Zoom's offering.
Lift 40 Minutes Limit from Free Basic Zoom Account
If you manage a school that has been severely impacted by the Coronavirus, Zoom will temporarily waive the 40-minute limit on free Basic accounts. All you have to do is fill out the verification form, and if you are eligible, the Zoom staff will temporarily remove the 40-minute limit from your account. Until then, you may hold meetings that go longer than 40 minutes.
Host Zoom Meetings for Unlimited Duration
You may potentially host a meeting for any length of time you choose using the approach described above. You can repeat the above procedures every 40 minutes to prolong the meeting period by 40 minutes. This manner, you will be able to arrange a meeting without any restrictions on your free account.
This approach only works on Windows and Mac with the Zoom client. This approach will not work if you use any other version of Zoom.