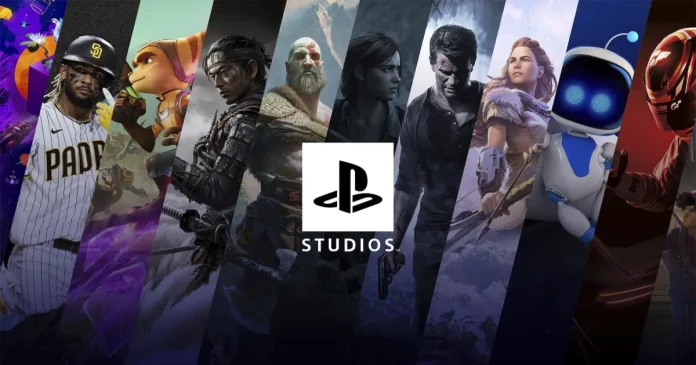 the PlayStation Studios leaks and speculations regarding their current lineup of titles from the SIE companies. Since most of us here are aware of how slowly PlayStation has been revealing information about its next games, even if a PlayStation Showcase appears to be coming soon, I decided to take the time to finish the puzzle they have left for us.
So without further ado, let's examine PlayStation's and its studios' current situation.
PlayStation Studios
The largest developer at PlayStation Studio, Naughty Dog, is hard at work on many games that are all in various stages of production. The Last of Us multiplayer title, or informally Factions, is the game that is the most advanced and the only one that the company has acknowledged is in production. Factions' setting in the world of The Last of Us is about all that is known about it, but I'd say it wouldn't be a bad wager to assume it will be at the next presentation. The Last of Us Part III and a new IP are reportedly among Naughty Dog's upcoming releases. Neil Druckmann, the film's director, claims that The Last of Us Part III is already in production however the most recent update (from two years ago) said it was still in the conceptual and drafting stages. On the other hand, the new IP appears to be farther advanced and may have a fantasy theme, however there are no additional information available about the game.
The Last of Us Part III: https://earlygame.com/gaming/the-last-of-us-3
New IP: https://twistedvoxel.com/naughty-dog-new-ip-fantasy-setting-teased-tlou-part-1/
Santa Monica Studio: 
One may anticipate that Santa Monica Studio wouldn't be this close to launching a new game after the success of God of War: Ragnarok. Although that would be the case for the majority of developers, Santa Monica Studio is a unique breed. A new AAA game is not only coming from SMS, but is also reportedly rather well along in the production process, according to job advertisements, rumors, and the God of War director Cory Barlog. Despite the lack of information, some speculate that the game's name may be Darkside, which Barlog co-wrote and helped develop until Sony cancelled it in the middle of the 2010s. It was said to be an expansive open-world sci-fi game with a focus on the narrative. The game may also have a unique new IP with (what I assume to be) a sci-fi theme. All we can do is wait and see.
Multiplayer New IP: https://www.dualshockers.com/insomniac-games-multiplayer-title-is-a-brand-new-ip-as-per-job-listing/
Guerrilla Games: 
Everyone should buckle up; Guerrilla appears to be one of the busiest PlayStation Studios around. Guerrilla Games claims more is in store for the company with the recent releases of Horizon: Call of the Mountain and the Forbidden Wests' DLC, the Burning Shores. The developer has declared its aim to create Horizon 3, which would appear to be the finale of Aloy's journey. But because this project is still far off, don't anticipate seeing a teaser anytime soon. On the more immediate front, a Horizon multiplayer game appears to be on the way from the developer as well. Guerrilla revealed that a multiplayer game is actually in development back in December of last year. We received an unauthorized preview earlier this year when footage of an early edition of the game that resembled Fortnite in both aesthetic and content—possibly Monster Hunter—was released. A Horizon MMO appears to be yet another multiplayer project under development at Guerrilla. With this one, though, it appears Guerrilla is only lending a helping hand while another company, NCSOFT, is doing the majority of the labor-intensive work. Outside of those initiatives, a potential mobile game could also be in development, however job advertisements appear to suggest that it might merely be a mobile version of one of the multiplayer games previously mentioned. Last but not least, a PS5 remaster of Horizon Zero Dawn appears to be in the works.
Horizon 3: https://www.polygon.com/23695756/horizon-forbidden-west-sequel-guerrilla-game
Horizon Multiplayer Title: https://www.videogameschronicle.com/news/over-ten-minutes-of-early-horizon-multiplayer-game-footage-leaks-online/
Horizon MMO: https://www.ign.com/articles/horizon-mmo-is-reportedly-in-the-works-from-sony-and-ncsoft
Mobile Game: https://hitmarker.net/news/guerrillas-horizon-multiplayer-game-could-be-available-on-mobile-1870521
Horizon Zero Dawn Remaster: https://www.theverge.com/2022/10/3/23385060/horizon-zero-dawn-remaster-forbidden-west-dlc-multiplayer-sony-playstation-5
Sucker Punch Productions:
Sucker Punch Productions, a PlayStation fan favorite firm, is well-known for its high-caliber single-player games. Since leaving the hugely popular Ghost of Tsushima, they appear to be concentrating more on these kind of games than before. Although it has not been confirmed, it is almost certain that the game Ghost of Tsushima 2 is what Sucker Punch is working on. In the past, Sucker Punch has swiftly released successful (and even better) sequels to fresh IPs; there is no reason to believe that won't happen with Ghost. In addition, a job advertisement from a few years ago suggested that the firm was working on a multiplayer project of some sort. Some speculate that it could be related to Legends; nonetheless, either a multiplayer component for the Ghost 2 sequel or a separate Legends game that offers a whole different gaming experience. Time will only tell.
Multiplayer Project: https://www.gamesradar.com/ghost-of-tsushima-developer-sucker-punch-is-hiring-for-a-spectacular-multiplayer-game/
Polyphony Digital: 
Gran Turismo 7, the most recent game in the venerable series, was just launched by the developer. Gran Turismo 8 development has already begun, according to studio chief Kazunori Yamauchi, who stated as much in a recent interview. Undoubtedly exciting times for GT enthusiasts.
Gran Turismo 8: https://racinggames.gg/gran-turismo/gran-turismo-8-is-already-in-development-says-kazunori-yamauchi/
Media Molecule:
Dreams support will end later this year, according to the UK-based developer, known for highly praised titles like Little Big Planet 1 and 2 and most recently, Dreams. Even if that is disappointing news, the developer assured the fans that they are already hard at work on their upcoming game. They said it will be a new project that is neither Dreams 2 or connected to the Dreams IP, however they did not provide any other details. Which, while being extremely intriguing considering the studio's creativity, also raises a lot of issues. Wishing the studio the best of luck in the future.
New Project: https://www.videogameschronicle.com/news/media-molecule-is-ending-support-for-dreams-in-september/
Bluepoint Games: 
Bluepoint Games, the industry leader in remakes, is best known for going back and giving outdated games a new and fresh aesthetic. The little information we have about what they're really working on comes from Bluepoint's own Marco Thrush, who stated in a write-up that their upcoming game will have "original content." That might be a number of different things, such as another remake with fresh material, a brand-new IP, an original game in an established series, etc. The majority of the speculations surrounding their next project, however, vary from a remake of Metal Gear Solid to one of Castlevania. The one rumor that I frequently return to It is from Colin Moriarty, who said in 2021 that he had learned through rumor that Bluepoint was creating both a Bloodborne Sequel and a remake of the original game. It makes natural that Bluepoint would return to the SoulsBorne series following their successful Demon's Souls remake because Moriarty has a track record of reliable leaks.
Bloodborne 2 and Bloodborne 1 Remaster: https://in.ign.com/bloodborne-2/168187/news/bloodborne-ps5-remaster-sequel-bluepoint-games-rumour
Housemarque:
Returnal, the company that created BAFTA GOTY, is now hard at work on their latest title. A brand-new IP by Housemarque is supposedly in the conceptual stages; it is certain to be equally as distinctive and imaginative as their prior works. Naturally, the revelation that they are developing a new IP also means that Returnal 2 is not, at least not at this time. I for one thought the original game to be a really fulfilling experience, therefore I hope in the future the company finds the opportunity to go back and complete Selene's tale.
New IP: https://www.videogameschronicle.com/news/returnal-studio-housemarques-next-game-will-be-a-new-ip/
Bend Studio:
Bend Studio, best known for Days Gone, has had a difficult road to success. After being first turned down for a Days Gone 2 and then turning down their own offer to create a new Uncharted or Resistance game, they have ultimately decided to create a new open-world IP with multiplayer components. There isn't much information available other what I've previously described, but maybe a teaser will be shown during the forthcoming presentation so we can get a better sense of what they're doing.
New Open-World IP with Multiplayer Elements: https://www.videogameschronicle.com/news/sonys-bend-studio-reveals-multiplayer-plans-for-its-new-ip-alongside-a-fresh-logo/
San Diego Studio:
San Diego Studio, the setting for the MLB: The Show television series, is pleased to stay within its comfort zone. Although they occasionally provide assistance for other PS Studios, it appears that their days of creating titles like Drawn to Death and Kill Strain are long gone. Having said that, MLB The Show 24 should be the continuation of the series, which is doing better than before.
One of PlayStation's own in-house development teams, London Studio, is now working on a brand-new fantasy multiplayer IP for the PS5. They recently revealed concept art for it, and I believe its participation at the next Showcase is all but guaranteed.
New Fantasy Multiplayer IP: https://www.gematsu.com/2022/10/sony-interactive-entertainment-london-studio-developing-online-co-op-combat-game-set-in-fantasy-london-for-ps5
Team Asobi:
San Diego Studio, the setting for the MLB: The Show television series, is pleased to stay within its comfort zone. Although they occasionally provide assistance for other PS Studios, it appears that their days of creating titles like Drawn to Death and Kill Strain are long gone. Having said that, MLB The Show 24 should be the continuation of the series, which is doing better than before.
Team Asobi is the only PS Studio focused only on platformers since Japan Studio was split off into its own studio. In recent years, it appears like PlayStation's mascot Astro Bot has replaced theirs. He will undoubtedly be the star of their upcoming title, which is rumored to be a 3D game The biggest action game the company has ever produced. Some speculate that it may be a PSVR2 game or a hybrid that can be used with or without the VR gear.
3D Action Game: https://www.thegamer.com/team-asobi-next-game/
Firesprite:
One of the newest and largest PlayStation studios is now one of the smaller ones. After collaborating with Guerrilla Games to release the VR game Horizon: Call of the Mountain, Firesprite is currently working on a number of other projects. The sheer number of games that are presently being developed by this firm indicates that it has a lot of promise. There are four games being actively developed by the 300+ man company, despite the fact that none have been formally disclosed, according to job advertisements and industry sources. According to reports, the Twisted Metal relaunch, which was first at Lucid Games, is currently at Firesprite and is expected to be released soon. The firm is also developing a AAA narrative-driven horror-adventure game for the PS5, according to job advertisements Presumably, Fabrik Games, its sibling company. A new generation action-shooter game with a strong emphasis on Games as a Service is also being developed by Firesprite. Given that it just formed a new team inside the studio specifically for developing mobile games, the firm is also allegedly working on a game for mobile devices.
Twisted Metal Reboot: https://www.videogameschronicle.com/news/sources-sony-switches-twisted-metal-reboot-developer/
AAA Narrative Driven Horror-Adventure Title: https://www.videogameschronicle.com/news/new-sony-studio-firesprite-is-making-a-triple-a-horror-game-in-unreal-engine-5/
Next Generation Action-Shooter: https://www.inverse.com/gaming/sony-firesprite-studios-games-for-ps5
Mobile Game: https://www.firesprite.com/games/platforms/mobile/
Firewalk Studios:
The newest development company for PlayStation, Firewalk, is presently working on a brand-new AAA multiplayer IP. Because the company is made up of professionals with Bungie expertise, there may be some Destiny influences in the finished output. Herman Hulst acknowledged playing the game personally roughly two years ago, so it is obviously pretty far advanced. It will probably show up during the upcoming event.
New AAA Multiplayer IP: https://www.gameinformer.com/2023/04/21/playstation-acquires-firewalk-studios-team-developing-aaa-multiplayer-game
Haven Studios:
Jade Raymond, one of the Assassin's Creed series' creators, is the head of Haven Studios, which is presently working on a brand-new AAA multiplayer IP. It's advisable to avoid thinking that a teaser will be released anytime soon because the game is probably still in its early stages.
New AAA Multiplayer IP: https://twistedvoxel.com/haven-studios-playstation-multiplayer-game-production-phase/
Valkyrie Entertainment: Valkyrie Entertainment is one of PlayStation's smaller studios, and while some might believe they are just a support studio, job listings tell a different story. According to recent job listings, the Guns Up! developer is planning on developing an unannounced strategy game. While the listing doesn't specify if the game is for console or mobile, I think it would be safe to assume that a sequel or spiritual successor to Guns Up! could be on its way.
Unannounced Strategy Game: https://gamerant.com/god-of-war-studio-next-game-valkyrie-entertainment-strategy/
Savage Game Studios: Savage Games Studios was picked up at the end of last year as a studio dedicated to mobile games. It has two locations and is made up of developers from the studios behind Clash of Clans and Angry Birds. Currently it is in the process of making a new unannounced AAA mobile live service action game.
New Unannounced AAA Mobile Live Service Action Game: https://www.engadget.com/sony-launches-play-station-studios-mobile-with-savage-game-acquisition-121602038.html
Nixxes Software: Picked up by PlayStation for its expertise in porting console games to PC, Nixxes Software has already shown to be a great addition to the PlayStation Studios family with its successful port of Insomniac's Spider-Man. Though there is no confirmed announcements on what their next PC port will be, one would assume that their next project could be another port of a recent Insomniac game given the success of the last one. Possibly a Ratchet and Clank: Rift Apart port?
Ratchet and Clank Rift Apart PC Port: https://www.playstationlifestyle.net/2023/03/13/ratchet-clank-rift-apart-playstation-pc-port-nixxes-rumor/
XDEV: So, XDEV is a bit different compared to the rest of the pack as it acts as a co-development arm for PlayStation Studios in the same vein as Xbox Game Studios Publishing does for Xbox. XDEV has grown over the past few years to cover more regions than just Europe, and is helping develop more games than ever they have before. Any game you see being published by SIE that isn't being developed by a first-party studio, XDEV probably had a hand in developing. Here are the list of games they are helping to make:
Death Stranding 2: https://www.gamesradar.com/death-stranding-2-guide/
Star Wars: Knights of the Old Republic Remake: https://gamerant.com/star-wars-knights-old-republic-kotor-remake-2023-news/
Stellar Blade: https://www.gematsu.com/games/stellar-blade
Rise of the Ronin: https://blog.playstation.com/2022/09/13/revealing-rise-of-the-ronin-a-new-action-rpg-from-team-ninja/
Helldivers 2: https://www.pcgamer.com/helldivers-2-is-definitely-real-and-probably-announcing-soon/
Convallaria: https://www.gematsu.com/2022/11/convallaria-to-be-published-by-sony-interactive-entertainment
Lost Soul Aside: https://www.playstationlifestyle.net/2022/11/22/lost-soul-aside-release-date-2024/
Project Ooze: https://www.gameshub.com/news/news/ps5-exclusive-game-ooze-new-ip-leak-reddit-37725/
Sumo Digital's Project Carbon: https://80.lv/articles/upcoming-playstation-games-supposedly-leaked-via-alleged-sie-document/
Deviation's New AAA Multiplayer IP: https://www.playstationlifestyle.net/2023/03/21/deviation-games-ps5-exclusive-solo-co-op/
Ballistic Moon's Horror Title: https://www.gematsu.com/2022/08/sony-interactive-entertainment-and-ballistic-moon-working-on-new-game-according-to-motion-capture-actor-resume
Swizzle Kiss' Horror Title: https://www.playstationlifestyle.net/2022/05/20/ps5-horror-game-swizzle-kiss/
Firewall Ultra: https://www.roadtovr.com/psvr-2-firewall-ultra-release-date-trailer/
SIE
PSS Visual Arts: Formerly known as Visual Arts Service Group, PSS Visual Arts has a long history with PlayStation, usually involving motion capture. However recently they have started to develop video games in-house. We all know the story about the Last of Us Remake but just recently, its been announced that Visual Arts will be getting another chance at making a new game. This time, it is rumored to be either an Uncharted 1 Remake or Uncharted 5. They are formerly partnering with Naughty Dog this time out.
Uncharted Title: https://gamerant.com/naughty-dog-pss-visual-arts-aaa-game/
Bungie: At last we come to Bungie, PlayStation's biggest developer. While development for Destiny 2 is still going strong, it is also winding down. As Bungie looks to the future, so do we. According to the developers themselves, they have many projects in the works, though it is likely that none of them are Destiny 3. Of those projects, the one consistent game that keeps popping up in job listings, leaks, and rumors is Matter. Another game is an extraction shooter set in the Marathon universe. And lastly, there is a Destiny mobile game that is still on track to release as well.
Matter: https://gamerant.com/bungie-matter-new-ip-leaks-rumors-2022-updated-loot-rpg/
Marathon Extraction Shooter: https://www.forbes.com/sites/paultassi/2022/10/20/report-claims-bungie-is-reviving-marathon-as-a-pvp-extraction-shooter/
Destiny Mobile Game: https://www.ign.com/articles/bungie-destiny-mobile-game