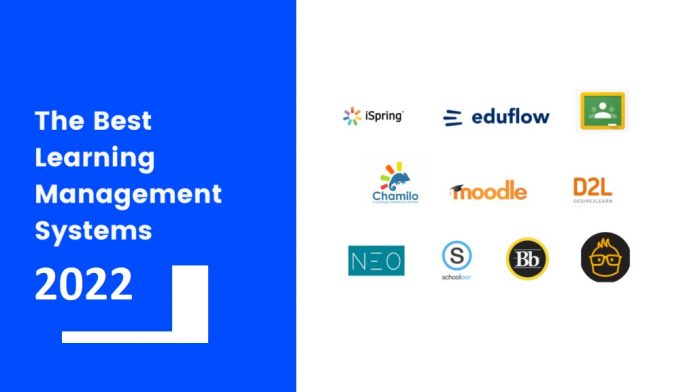 First, What are Learning Management Systems
Learning management systems (LMS) are derived from the eLearning trend popular in online grade school and post-secondary courses as well as in other training and certificate programs. LMS programs are designed to handle the administration, documentation, tracking, reporting, automation, and delivery of educational and professional learning material.
Learning: An LMS handles the learning material delivery, administration, automation, and analytics. All of this is done for the purpose of one simple goal: fulfilling learning goals.
Management: LMS holds an important role in documentation and database management. Without well-executed management of information, an LMS is doomed to fail.
System: This refers to the LMS system as a whole that handles all the incoming and outgoing learning information within a single ecosystem.
This means that an LMS can take many shapes and forms as long as it facilitates learning. The facilitation of the learning process can take place in a variety of locations, and software used as an LMS does not always have to be purpose-built for learning purposes.
What is the best free LMS?
The Best Learning Management System List
Here's a shortlist of the best learning management systems:
How To Make a good Comparison for Learning Management System
User Interface (UI): Is it clean and attractive? Can every course builder and learner quickly adapt to their designated interfaces? Are grades, to-dos, and analytics easy to find and interpret on this eLearning platform?
Usability: Is it easy to build and consume course content? Does the company offer good customer support, user support, tutorials, and training? Do they offer ready-to-go courses to get you up and running quickly? Does the Learning Management System system work on all mobile devices?
Integrations: Is it easy to connect with other tools for media creation, video conferencing, CMS, and other relevant eLearning content creation tools?
Value for $: Learning management software will usually come with a cost but does the tool "pay for itself" by the amount of virtual training material you have access to? Does the cost of the learning platform include pre-made courses as well as the tools needed to build your own online course from scratch?
What are the main Features that Must be in LMS?
Gamification & social learning features
Personalized learning paths
Mobile learning support
Skills & certification tracking
Test-out options for advanced learners
| | |
| --- | --- |
| Absorb LMS | Absorb LMS is an award-winning learning management system with smart administrative features, high-quality learner engagement tools, and even eCommerce options to sell your custom-built courses online. |
| iSpring | iSpring Learn is an online training platform that can be used for any mission-critical training project: from onboarding to product training and sales enablement. Immediately upload any presentations (PPT), courses (SCORM), video tutorials (FLV, MP4), Flash clips (SWF), and audio tracks (MP3, WAV), as well as supplementary documents (PDF, DOC, XLS), to get up and running quickly. |
| Eduflow | Eduflow is a powerful learning platform intended for corporate training and higher education. It has a modern, intuitive interface that enables users to create social and collaborative learning experiences. Eduflow can work as a standalone LMS, or it can be integrated with an existing LMS. |
| Google Classroom | Google Classroom is a free learning management system that lets you work directly within the Google Workspace environment to create documents, organize classwork, and host online video lectures using Google Meet. You can add material to your syllabus using pre-made templates for assignments, quizzes, and lessons. You can also reuse or repurpose material that you have created previously. |
| Chamilo LMS | Chamilo LMS is an open-source learning management system created by The Chamilo Association, a non-profit organization founded in Belgium in 2010 with current headquarters in Spain. While it's free to sign up for Chamilo LMS, many of the preexisting courses come with an associated cost, ranging on average between $20-200 USD per course. |
| Moodle | Moodle is a customizable and trusted open-source learning management system that is ideally suited to the delivery of massive open online courses (MOOCs). They are based in West Perth, Australia, but boast an international community of hundreds of millions of learners, teachers, and developers. Course content can include forms, chat & feedback, readings, workshops, quizzes, a wiki, and surveys. |
| D2L Brightspace | D2L Brightspace is an LMS technology that boasts solutions for K-12 education, higher education, corporate learning, and association-based training. You can start with the Brightspace Core subscription package and then add additional modules, as needed, for performance (predictive analytics, adaptive learning), engagement (game-based learning, awards leaderboard), and an assortment of value-added services (support services, data solutions consulting, partner integrations). |
| Matrix LMS | Matrix LMS is corporate learning management and vocational training system made by Cypher Learning, which also offers solutions for entrepreneurs (Indie LMS) and accredited universities (NEO LMS), including a free basic plan for not-for-profits and educational institutions. |
| LearnUpon LMS | LearnUpon is an LMS system for employee onboarding, employee development, customer training, partner training, product training, and compliance training. With LearnUpon, you can create courses, deliver training programs, track learner engagement, launch webinars, customize learner portals, and access out-of-the-box reports to track user progression. |
| Blackboard for Business | Blackboard for Business is an adapted version of Blackboard Learn, a post-secondary edtech software, that focuses on business training and development for corporate leaders and their teams. The platform has robust learning management tools, web conferencing and collaboration, accessibility features, content management solutions, mass notifications, and registration and reporting. |