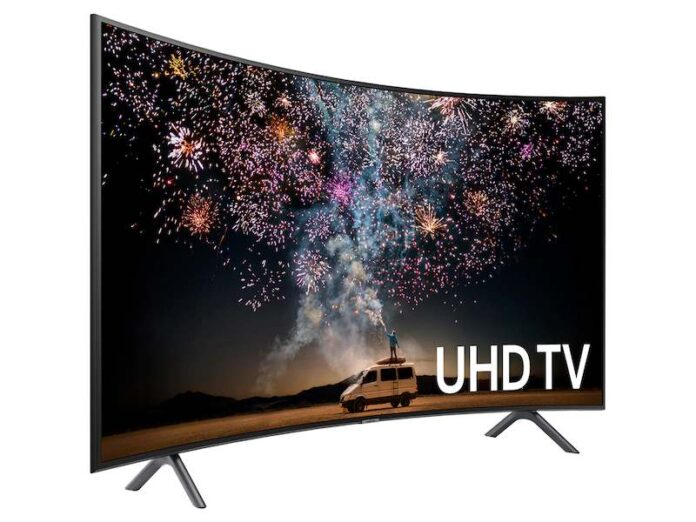 Your purchase includes One Samsung 55-Inch Class QLED Smart TV | TM2050A remote with batteries, power cable & user manual | HDMI cable not included
TV Dimensions: With stand – 48.4″ W x 30.9″ H x 9.6″ D | W/O stand – 48.4″ W x 27.8″ H x 2.3″ D | Screen size – 54.6" | Power Supply (V) – AC110-120V 50/60Hz | WiFi & Bluetooth enabled
Go beyond Smart TV with next-gen apps, super easy control, and a host of enhancements that elevate the TV watching experience | Expands the range of color and detail beyond what's possible on HDTVs
Quantum dots produce over a billion shades of color that stay true-to-life even in bright scenes | A system of dedicated warm and cool LED backlights enhance contrast details | To talk to Alexa, press and hold the mic button on your remote
Inputs | HDMI – 3 | USB – 2 | Ethernet (LAN) | Composite In (AV) | RF In (Terrestrial/Cable Input) | RF In (Satellite Input) | Digital Audio Out (Optical)
DIRECT FULL ARRAY 12X (85″, 75″, 65″ & 55″): Controlled backlights offer deeper contrast for richer blacks and brighter whites
ULTRA VIEWING ANGLE WITH ANTI-GLARE: Engineered to reduce glare and enhance color, providing a vibrant picture no matter where you sit
QUANTUM HDR 12X (85″, 75″, 65″ & 55″): Fine-tuned shades of cinematic color make details leap off the screen
QUANTUM PROCESSOR 4K: This powerful processor uses deep learning AI to transform everything you watch into stunning 4K
OBJECTIVE TRACKING SOUND: Two top and two bottom built-in TV speakers adjust the sound to follow the action
ALEXA BUILT-IN: Ask more from your TV. Just ask Alexa to open apps, change the channel, search for movies and shows, play music, control your smart home devices, and more. To talk to Alexa, press and hold the mic button on your remote. If you have hands-free enabled just say, "Alexa" and ask a question
Dimensions: 56.9 x 32.7 x 2.1″, 53.1 lb (Without Stand) 56.9 x 35.7 x 11.4″, 61.3 lb (With Stand)
QUANTUM PROCESSOR 4K: This powerful processor uses deep learning AI to transform everything you watch into stunning 4K.
MOTION RATE 240: Minimizes motion blur on the screen, so action-packed movies and sports stay smooth and crisp. Native refresh rate: 120Hz
AMBIENT MODE+: Blends into your space by turning a blank screen into enticing visuals or at-a-glance info.
QUANTUM HDR: Expands the range of color and detail beyond what's possible on HDTVs.
DUAL LED: A system of dedicated warm and cool LED backlights enhance contrast details.
ALEXA BUILT-IN: Ask more from your TV. Just ask Alexa to open apps, change the channel, search for movies and shows, play music, control your smart home devices, and more. To talk to Alexa, press and hold the mic button on your remote. If you have hands-free enabled just say, "Alexa" and ask a question.
Dimensions w/o Stand(WxHxD): 74.7″ x 42.6″ x 2.4″ | Dimensions w/ Stand(WxHxD): 74.7″ x 46.7″ x 15.4″ | Stand Size(WxHxD): 3.1″ x 10.9″ x 15.4″
REAL 8K RESOLUTION*: See the mind-blowing sharpness and depth of real 8K with 16 times more resolution than HDTV.
DIRECT FULL ARRAY 24X** (75″ & 65″): Concentrated zones of high-contrast LED backlights to enhance the deep blacks and luminous whites.
8K AI UPSCALING***: Intelligent upscaling automatically converts all of your content into a stunning 8K resolution.
OBJECTIVE TRACKING SOUND +: All four sides of the TV have built-in speakers that direct the sound, putting you in the middle of the action.
QUANTUM PROCESSOR 8K: Our most brilliant processor uses deep learning AI technology to unleash the full power of 8K.
ALEXA BUILT-IN: Ask more from your TV. Just ask Alexa to open apps, change the channel, search for movies and shows, play music, control your smart home devices, and more. To talk to Alexa, press and hold the mic button on your remote. If you have hands-free enabled just say, "Alexa" and ask a question.
REAL 8K RESOLUTION: See the mind-blowing sharpness and depth of real 8K with 16 times more resolution than HDTV.
DIRECT FULL ARRAY 32X (82″): Our most densely concentrated zones of precisely controlled LED backlights reveal details even in the darkest of scenes.
8K AI UPSCALING: Intelligent upscaling automatically converts all of your content into a stunning 8K resolution.
OBJECTIVE TRACKING SOUND +: All four sides of the TV have built-in speakers that direct the sound, putting you in the middle of the action.
QUANTUM PROCESSOR 8K: Our most brilliant processor uses deep learning AI technology to unleash the full power of 8K.
ALEXA BUILT-IN: Ask more from your TV. Just ask Alexa to open apps, change the channel, search for movies and shows, play music, control your smart home devices, and more. To talk to Alexa, press and hold the mic button on your remote. If you have hands-free enabled just say, "Alexa" and ask a question.
VESA Wall Mount Support Included