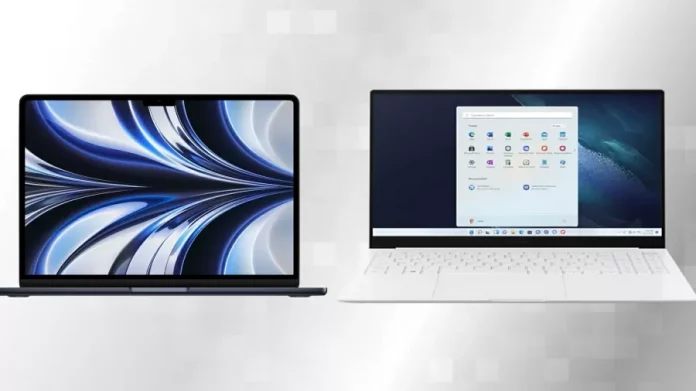 Whenever one thinks of investing in a high-performance (and consequently more expensive) notebook, the MacBook Air M2 line ends up appearing on the list of options. It has been consecrated by its compact size, performance than its competitors, or success with certain audiences, such as designers.
Apple announced the arrival of the new generation of the notebook, this time equipped with the M2 processor, presented in June, which promises considerable gains compared to its predecessor.
But does this extra dose of power compensate for the considerably higher price than the competition?
To accomplish this comparison, let's draw inspiration from a typical smartphone fight: Apple versus Samsung. We put the new MacBook Air head-on against the Galaxy Book Pro, another lightweight and powerful model.
Below we compared the fact sheet of both. Check:
Design
MacBook Air M2
Samsung Galaxy Book Pro
Width: 30.41 cm
Depth: 21.5 cm
Thickness: 1.13 cm
Weight: 1.24 kg
Width: 35.54 cm
Depth: 22.58 cm
Thickness: 1.17 mm
Weight: 1.05 kg.
Both bet on a minimalist look, which ensures a touch of elegance and discretion. MacBook Air earns points here for having color options (beige and three gray variations), while Samsung is offered only with a silver finish.
Reflection of the larger screen, the Samsung is about 5 cm wider. It's not long, but it's good to take into account if you want to carry your notebook frequently. In the other measures, both are similar.
Here, are two positive highlights. First, the two devices are extremely thin, which means you won't have trouble slotting them into other items inside a backpack or briefcase, for example. Secondly, the reduced weight. Samsung shines brighter: despite being bigger, it's almost below the 1 kg mark. You definitely won't sweat carrying either of them.
Screen size
MacBook Air M2
Samsung Galaxy Book Pro
Liquid Retina 13.6 inches (34.54 cm)
Quad HD+ resolution of 2,560 x 1,664
pixels Refresh rate: 60 Hz.
Amoled 15.6 inches (39.62 cm)
Full HD resolution of 1,920 x 1,080 pixels
Refresh rate: 60 Hz.
First, the bad news: the two have refresh rates in the footprint "the minimum necessary". Considering that we talk about notebooks with considerable firepower and, mainly, high price, it is somewhat disappointing to see that they bring screens of 60 Hz. In practice, they can perform less than that of many smartphones when playing images on the go fluidly. After this consideration, the time has come for your choice: do you prefer size or resolution?
Your MacBook is two inches less but offers quad HD+ resolution. On the other side, Samsung comes with wider screen space, but with a standard Full HD resolution.
If your idea is to use the device to develop activities that deal a lot with images, such as photo and video edits, Apple's notebook should satisfy your expectations more. Other than that, Samsung will probably suit well.
Battery life
| | |
| --- | --- |
| MacBook Air M2 | Samsung Galaxy Book Pro |
| 52.6 watts/hour | 68 watts/hour |
If one of the main arguments of these products is that they are lightweight and you can take them anywhere, the battery is an essential aspect of that promise. Who can take the longest out of the socket? A brief look indicates that Samsung wins the contest since its battery is larger. However, it is necessary to consider how and how much each of the devices consumes the available energy. As they are devices with a very broad spectrum of use,
what we have left is to take into account the autonomy data released by manufacturers. Apple says the MacBook Air has the breath for 18 hours of video playback in the Apple TV app and 15 hours for wi-fi internet browsing. Samsung, on the other. the hand is just saying that the Galaxy Book Pro can take up to 21 hours without asking for a hitch. The two notebooks carry chargers in the box: 30 W on MacBook air and 65 W on Galaxy Book Pro. The Apple device even accepts a 67W charger, but it's sold separately
Specs
MacBook Air M2
Samsung Galaxy Book Pro
Processor: Apple M2 (octa-core, 3.49 GHz)
Eight-core unified video card
Memory RAM: 8 GB
Storage: 256 GB SSD.
Processor: Intel Core i7-1165G7 (quad-core, 2.8 GHz with 4.7 GHz turbo mode)
Intel Iris Xe Graphics video card
Memory RAM: 16 GB
Storage: 1 TB SSD.
For starters: both have excellent settings. You won't get grip on the main daily tasks, nor on the heavier apps. The Galaxy Book Pro brings two advantages. One is the higher capacity RAM – but it is relative (we've explained below). The other, undisputed, is the largest internal storage capacity, of 1 TB. And it is available in the form of an NVMe SSD, even faster than standard SSDs, which tends to positively impact performance noticeably. MacBook Air bets on the new M2 chip.
According to Apple, it brings 25% more transistors than the M1. In practice, this represents an 18% gain in performance over its predecessor, consuming the same amount of energy.
Still, according to the manufacturer, the M2 offers almost twice as much performance as other ten-core processors but spends the same amount of power. This tends to make MacBook Air performance unbeatable in its category,
especially on heavier tasks. None of the notebooks have a dedicated video card. It can be a setback if you plan to use them for games. Still, they are able to run games, even if that is not the proposal of these notebooks.
Finally, it should be considered that the MacBook Air M2, like the iPhone, is a more closed system than other devices. In other words: it uses an operating system that tends to take better advantage of available resources, requiring less RAM, for example. If we consider raw performance, MacBook Air takes this dispute. Depending on what you want to do with the handset though, the Galaxy Book Pro has everything not to disappoint you.
Verdict: MacBook Air M2 wins
The Galaxy Book Pro has several functions that "talk" to other Samsung devices, such as headphones, TVs, and smartphones. Thus, it tends to be made the most of if you are more inserted into this ecosystem.
Other than that, it features HDMI connections, two USB-C ports (one of them Thunderbolt), a USB 3.2 connection, headphone output, and a MicroSD card, holder.
MacBook Air M2, in turn, has similar features, only to Apple devices. The connections, however, are slightly different: one MagSafe 3 for recharging, and two USB 4 sit-ins with Thunderbolt, which can be used for video output (DisplayPort) and data connections. Other than that, there is only one connection to headphones.
It is worth noting that none of the notebooks in this comparison has a keyboard with a cedilla, which may require some adaptation for its users.