The new MacBook Air features a redesigned design and a faster M2 chip. That makes it an extraordinarily powerful notebook – but it falls a bit between shore and ship because of its Mac-mates, which we would recommend just a little earlier.
After years of waiting, the MacBook Air has finally been given a completely new design. The edges of the screen are thinner just like the MacBook Pro (14 inches), with space at the top for a better webcam.
In addition, the sloping design of the old Airs has been exchanged for a sturdier, more angular housing. It remains an extremely thin and light laptop, but this new shape makes it easier to open the screen without lifting the entire laptop into the air. The laptop can be powered by a magnetic charger, so you keep both USB-C ports free.
On the inside is Apple's new M2 processor, the successor to Apple's first own laptop chip. The M1 was already a lightning-fast chip with long battery life, especially compared to the Intel processor in the Air laptop that Apple made before it. The M2 is a bit faster on paper, but a less earth-shattering upgrade.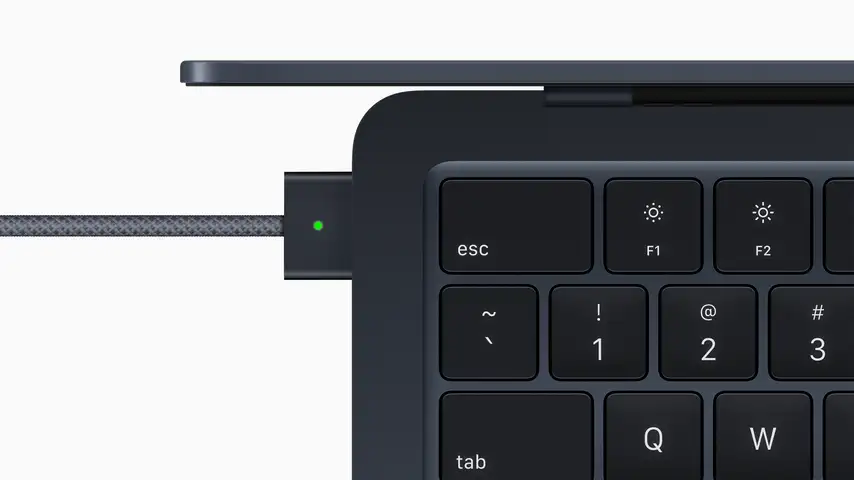 The battery cannot be broken
We also notice this in our tests. Tabs in web browsers, chat apps, and image editors open about as fast as they do on the MacBook Air M1. The differences only become noticeable with heavier tasks: exporting an edited video on the MacBook Air M2, for example, is a bit faster.
The battery of the new MacBook Air cannot be broken. We could only use the laptop for a few days, but in our tests, it continued to perform constantly. A full working day of browsing, watching videos, and working on documents was easy, with half a battery left at the end of the day.
Even when we deliberately tried to drain the battery, it took quite a long time. Streaming the 2.5-hour movie Paddington 2 on Netflix cost just 21 percent of the battery. We played the 3D game Divinity Original Sin 2 for an hour, which took about 31 percent off the battery. It would mean that graphically intensive games can be played for about three hours – quite okay for a laptop.
We also expected that long battery life. Tests by our colleagues at Tweakers showed that the same processor in Apple's new MacBook Pro offers 13 inches of extraordinarily long battery life, and that laptop also has a built-in fan. That is missing on the Air, so this laptop can get less out of the processor, but also consumes less power.
It makes the new MacBook Air a fine laptop, which due to its new, the higher price of 1,519 euros is only a bit difficult to recommend. The MacBook Air used to be the cheapest option in Apple's stable, but that title now goes to the 2020 MacBook Air M1, which the tech giant still sells. This currently costs 1,219 in the Apple Store, or around 1,000 euros if you find an offer online. And that laptop with the M1 chip is still an excellent machine two years later.
Luxury option vs the MacBook Pro (14 inches)
This means that the new M2 variant is no longer a price fighter, but for a slightly more serious target group. If you want Apple's slightly newer chip, you can choose to pay a little more.
But if you're willing to dig deeper into your pocket for better hardware, you'll probably also want 16GB of RAM instead of the standard 8GB, and maybe even 512GB of storage instead of 256GB.
And then the new MacBook Air costs around 2,000 euros, while the more luxurious MacBook Pro (14 inches) goes over the counter at many stores for around 2,100 euros. And then you have an M1 Pro processor that is a bit faster in practice and a nicer mini LED display that offers a higher contrast. Plus, this Pro laptop has extra ports on the side for a display and SD card.