The market-leading manufacturer is currently preparing a new generation of foldable smartphones and smartwatches. These products have been gradually revealed in leaks, with their existence not raising any doubt at this time. Now we have the price information for the two models of smartwatches, the Samsung Galaxy Watch5 and Samsung Galaxy Watch5 Pro.
These will be the successors to the galaxy watch 4 smartwatch range presented in 2021. Incidentally, according to the information leaks the Samsung Galaxy Watch5 Pro model will be a direct successor to last year's Watch4 Classic. For both new watch models the date of presentation is also known, the day 10 August 2022.
This may be the European price of the new Samsung Galaxy Watch5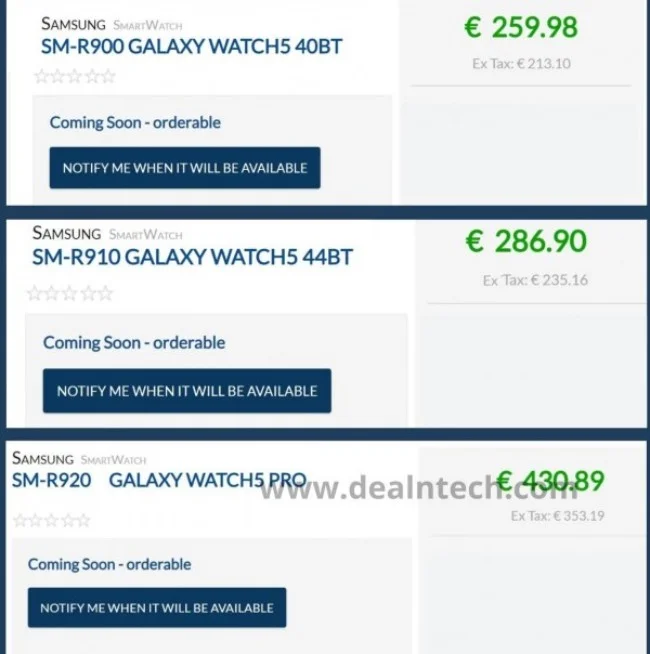 The price information has now been revealed by dealntech, reporting the figures for Europe. It seems that the Galaxy Watch5 40 mm, with Bluetooth connection, will be cheaper than its predecessor when it costs from 259 €.
On the other hand, the version of this same Watch5 with a 44 mm box (and also Bluetooth connection) will cost a total of 286 €. Anyone looking for the top version with the 45mm Box Watch5 Pro, with Bluetooth connection, will have to invest 430 €.
The new Samsung smartwatch arrives on august 10
Given the above, we see that the Pro version of the Samsung Galaxy Watch5 will be slightly more expensive in 2022. Please note, however, that this information is not official as it is not data provided by the manufacturer. Nevertheless, we believe that the final value of the products is very close to the prices indicated here.
Until its official presentation, we have new leaks of information with more details about the news and general design of the upcoming watches. Nevertheless, the image above may portray the overall look of both versions of the Samsung smartwatch.
Finally, Samsung will introduce the new Galaxy Watch5 watch range during the Unpacked 2022 event with an emphasis on fourth-generation folding smartphones. Also there we can get to know a new generation of Bluetooth TWS headsets for the high-end segment, among other novelties.