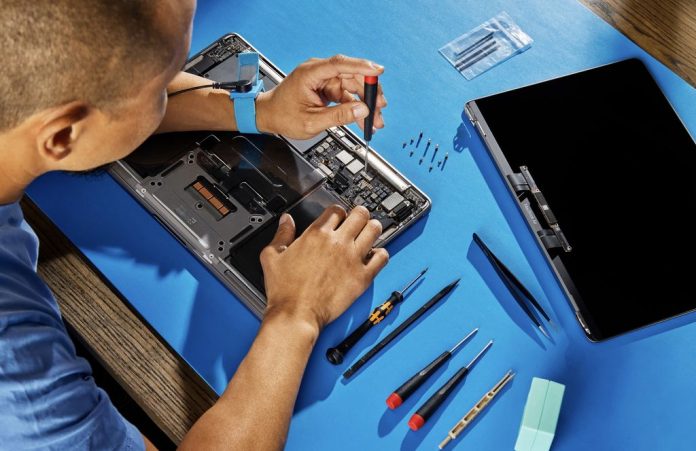 For some iPhones there is already self-service repair, now US users can also repair their MacBooks themselves. The company currently supports the MacBook Air and MacBook Pro models with Apple chips in this program. Customers can get repair manuals as well as genuine Apple parts and tools via the Apple Self-Service Repair Store. Self Service Repair for iPhone was launched earlier this year, and the program will expand to more countries later this year, starting in Europe, as well as more Mac models. Self-Service Repair for MacBook Air and MacBook Pro offers more than a dozen different types of repairs for each model, including the display, top case with battery, trackpad, and more will be added.
That requires you to read most of the 160-plus-page manual, which warns that "the battery is part of the top case" and that you shouldn't try to separate the two. The manuals also note that the top case includes the BMU board, keyboard, keyboard flex cable, mic, and speakers, which are all "nonremoveable."
Basically disassembling and reassembling a laptop to change its battery, a part known to need replacement after time, isn't user-friendly or… typical. iFixit, for example, has a MacBook Pro 14-inch 2021 battery replacement guide that breaks the process down into 26 steps and removes mostly just the bottom case, trackpad, and battery board.
And a quick look at repair manuals for other PCs, such as Lenovo's ThinkPad X1 Carbon [PDF] or HP's Zbook Fury G8 have simpler, shorter battery replacement processes. Although, those designs differ from Apple's MacBook Pros.
To replace the battery on an M1 MacBook Pro via Apple's Self-Service Repair Store, you'll have to buy an entire top case, too, which will run you about $527-$615, minus an $88 credit if you send back your original part (you can see a deeper price breakdown in this handy price list from The Verge). That's a steep price to pay for a new battery, especially if everything else is working.
Apple says it will eventually sell individual battery replacements for M1 MacBook Pros but hasn't specified when. Until then, battery replacements done the Apple Self Repair Store Way are wildly time-consuming and expensive.
Apple is presenting DIY repairers with an excruciating gauntlet of hurdles: read 162 pages of documentation without getting intimidated and decide to do the repair anyway, pay an excessive amount of money for an overkill replacement part, decide whether you want to drop another 50 bucks on the tools they recommend, and do the repair yourself within 14 days, including completing the System Configuration to pair your part with your device. Which makes us wonder, does Apple even want better repairability?" iFixit's content adviser, Sam Goldheart, wrote.
iFixit's blog notes that Apple isn't the only company to group self-service battery replacement with other repairs. The screen-battery replacement kit for the Samsung Galaxy S21 is an example. But Apple's offense, iFixit argues, is worse.
Apple requiring a keyboard and top case replacements is worse than the Samsung OEM display assembly because it makes the repair significantly more difficult, requiring you to disassemble the entire device to replace a battery," Elizabeth Chamberlain, iFixit's director of sustainability, told Ars. She noted that while the S21's battery-display assembly is "also unfortunate," it simplifies battery replacement.
iFixit's blog also lamented the mysterious disappearance of repair manuals for the 21.5-inch and 27-inch iMacs that Apple published in 2019. We reached out to Apple asking about its reasoning and will update this if we hear back. But there's hope that the manuals could return at some point (perhaps amended) as Apple continues expanding its self-service repair program.
A less pricey concern is replacing the M1 MacBook Air's keyboard function row. It costs the same amount of money, $39, to replace it as it does to replace the keycaps on the keyboard. As The Verge pointed out, Apple, in a move that feels painfully wasteful in more ways than one, will sell users seven sets of function row keycaps for that price.
This week, 9to5Mac reportedly spoke to an Apple Self Service Repair Store support member, who told the website that any parts purchased have to match the original configuration of the owned MacBook, otherwise "you may encounter an issue that prevents the completion of the repair." The store is supposed to prevent and automatically cancel orders that don't match your original configuration, preventing upgrades.
This is on top of Apple making many products that are inherently not user-upgradeable, sometimes in the name of potential performance gains or improved experiences. Things like soldered-down NAND chips, proprietary screws, and components that are only sold to Apple-authorized repair stores continue to limit how much customers and third-party repair shops can do on their own.
As tech blog KnowTechie wrote this week, it can be hard for such repair shops to find certain MacBook components, resulting, at times, in full logic board replacements when a cheap chip fails and higher repair costs for consumers.