What's in the Box
1. Headset
A soft, comfortable headset with custom optics provide incredible visual fidelity and a wide field of view.
2. Touch controllers
Touch is a pair of tracked controllers that provide intuitive hand presence in VR – the feeling that your virtual hands are actually your own.
3. Two Sensors
Rift sensors track constellations of IR LEDs to translate your movement into Oculus Rift VR whether you're sitting down or standing up.

INTUITIVE CONTROL
Summon fireballs in mage duels or sculpt your next artistic vision – Touch brings the magic of hand presence to life in Oculus Rift VR .

What you hear is as important as what you see. Oculus Rift VR's integrated audio is designed to take VR immersion deeper than ever.
A limited supply of refurbished Oculus Rift products is
Introducing Dash
The power of both your PC and the Oculus platform is now at your fingertips. Dash is your new command centre for Rift. Multitask across your favourite PC desktop apps, VR library and more with a wave of your hand using an intuitive interface that's built for Touch.
Your Home in VR
Explore and customise your Oculus Home experience with countless combinations of furniture, interactive toys and even stunning works of art. When the rules of physics only apply when you want them to, the possibilities are endless.
Powerful Performance
Rift delivers unparalleled graphical fidelity thanks to technological breakthroughs such as Asynchronous SpaceWarp (ASW). ASW makes it possible to bring high-end VR experiences to more PCs across a spectrum of configurations.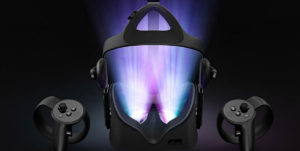 Roomscale
Imagine walking around virtual environments with 360 degrees of movement. Rift supports full roomscale experiences with six degrees of freedom for a realistic escape like no other.
The Oculus Compatibility Tool is no longer supported and will not be receiving future updates.
Recommended Specs
Graphics Card
NVIDIA GTX 1060/AMD Radeon RX 480 or greater
---
Alternative Graphics Card
NVIDIA GTX 970/AMD Radeon R9 290 or greater
---
CPU
Intel i5-4590/AMD Ryzen 5 1500X or greater
---
Memory
8 GB+ RAM
---
Video Output
Compatible HDMI 1.3 video output
---
USB Ports
3 x USB 3.0 ports plus 1 x USB 2.0 port
---
OS
Windows 10
Minimum Specs
Graphics Card
NVIDIA GTX 1050Ti/AMD Radeon RX 470 or greater
---
Alternative Graphics Card
NVIDIA GTX 960 4 GB/AMD Radeon R9 290 or greater
---
CPU
Intel i3-6100/AMD Ryzen 3 1200, FX4350 or greater
---
Memory
8 GB+ RAM
---
Video Output
Compatible HDMI 1.3 video output
---
USB Ports
1x USB 3.0 port, plus 2x USB 2.0 ports
---
OS
Windows 10